Maintaining a blog is not only about posting new articles regularly or building links. You have to keep track of your competition, reply to comments on your blog, reply to emails, update your old posts and much more.
While this may seem easy at start, as time goes on and the number of blogs you own increases, and even these simple tasks start to seem like a burden and it doesn't take long before a professional blogger realizes that he cannot do it alone.
Though thankfully, you don't need to do it alone and you can hire people to outsource most of the regular tasks you need to perform on your blog, so you can concentrate on building strategies for your blog and take your business to the next level.
And today we have brought you a list of sites from where you can outsource tasks for your blog and enjoy the free time as you like.  Here is a list of task that can outsourced from these sites:
List of things that can be outsourced for a blog:
Emails and scheduling management tasks

Managing calendars.

Filter emails and manage spam.

Data entry

Online research.

Formatting blog posts and adding images and tags.

Blog Posts Idea and more
And now  you have learned about the things that can be outsourced, Without further redo let's start our list of sites to outsource blogging work:
How to outsource your all blogging work – Sites to outsource blogging work
Designing Outsource Work
99designs is an online design contest marketplace. If you have just started your blog recently and want a good impressive logo for your site, 99desgins can be a good option. This site a great source of getting possession of great graphic designs.
It may be anything. A logo for your site, a card for your business, a design for your website or your menu.  99designs does it all. You can be assured that you will get the best design out there because 99designs has experts that compete with each other to come up the best design asked by you.
You will be provided with some of the designs that you can choose from. The design contests are about a week long. After a week, you will be provided with the finished work to choose from and if you are not satisfied with the work, you don't pay.
99designs offers 100% money back guarantee. Another great feature of this site is that you get to select your own price and your design will be produced according to that.
There are a number of reasons why we recommend 99designs
Design contest don't take much time. 1 week at most

The content is very cost-effective

The site offers 100% money-back guarantee

Choose from a wide list of professional designers

Select one of the many designs provided to you at the end of the contest
Bēhance is a part of the Adobe family. It is one of the leading sites to showcase and discover work. Various users from around the world who have signed up on the site upload their creative work on one place from the rest of the world to see.
Started around 12 years ago, it is one of the largest sites to get your designing work from. There is a wide variety of content to choose from uploaded by professionals and experts. Many creative people from all over the world join Behance and make projects for the rest of the people to see.
Behance was basically created to remove the barriers talent and opportunity and to empower the world to make creative ideas happen. The Behance officials believe that instead of promoting and maintaining their work, the creative people should devote their energy in creating it.
So, if you need to outsource your designing work, Behance could be a good option because there are thousands and thousands of profiles of creative people that you can follow. You can leave a feedback on their work and many more things.
You can browse through millions of projects and then choose the best that suits your needs. 
 Why we recommend Behance?
Millions of works or projects to browse through

Browsing is all free and you only pay when you have selected the best project

The people working there compete amongst themselves to give the best output. So, you know you will be getting the work that will be satisfactory
You can also check
Writing Outsource Work
As a blogger, there is a lot of times when I feel to write on trending and interesting topics but I don't the energy to do so. Pretty sure same goes for most of the bloggers out there and maybe all of those reading this post.
ContentMart is a market where you can hire expert writer to write you your desired article. Getting started with ContentMart is very easy. You sign up instantly. Sign up is free and after signing in you can start immediately. What you have to do as a client is,
Post an order

Choose a writer

Review content

Take you project home
ContentMart also allows you to choose from various price ranges, ranging from 0.2 Rs a word to Rs 4 per word. The highest pain writers are hand chosen by the site handlers.
Once you have posted an order, click on the publish button and it will be posted. Sit back and wait for the writers to start bidding. The writers can either work on the price chosen by you or they can offer their own price.
Another great feature of ContentMart is that you can get you content in any of the 22 languages provided by the site. There are over 1,80,000 qualified writers on the site and you can choose the best one through the reviews featured in their profile.
There are also number of other features that the site offers by itself so that you don't have to waste your time later on. It does the Plagiarism check for you and also checks for over spam. Over spam is the number of times a particular word is repeated in the article. It also checks for the related keywords used in the article.
There is more than one reason why we recommend ContentMart.
Access to more than a lakh of qualified writers

Choose the best writer with the help of reviews in their profile

You only pay if you are 100% satisfied with the work

The site is registered and licensed and the payments are automated

Tons of pre-provided features
Talking about outsourcing writing work, a-writer claims to provide "Elite essay writing at affordable price." The claim what everyone is looking for or is expecting to get from a site.
A-writer fulfills the need of every one who seeks a good topic. Other than the blogs requested, the site also offers some hard-to-get services like biography, marketing plan, business plans, financial assessments, SWOT analysis and many other things.
The pricing system of a-write.com is transparent and easy to understand. The ultimate price of your order will be based on five things:
The type of the content that you want.

The number of pages or words that you need.

The deadline of your order.

There are also different quality levels to choose from. The price also depends on the quality level chosen.

And last is the discount (if any) that you will use.
Depending upon the deadline of your article and type of content and the quality level the cost per page can range from $21.99 to $49.99 PER PAGE. There are two quality levels available, Standard and Premium. You get extra 25% off if you are a new customer.
The price is also reasonable provided that you get the work from the expert writers. The site provides other features like free plagiarism checker and elite expert academic writers. You also get to pick your own deadline ranging from 3 hours to 10 days.
Although, it is advised to order 5 to 6 days before you need the article. That will save from paying extra charges just because you need it urgently.
There are number of reason why we recommend a-writer.com
Highly professionalized writers.

Choose you deadline.

Friendly 24/7 customer support.

Direct contact with your writer
Scripted is another great outsourcing source that can help you get what you need. Scripted.com is another one of the best sources to get your content from. It is a custom content creation service that allows you to get your content written.
Started in 2008, scripted.com holds the mission of, "to better the quality of written content on the Internet by helping businesses create it at scale."
To begin with scripted.com and getting your content on demand, you will have to order your content from the scripted.com's order form. You will have to set the guidelines for the number of words or the number of pages and other details of the project.
After you are done posting your order, the writers from Scripted.com claim the work and complete your assignment for you. You are then provided with your order and you can review it and revise it before the publishing.
 Besides providing content for blog posts, there are number of services that Scripted.com offers like Social media content for Facebook posts or Tweets, press releases, website pages and much more.
The pricing may not be very friendly for some people, a "standard" blog post starts at $58 (around 3,500 INR) and with longer posts asking for $85 or more. Another thing is that you can't just sign up to scripted.com and order your content. You will have to buy the membership first where your first month is free.
The membership ranges from $49-$299. The site uses SmartMatch to find you the best writer for your content or you can just browse the site for the writer that you want and message him/her personally.
You know that the content offered by scripted.com is of utmost quality when you come to know that companies like Adidas and L'Oreal get their content from Scripted.com too
Why we recommend scripted.com?
Get the best content from the best writers by personally browsing for the perfect writer.

Get in touch with your writers.

The customer services are very friendly.

The site provides other powerful tools like plagiarism check.

100% Satisfaction provided or you don't pay.
If you want to keep your blog up-to date with new and quality content and you are too lazy for it or you don't have any idea on what to write, then give textbroker.com a try.
Textbroker.com is one of the leading article and content writing and content writing platform that provides the content in less time and a simple way. The writers at textbroker.com provide original content of whatever you need. It may be blog posts, product descriptions or technical content.
The content provided by textbroker.com will sure catch the attention of users and will also enhance the search engine ranking. Choose your perfect writer from a team of thousands of writers to get your work done.
The pricing provided by textbroker.com is very pocket friendly. You can get your content from writer in around 15 languages. The rate is as low as 1.3 cents per word which is very low as compared to the rates provided by other sites.
To get started with your order, you need to first sign up on the site. The client registration is free of cost and then just post your order by selecting your guidelines. You will be provided with quality and unique content within your deadline.
There are three options where you can put your assignment namely open pool, team pool and a direct order.
The quality level of open pool ranges from 2-stars to 5-stars. Each star shows the level of rating of what you can expect from the writers. Each star also shows the pay level with 2-star with the cheapest and 5-star also cheap but expensive as compared to 2-star.
And as the names suggest, team order can be assigned to more than 1 person and direct order can be given to anyone.
When you get your first order, you have 96 hours to either accept it or you can request for revisions. There are a lot of websites over the Internet according to whom textbroker.com is scam but it is not a scam.
 Though, there are some other factors in which textbroker.com lags behind.
Points to keep in mind while ordering from textbroker.com
com's editors review every post

The rate per word is considerably less.

Free client registration.

Thousands of writers to choose from.
You can also check
SEO OUTSOURCE
SEO is the art of getting traffic on your website in a, you can say "natural" way. Search Engines like Google and Yahoo have some primary search results, where content is shown on basis what search engine considers more relevant to the users. And to get SEO done for your blog, outsoureseo.com could be on the option.
The SEO services of outsourceseo.com are fully managed and they have professional campaign managers. Started around 7 years ago, this site has completed over 5,000 projects with 100% white hat methods.
They assure the best quality in their service. Outspurceseo.com helps companies to increase the client base and deliver best results and best services in less amount.
They also help you to get new clients, manage the ones that you already have, deliver the reports and also, they remain invisible all the time. They also provide low cost services.
Outsourceseo.com never gets in touch with your clients nor sends unsolicited mails. To ensure this, they sign they sign a non-disclosure agreement.
They have more than 150 fulltime employees and 1000+ active clients. You know their service is outstanding because their client retention rate is 96%.
The site is built purely on what clients need. The clients can decide their mark-up as well as create their package. You can also set up client interaction and get updated anywhere, anytime.
Why to use outsourceseo.com?
Comprehensive SEO packages starting at $250/month only

Over 200 SEO resellers around the world

All campaigns managed by expert Campaign Managers

100% private label. All reports will be rebranded

Guaranteed white hat methods only

Attractive bulk discounts for partners
Talking about outsourcing SEO services and not talking about seoreseller.com would be unfair. As an SEO Reseller company, they give you the manpower, marketing materials, professional reporting and technology with your brand on it, to ensure that your clients get the results and optimization they deserve with your brand as the provider.
With seoreseller.com you can not only outsource SEO projects but also you can give clients in depth analytics. Their white label SEO services are very affordable. They provide great results and they also bring each and everything into a company branded platform.
Their white label PPC marketing services are designed for optimization of your campaign and keywords daily. This ensures that their customers get the best click through rates, conversions and impressions from industry experts.
Resell social media services to your clients. Their experts listen, engage and respond in the best way they can.
They also strategize to meet business requirements and their methodologies build brands and conversations.
Toxic backlinks on your website can be a root of low organic rankings and no matter how much you optimize and market, it just doesn't budge. Let their marketing professionals do the cleaning for your clients and let your brand take the credit.
Their web designs range from templates to custom designed solutions that are responsive. Your brand will be proud to carry the results and deliverables that they produce. They make sure your website is SEO friendly.
Out of the millions of reasons on why you should give a try to seoreseller.com, here are some:
Get analytics, APIs & tracking with your branding

They only hire professional staff with tons of experience

They communicate like they are in the office with you

Track conversions across all channels

Integrate all data with your dashboard on one platform

Boost campaign performance by 30%
You can also check 
Mixed Freelance sites
1. PeoplePerHour
Founded in 2007, PeoplePerHour provides employment to thousands of talented freelance experts. These experts work in thousands of fields, blogging included. PeoplePerHour has been considered as one of the best platforms for outsourcing your blogging work.
The people that work there are quite knowledgeable and will help you in the best way possible and you can maintain your PHP account which is loaded with variety of features.
Though most importantly, they deliver your work in time and if you don't like the work, you can have a refund.  Their customer care service is of superior quality and your payment, is also very secure. So you don't have to worry about any kind of fraud.
Why we recommend PeoplePerHour?
Fast delivery of your work

Very low charges

Can always be relied upon

Easy to use and best customer service

Easy refunds.
[button color="custom" link="https://www.peopleperhour.com" align="center" target="_blank"  size="big" bgcolor="#828282″]Check people per hour[/button]
2. MicroWorkers
MicroWorkers is an international online platform just like PeoplePerHour. It connects thousands of expert freelancers with people who want their work done. The tasks that are usually assigned are small.

MicroWorkers provide affordable, fast and best quality output. Each freelancer has a "reputation bar" and a "success bar" in their respective profiles making it easy for you to choose the most reputed and successful worker for your blog.
They usually will deliver quality work within no time and this is why MicroWorkers has been labeled as one of the finest platforms for outsourcing your blogging works.
Why we recommend MicroWorkers?
Provides thousands of reputed freelancers to choose from.

Gets you work completed within minutes of ordering it so now you know where to go when you need be ahead of your competitors

Provides secure payment system

In case you have problems with the work, the MicroWorkers also provide one of the best customer services.
[button color="custom" link="https://ttv.microworkers.com/index/template" align="center" target="_blank"  size="big" bgcolor="#828282″]Check micro workers[/button]
3. Fiverr
Whenever talking about outsourcing, Fiverr is the name that usually comes in the mind first, especially if you are a blogger or digital marketer.
Fiverr is one of the main online platforms that provides freelancing services all over the world. The tasks start from $5 and it is very much affordable. You can choose from millions of talented freelance experts that work there.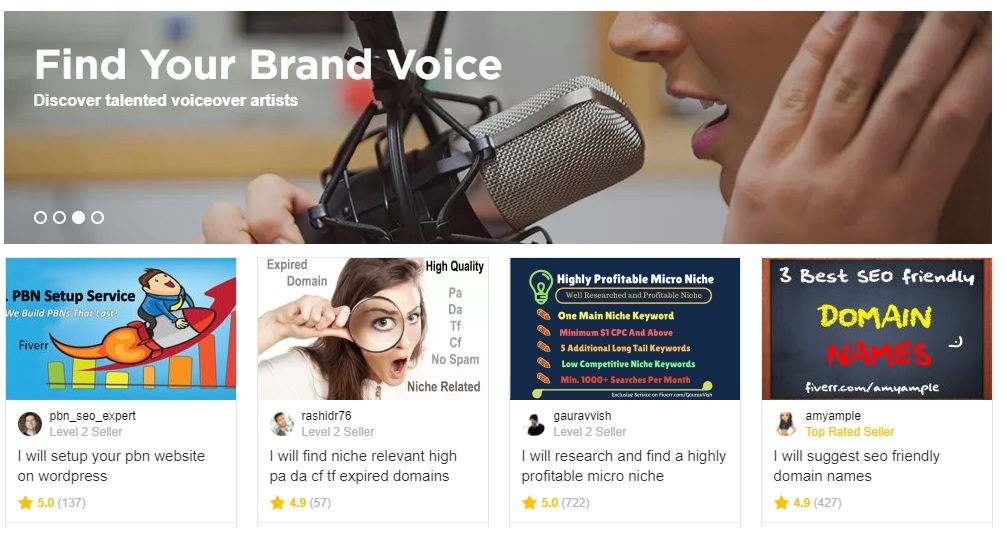 It has been recognised as most trusted and reliable outsourcing platform and you can outsource almost all work related to your blog here and not worry about a thing.
Your work will be delivered according to your expectations within the time limit provided. And even though it's unlikely to happen, if the work doesn't match your expectations, you don't pay
Why we recommend Fiverr?
Fiverr has been labelled as one of the best outsourcing platform for your blog

The cost is very much affordable starting from $5 only.

The work is delivered in given time

The work done is of top quality.
[button color="custom" link="https://www.fiverr.com" align="center" target="_blank"  size="big" bgcolor="#828282″]Check fiverr[/button]
You can also check 
5. Work Market
Work Market is another online market platform that manages freelancers. Founded in 2010, this company has been growing ever since. They provide freelancers that have experience in their field of work so you don't need to worry about the quality of work you'll get.
And by getting the premium membership of work market you can also get access to the most powerful products and services.
Work market has quality bloggers that handle your blog like professionals. They are services are very pocket friendly and the customer service representatives are very good too. They try to solve your problems in the politest way possible.
Why we recommend Work Market?
Work Market has professionals working for then ensuring that you get top quality work

Very affordable and fast

Secure payments and provides great insight
5. SEO experts
And finally SEO experts is an Indian based outsourcing platform only for blog writing. If you believe in the power of words to engage your audience, SEO experts is for you. According to SEO experts, "they know how to generate, evaluate, praise and even criticize content!"
That is enough for you to try them ones after all They sound promising, don't they? They know how to use words and they know have to attract people using them. Personally speaking, we would recommend you SEO experts. They will surely have soul and life to your blog.
Reasons why we recommend Seo experts?
They do proof reading, double checking and self editing

They are affordable

They implement 3 step proof reading approach

They are fast
Wrap up
With this, our list of outsourcing platforms for you blog ends. All these are legit and can be relied upon. We always welcome suggestions and if you use other outsourcing platforms, do let us know in the comments section.