Who doesn't like to get more business? Who doesn't like to make money online? Well, everyone does and that is why an online website like Fiverr is famous. But what if buyers and sellers are not getting desired results or are tired of getting something of less caliber or they are fed up with the competition? Well, there are always other ways to get the job done and all they need to do is look.
So, if you are looking for different alternatives to Fiverr, you have landed on the right pages. Well, to be honest, it is not that the options mentioned below are just some second opinions or alternatives of Fiverr, some of them are doing better than Fiverr for both buyers as well as sellers.
But some are just focusing on a specific niche and some are not that much popular. But as it is said that it is sometimes beneficial to swim against the tide, or better to say don't follow the herd. So, before we start with some superb alternatives of Fiverr, lets us look into the advantages you might get by switching from Fiverr: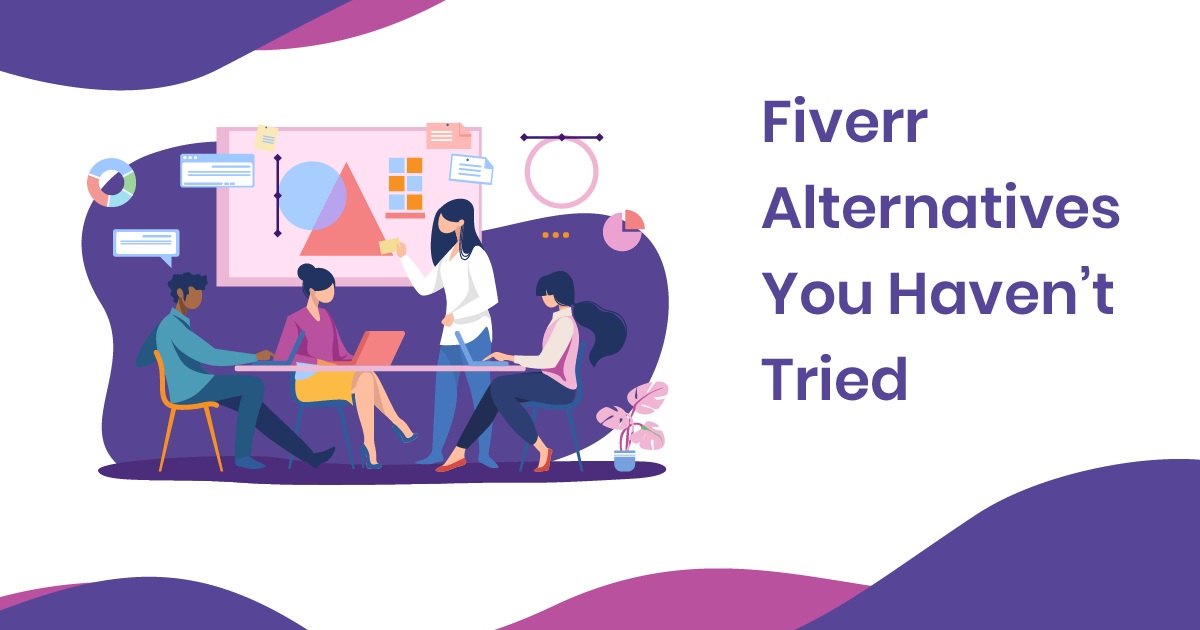 Advantages of using other alternatives than that of Fiverr:
Sellers face less competition (useless cheap traffic) that might help them gain better credibility.
Buyers might get some work done at a cheaper rate and avoid paying a hefty 20% to the portal like Fiverr
Buyers and Sellers have a greater chance of building a strong repo amongst the concerned parties as the portal has fewer competitions, as well as buyers and sellers, won't have any favorites due to the fresh people they meet. So they have a genuine shot at getting what is best for you.
Some alternatives to Fiverr also allow buyers and sellers to get the work done at $1 while in Fiverr it is $5.
Those were some generic advantages of changing preference from Fiverr, now let us look into the specific alternatives as well as their advantages.
 1. SEO Clerks:
SEO Clerks is a better alternative than that of Fiverr if freelancers are looking to buy or sell SEO services. It is one of the best SEO / Online Marketing micro job sites for freelancers and outsourcers. So, if an expert wish to sell expert service or a person is willing to buy some expert service in the field of SEO or Internet Marketing or Social Media then SEO clerks is the place on the internet.
Well, this is not even the best part, there is one good news for Buyers as well as Sellers, there is no limitation in the bidding, and sellers can bid for their gig from $1 to whatever they might like to quote.
2. Microworkers- Small Quick Tasks:
Well, it is not like Fiverr where people buy gigs, but it is the best site if buyers need to get some small tasks done quickly, here people post the service they offer with the hourly rates and buyers can go through their profiles and hire them.
Buyers can also post descriptions and sellers will apply there, thereafter buyers can interview them and finalize one for a task or as a permanent virtual assistant. Buyers can hire sellers at even $3 per hour but my advice is buyers shouldn't be too hopeful about the quality.
It is the best alternative of Fiverr for those who are looking for small designing tasks and some cheap logo or web designing work.  There are almost 7, 00,000 professionals in Microworkers so it should not be a tough task for buyers to find the one they need for the job.
3. Gigbucks:
Gigbucks is another good alternative of Fiverr especially for buyers, they can hire experts from any and all the fields of online marketing and that also at price range of $5 to $50. The best thing about Gigbucks for buyers is this only, sellers cannot charge more than $50.
Well here is the things that motivate sellers to this platform, here buyers can choose sellers from various filters like rating, rice, popularity, verified accounts and date too. So if sellers are smart enough to put choose the services properly, they have got a good hiring chance.
Also, buyers can rest assured about the verified accounts that they will deliver and sellers can also gain better business from the platform by becoming a verified seller. This website is good for those who are buying or selling good and affordable online marketing services.
 4.  Freelancer
Freelancer is more commonly known to people as Freelancer.com and trust me when I say it is flooded with millions of talented individuals as well as organizations. It is a portal where buyers can get any sort of work done like accounting, data entry, development, marketing, software, science, writing, or anything that is legal, freelancers at Freelancer.com can accomplish anything.
Buyers might even feel overwhelmed with the bids they get. But buyers can also restrict the unhealthy traffic by choosing some filters or better to say some badges which they provide to more talented people than others in their niche. And these badges are provided by the Buyers so rest assured if a guy is referred, he or she is good at what they do.
 Apart from it, the best part is they only charge 10% commission which is half of what people pay in Fiverr.
 5. Upwork
Upwork is an alternative which might be less known but is very rich in talent, if buyers and sellers are looking for some writing, designing or logo designing jobs or vice versa, Upwork is one of the best places and also some might say better than Fiverr.
They are really strict in the nature of bidding as well as they monitor for frauds very strictly. The commission here is charged in slabs which are 20% for the range of $1 to $500, 10% is charged for a range of $501 to $10,000 and, 5% is charged for the project range above $10,000.
They are currently not allowing new freelancers to bid so that they can maintain the quality, so buyers can expect less yet quality bids for their projects.
 6. 99designs
It is a portal where people starts a competition for designing. As the name suggest, people can get best designs for logos, websites, book covers and other business related designs. The portal focuses on designing more but the working pattern or terminology is a bit different than that of Fiverr.
Here the buyer have to start a contest of designing where with few details they invite different designers of the related niche to compete, buyers can get up to 90 design submits for the contest and they have to choose the best out of it within the given timeframe.
Once they choose the winner they can also communicate further regarding the design and also exchange source files. With 99designs, buyers have a good opportunity to run bigger projects and sellers also have a good opportunity of participating in one. Sellers can also get some strong references out of it. Though you can also check out some 99 Design alternatives to explore more of it.
 7. PeoplePerHour:
Here the platform provides the best chance for both the sellers as well buyers, here sellers can post their hourly rates and provide services to buyers at their desired rates. Buyers can also post their projects and invite freelancers to bid on the project.
It is slightly costly than that of Fiverr but it is far better in quality, if buyers need some high-quality work to be done or are looking for exceptional expertise, this the place they must be at. The best part is the services buyers get and sellers render are commission FREE. So they have the best chance to make money online.
 8. Fourerr
Fourerr is more like a replica of Fiverr but a better version of it. They proudly say they are similar to Fiverr or they admit they have copied Fiverr but they say they provide the services cheaper than that of Fiverr.
They charge the regular 20% like Fiverr but the gif starts 20% less than that of Fiverr i.e. $4. Sellers can raise the gig but the lowest bid is $4. Other than that if the buyers or sellers are fed up to the load on the server of Fiverr, Fourerr is better in that manner, they have a good design and is faster in terms of loading than that of Fiverr.
Here sellers can earn badges to get higher preferences and buyers can also know which sellers are quality providers. There are certain levels of users which sellers can achieve over time and by fulfilling some requirements.
Thus, above were the alternatives to Fiverr. They might not be as famous as Fiverr is but they are worth a shot, each and every one of them. And it is rightly said that a businessman never misses or leaves any stone unturned. So, buyers and sellers, go for it and get the best of what you seek.