Once upon a time KPO was at boom; during my college days every second person used to talk about the perks of the career which was the highest paid those days. Two decades later I see the same happening with blogging industry.
But here the catch is bigger and more lucrative. Being a blogger means being your own boss, flexible schedules and moreover, you can do it from where you are–all you need is a Laptop, an idea and a good internet connection. Sounds cool since you now have all resources on how to make money by blogging? Huh?
On the other hand many people think you are simply uprising a hobby like fine arts and will soon realise "your worth" and fall flat in face. They are unaware of the term "Professional Blogging."
And if you are reading beyond this line, then I am happy about the fact that somewhere down the line you are keen on knowing more about "Professional blogging".
If you are one of those who are willing to make blogging as a profession then this post is for you. Award winning blogger Anupama Dalmia is trying to provide you a parachute here, before you take the flight.
1. Blogging means Passion
Blogging and passion – are a match made in heaven. Only two kind of people will turn Professional Bloggers, one who are passionate about earning through it or who are extremely passionate about what they pen. Professional bloggers are always hungry for new information in their area of interest.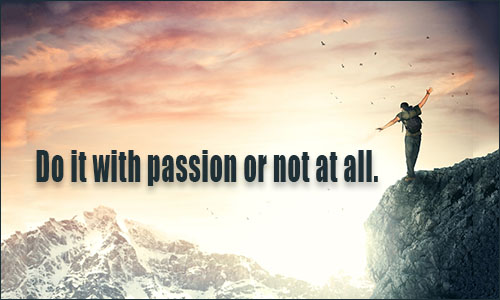 Top blogger Anupama Dalmia says, "If you are not passionate about blog post ideas and penning them well….And want to simply do blogging for money because it seems to be a lucrative career option, think again! You might be disappointed later."
In short, if you can be a student for life, then only you can be a blogger. 
2. Blogging demands Writing Skills
Passion needs the right expression…creative writing ideas. And you need to cultivate the skill of writing, the more your read, the more you pen and the more you are able to quickly adjust to the writing style variations of different niches…the more successful a blogger you can be.
Remember the golden rule, be the river not the sea. Adapt to the requirements of the industry, don't stick to one niche, expand your horizon. And it will only come with more reading and writing.
Anupama adds, "Keep in mind that once you are a blogger, you have put yourself up for public criticism. So develop a thick skin as there will be both appreciation and brickbats coming your way. Value every reader's feedback as long as it's constructive and not demeaning. Work on yourself based on the comments which make sense to you and ignore the rest. Get ready for the trolls as well !"
3. Blogging is not Overnight Success
Blogging is NO get-rich-quick-scheme online. Publish some posts, drive traffic and Google pays you? No it does not work that way.
Anupama says, "Most people enter into the blogging world thinking it is quick money. Well, let me burst the bubble for you – it's not! It takes great amount of time, patience, perseverance and research to get to a stage when blogging can become a reliable source of income for you."
Attempt to get into this field only if you can handles failures with the same heart as you embrace success. Otherwise, hit that close button on the top right corner of this screen right away.

And if you still haven't hit the close button then I give you a cheer by helping you link to a few tools to help you to start a Blog and the "Beginners Guide".
4. Blogging means Discipline & Honesty
Being a blogger does mean that you are your now boss, but hey boss there is no scope of being lazy here. You have to have a fixed timetable to devote certain hours to reading and rest to writing and promoting your work. If you don't have a target to achieve, there will be less motivation for you to wake up and start blogging.
Regarding penning an honest piece, woman achiever and several award-winning blogger, Anupama asserts,"Like any industry, blogging too requires honesty – honesty to oneself. Learn from others but never ape anyone. Write in your natural style. Find your own voice and express yourself fearlessly. Having been in this profession since a while now, one thing I have understood is that it's important to take a clear stand while writing about issues that matter. You are not out there to be a people pleaser or simply do blogging for money…but you are the voice that has the power to make people think and bring about a change."
5. Don't stick to the work-desk
Practice meditation or join a gym or indulge in some rejuvenating activity. It will help you unwind and take a break from the world of words, which is a must. This is how you get creative writing ideas, otherwise you will hit the writers' block.
6. Consistency is the Key
Plan a schedule and publish your blogs accordingly. Consistent publishing with refreshing blog post ideas keep your readers aware when the next post comes. In the long run, it increases your readership greatly. 
7. Ability to Change
With Google carrying out its algorithmic update, a lot has changed since Blogging began. Now how to make money by blogging depends a lot on your ability to adapt to these changes. With more and more people diving online, there will be huge competition. Stay unique yet adapt to change to face this constant rising competition with ease. Build your brand, loyal readership and professional relationships with other bloggers. It will help you grown in the long run.
With more and more people diving online, there will be huge competition. Stay unique yet adapt to change to face this constant rising competition with ease. Build your brand, loyal readership and professional relationships with other bloggers. It will help you grown in the long run.
Here, these "Blogging Tips" and "Blogging Tools" will come handy to you.
8. Future of Blogging
Till the freedom of speech and expression survive in the law, blogging will exist in the online stream. In short, blogging has a bright future thanks to the stupendous rise of digital media above all other forms of media. The consumption of online content has increased commendable in the last three years alone. Smartphones, cheap internet connections, rising literacy has only added boost to the looming blogging industry.
Here are a few prominent "Free Blogging Platforms" for you to analyse and pick to pen at.
So go take a walk in the park, analyse yourself….your strengths and weakness. Analyse if you can fit in all the above parameters. if you still have any doubts, tweet to us at @Stuffonix @MahimaSharmaS. We will get our experts to answer your queries.