As a real gamer, you would not want anything that will ruin your gaming experience. Suppose you make up your mind to play Minecraft on your gaming console using your console, but you suddenly see a message declining your login request.
What would you do first? Obviously, everyone will start getting frustrated and panicking. However, there is nothing to feel worried about. With some clicks, you can solve it by yourself. Want to know how to fix this problem? I'm sure you do. Here, I'll give you a roadmap that will help you know how to fix aka.ms remote connect error.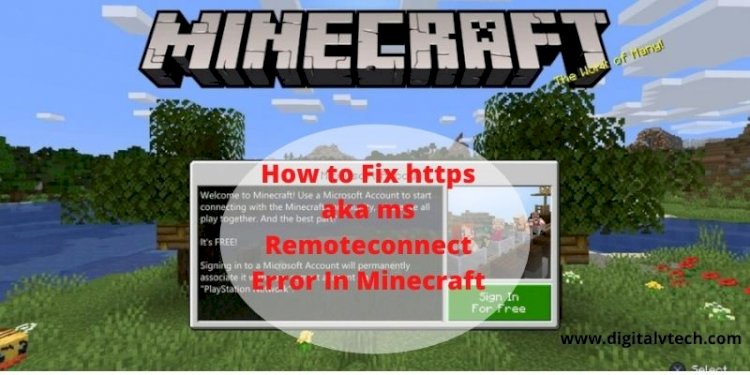 Why does this aka.ms remote connect error occur?
As a Minecraft lover, you must be wondering why you're facing this error.
Even frustrated also.
However, there are many reasons behind this issue. Change of the device is one of the main reasons I can tell you.
Suppose you were playing Minecraft Xbox, and suddenly you switch it to PS4.
Due to this switching, you must face this remote connect error. Let us see some other reasons for causing this error.
Due to the cross-play feature:- If you try to enable this feature on Xbox or PS4 for the first time, you will encounter this error.
Due to corrupt game files:- If your Minecraft contains some corrupted files, it can also be the reason for causing this issue.
4 Ways to solve aka.ms remote connect error
Here, we will walk through four methods to fix this error.
#1 Deleting the Minecraft corrupted files
Here, I will show you some steps for deleting these corrupted files from Xbox and PS4.
Xbox one
On the home screen, click on Games and apps.
Select Games from the menu section.
Find the Minecraft game and click on the Manage game button.
You have to follow the instructions shown up on the screen to remove the corrupted files.
PS4
On the home screen, click on the Settings button.
Click on the System settings and select Storage.
Now, click on the Saved data and Minecraft button after selecting Storage.
You have to choose the files that you want to delete.
#2 Entering the Microsoft sign-in code
Let us see how we can solve this error by entering the Microsoft sign-in code.
 Open your PS4 game on your preferred gaming console.
After opening your game, click on the Multiplayer access button on your gaming console.
A popup message showing the code and a link to authorize your account will appear on your screen after clicking on Multiplayer access.
Make sure to note down the code.
Now, launch the browser and sign in to your Microsoft account.
Open that link shown on your gaming console on your browser.
A new window will appear on your screen after opening that link.
On that window, paste the code you noted down earlier.
You have to agree to the terms and conditions to play the game without any sign-in error.
#3 Settling down cross-play issues
Let us see how we can settle down cross-play issues on PS4 and Xbox.
PS4
As a PS4 user, if you want to use the remote play feature on Minecraft, make sure to download the game pad's version.
Download and install the game pad's version. After installing it, sign in to your Microsoft account.
You will receive a code after signing in. Copy that code.
Visit the remote connect webpage and paste that code to enable the feature.
Xbox
Press the Xbox button and open the Settings section.
Sign in to your account and click on the Account privacy and online safety.
Click on the Xbox live privacy and choose Custom.
After choosing a custom, click on the View details.
Click on the Customize and select Communication and multiplayer.
Now, you have to enable Communication outside of Xbox Live.
#4 Creating a new account
Creating a new Microsoft account is another best solution for solving this remote connect error.
Visit the Microsoft account website.
Hit the Create a Microsoft account button and select Get a new email address.
You have to follow the instructions shown on your screen to create a new account.
Wrapping up
We hope this article will help you to get out of this aka.ms remote connect error. However, it is a common issue that everyone will face. So, you do not have to feel panicky and follow the steps shown in this article to solve it.