From Facebook, Twitter, WhatsApp to work emails, we use emojis everywhere! Hey, just open your last text message to see how many smiley faces, hearts, food icons, etc. you can spot. 2…3… 5 or more than 5! Ugh….
Nowadays, it's quite uncommon to send text messages without using emojis. This is how emojis changed our way of communication.
Recently Apple released a set of iOS emojis that we all claim to love! If your iPhone toting buddies keep sending you messages with newly released emojis that appear as squares for you if you're using Android.
So, if you're already tired of finding out on emojis that your friends sent you, just wait, no more need to search! Just read this guide to get iOS emojis for android phone.
I am using Samsung Android phone and now am going to share my personal experience on "How I Downloaded iOS emojis for my android?"
ios emojis for android Using FlipFont3 (No Rooting Required)
Don't want to root your Android phone to get iOS emojis? If you are using Samsung or HTC smartphone, then FlipFont3 can be your choice.
Visit Google Play Store and search for FlipFont3!    It's an application that lets you get iOS emojis for Android device without rooting. So, let's begin –
Step 1: Yes… You're right! First and foremost you need to download the app FlipFont3 from the Google Play Store
Step 2: After downloading, click on the "Install" button and install it. After installing, go to settings a Display Fonts.
Step 3: There you can find "Emoji Font 3". Just click on that and press "Done". You will notice that your font will change slightly.
Step 4: Now open your keyboard and check it out whether that new emojis popping up. You will see that the emojis that come with FlipFont3 are an iOS look-alike.(If not working then check how2phone settings for detail clarification about settings.)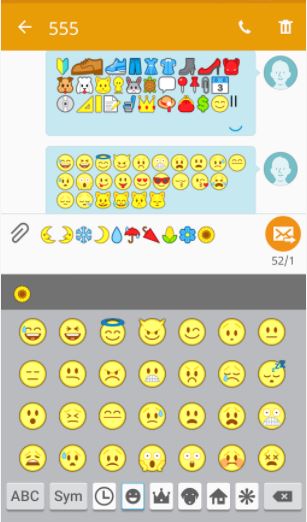 Get iOS Emojis for Android (Rooting Required)
Emoji Switcher app will let you conveniently switch out the emoji in your system. Follow the below steps to get iOS Emojis for Android.
Step 1: Download the app "Emoji Switcher" from Google Play Store. While installing, it will ask for root access, click "Allow"
How to Root Your Android Device:
First, you will need to download the appropriate ZIP file for your device.
Once you have done, follow these steps:
Extract the folder.
Navigate to it, and find the root-windows.bat file. Double-click on it.
Wait for the script to execute, and then press any key
After the successful completion of the process, your phone will automatically reboot, and your device will be rooted.
Step 2: After installing, just open the app. You will see the option to "Set Emojis to"; select the "iOS Emojis" and click "ok".
Step 3: Let install iOS Emoji font and then click on "Reboot" option. After rebooting, your phone will automatically switch on, you will get iOS emojis for Android device.
As you see these steps are simple and need no complicated rooting process! All you need to do is just download the application and follow the instruction mentioned above.
So what are you waiting for? Download the right app and get ready to change your android emojis with iPhone-style emojis.