Safety of women have been prime concern of all human being now, looking at the increasing number of crimes involving women and victimizing them one has to make sure that they are taking precautionary measures.
As per washingtonpost.com "India ranked world's most dangerous place for women". As per Report 38,947 rapes in India in 2016. This all data always force us to think are women safe in India? I think no and mainly depend on where you are living in city..I mean which city.
As per timeofindia report below are few safe and unsafe cities of India and if you are belongs to unsafe city then please take extra precaution and even for safe city…you have to.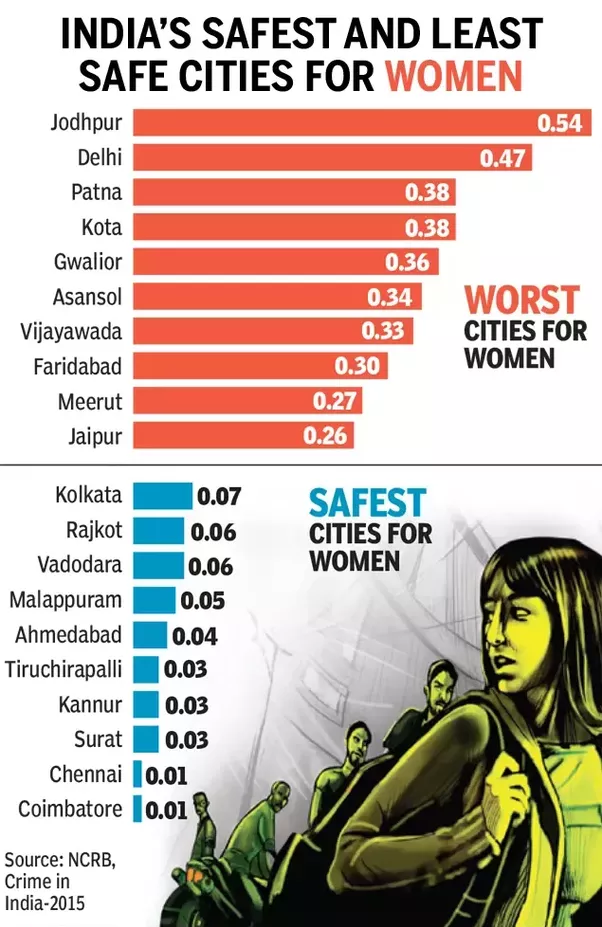 Ever since the evolution of the technology now you can use women safety app, these emergency alert applications are to help a woman to send an instant message to her near and dear ones of her being in danger.
These applications are good and best way to use technology for safety purposes. So here I am listing out  few best women safety app  that can be helpful at the time of emergencies.
Top women safety app
1. Go Suraksheit (Indian safety apps for women)
This app is doing good and ensures safety of the women, It enable you to seek help from the contacts you trust the most from almost anywhere. You can use all it's feature by just one button click.
it has following features. 
Your exact location will be sending to 5 contacts of your list which will be pre-set by you itself.

It even uploads a Facebook status on your behalf, with the same information.

Your phone will even play a loud alarm for nearby help.
Location include  a link to the exact location on the MAP.
The app will keep on trying calling the configured contacts, until and unless any contact pick up the call and had a conversation
App Information
Installs -1,000 – 5,000

Rating- 3.6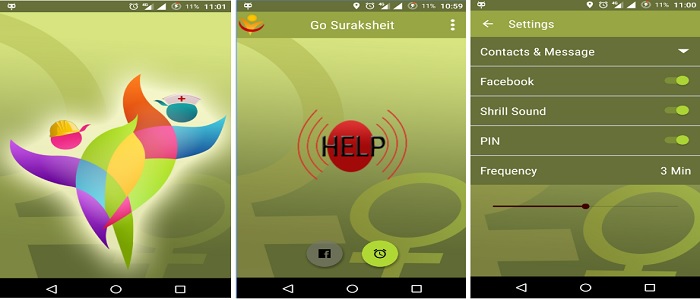 2. Panic Guard (Real time position women safety app)
This app is extremely easy as everything  has been designed and tested to work in dangerous and stressful situations.
It is easy to track your real time position once  PanicGuard is activated, so it is easy to backtrack your position and find CCTV footage on your route for further evidence.
All information not only sent through SMS  but also update on Facebook , email and Twitter. PanicGuard also automatically starts recording video in secrecy. 
App Information
Installs -50,000 – 100,000

Rating- 2.8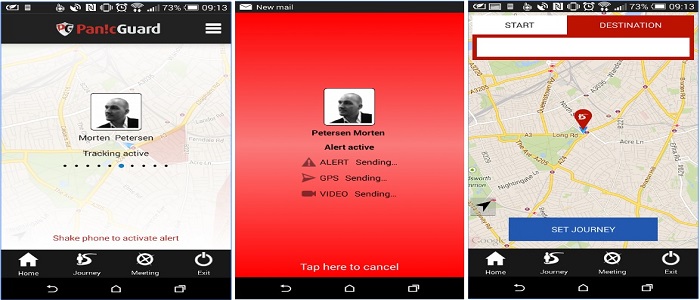 3. My Safetipin: Personal Safety app for women
This help you in taking safety companion to take safer decisions  based on the safety score of the area and you will get alert once you enter in unsafe area. 
It also allow you to  invite friends or family to track you. This app also suggest you more safe alternate route for travelling.
This app collect data related to visibility, Diversity, crowd, Public Transport, Security,Walk Path and Openness then only provide you suggestion about route.
App Information
Installs -5,000 – 10,000

Rating- 4.6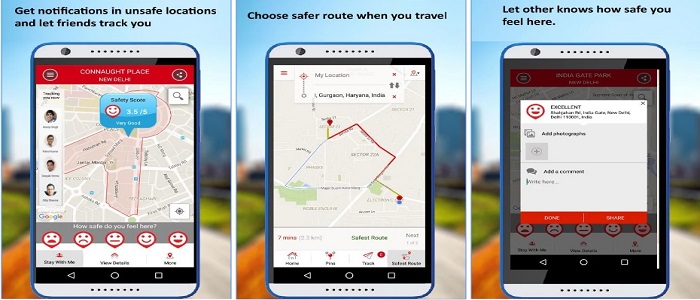 4. Nibhaya, Be fearless 
If you are Indian then you surely heard about Nirbhaya case and how she had suffered. So make sure you have something to get secure.
Nibhaya  one of the most reliable personal women safety app and make your  near & dear by using a "Single" click Distress signal.
This app also provide safe and unsafe area but all data provide by app user so it is more realistic  data then other apps.
Similar to other apps this app also send sms  to specified  contact or group in an emergency situation. Even posts on your Facebook walls and sends notification to your other reliable social media handles.
This is one of the best way to use technology for women safety.
App Information
Installs -10,000 – 50,000

Rating- 4.2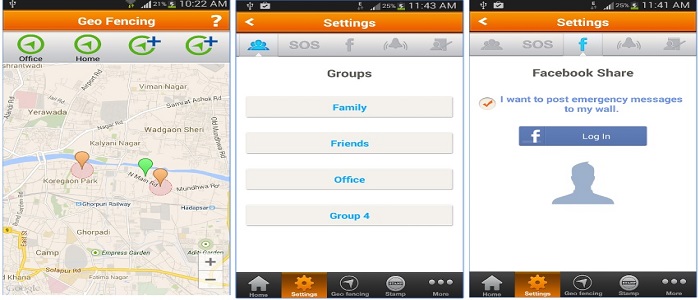 5. RideSafe- Travel Safety App
This app is actually a unique concept and I recommend to use this app..
RideSafe ensures your safety while travelling in a cab, taxi or auto, by automatically detecting a deviation in your route to your destination And it inform to all your selected contacts.
You only need to set your destination so this app consider all alternative route even  in case driver take alternate route to  avoid traffic.
This app also inform  your selected contacts about the start of your trip, and your arrival to destination, via SMS completely FREE of cost.
It works smoothly in any cab or taxi, private or official, anywhere in the world.
App Information
Installs -5,000 – 10,000

Rating- 4.6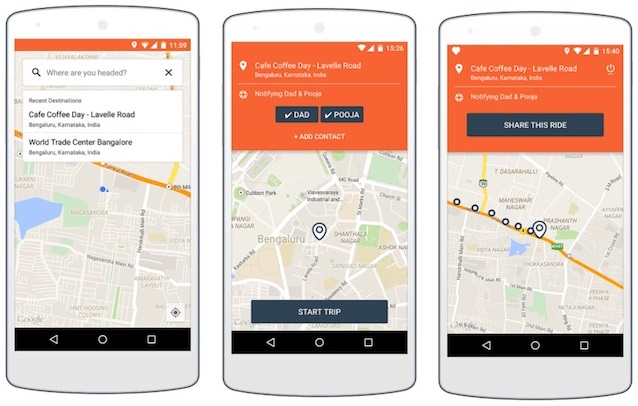 Other few best apps for women security are —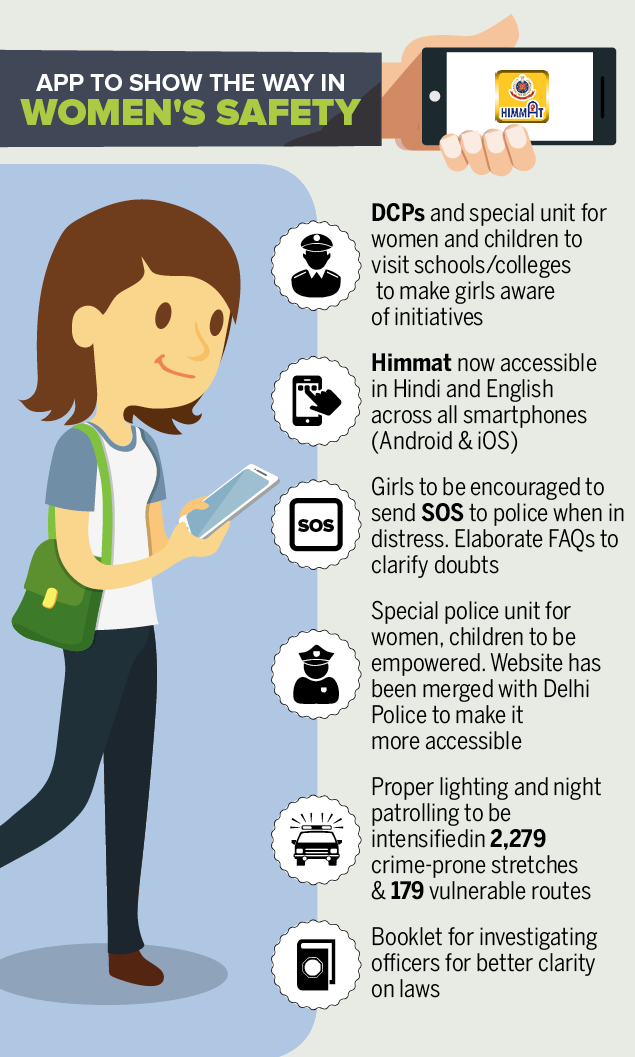 Conclusion
Technology has evolved in such a way that one can use this and benefit themselves and keep them away during the time of emergency, all of these applications are working on both the android phones as well as the Apple phones.
All you have to do is download the application and feed the messages and contacts of your close ones whom you would want to alert at the time of emergency, all the applications are worth a try.
You can even download and test them or switch to any other from the list as all are free and are readily available on the play store.
Women safety should be our prime concern and with the technology we can at least take few precautionary measures, we should not risk ourselves assuming we stay in safe areas, crimes are uncertain and expected, and they can be avoided only if you are smart.
Hope you like this post and make sure you install at least one women safety app in your mobile so you will feel more safety  while travel or out of your home.