Do you know more than 70% of the total websites never get 100+ traffic in a day?
Yes!!! I am not joking and they also end up their online work and give more preference to the offline solution.
And actually getting traffic is not much easy task if you are not following proper planning & strategy. Sometimes they even pay digital marketers and get traffic with their help.
So here we are come up with series of posts to help you out with different tactics to increase blog traffic free of cost.

Let's get started with the very first tactic to direct traffic on any website without spending a penny on it!
But what is Viral Blogging?
I'm sure you must have come across those posts which are liked by thousands and lakhs of people over social media platforms. In fact, these posts are shared over multiple social channels, not just one.
Well yes, there you go!
This extremely popular content approach is known as 'Viral Blogging'. In other words, when you share content with the purpose of making it viral across the internet constitutes to this the Viral Blogging method.
I know you must be wondering that every post spread over the social channels is posted with the intent of sharing it and making it as viral as possible, but NO, there's a big difference.
In Viral Blogging, you select your topics and format your content in a specific manner and in tried-and-tested ways. You post things on topics that have already shown or are showing maximum results over the social network.
Do you want to know what those specific ways of posting the content are?
Okay, we'll take you through the content strategies that have proven to be most effective for the Viral Blogging approach.
1. Post On A Regular Basis
There are few basic things you just can't go wrong with. Posting regularly keeps your audience engaged with you and they keep coming back for more if they know they will get to see something new everytime. This is one tip that holds true for any content type that you're planning to post on your channel.

Remember, regularity is the key to popularity!
2. Schedule Your Posts
Let's assume that you're using WordPress and you need to post something new on a regular basis. Now of course, you cannot draft a new blog post every single time on point, so how would you maintain the pace of posting new content frequently?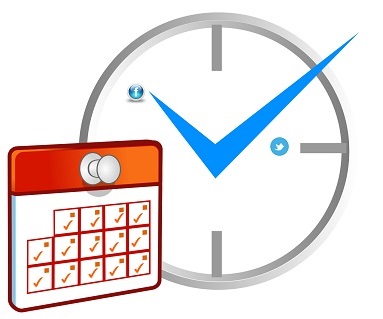 Well, you can schedule or time your posts smartly. There are many applications available online like 'Social Pilot', 'Social Sprout', 'Hootsuite' and many more where you can draft and save your posts several days in advance (or according to your preference) to be published automatically on the scheduled time. In this way, your WordPress blog page will keep itself updated even when you're not around. you can also check our guide of the top 5 social media management tools and 8 Social media apps for digital marketing for more information.
Also, you can decide the duration of your posts. Like you can choose to post every day, once in every five days or so…But just remember to share the up-to-date content so that people do not forget you.
Posting at least once a week is important to stay connected with your audience. DO NOT overwhelm your viewers by posting something new every hour or so, this way they would miss out on most of your content and wouldn't be very keen on something coming up.
The trick is to always leave them wanting for more and more! For better utilization of social media, you can read The Best Time to Post on Social Media.
3. Keywords, Everytime!
Keywords are paramount for Viral Blogging. You MUST use keywords both in the title and in the body of your post before publishing it. If you do not have a fair knowledge about what keywords to use for your content niche, then conduct a search on topics related to your post and figure out what keywords are used for the same.
Curate topics and content in a way that it covers the things that are going viral and yet are slightly different from those which are already present online. This will help you in getting on top of the Google search engine ranking. Smart use of keywords can be really effective for making your blog viral across the web. You can use keyword research tools to find the best keywords for your post.
4. High-Quality Images Are Imperative
The heart of the matter on social media is 'what you see is what you like'!
High-Quality images are absolutely necessary to appeal the audience and direct them to your website. Words do count while posting something online but including relevant images is equally important.
Images connect the readers with your content and also make them more interested in going through your text. It is the first thing that a reader notices when they come across your post on their page.
Therefore, always use high-quality and relevant images for your content to direct traffic to your page. If you are not aware of where to get high-quality images without money then check best site to get royalty free images for commercial use.
5. Format Your Content
Do not make it look like a mess by packing everything into one huge block of text. NO!
Draft subheadings for each page or paragraph (whatever way suits you more) so that the readers can skim through the content. Divide your content into several paragraphs to make it look presentable with 100 words in one paragraph or so. Also, varying paragraph lengths are more captivating than uniform paragraph lengths in a row.
There are different types of content that are likely to go viral on the web. Each one of them is unique and quite distinctive from the other ones on the list. Some of them are humorous, fun-based content themes while other differ significantly offering a more serious approach to the content.
All these content niche are analyzed on the basis of a study conducted by 'Buzzsumo' to understand what gets viral out of the content themes shared on the internet.
Top ten lists on anything do really well on social media. It's like an update for people about the things that are trending in the world; therefore they take great interest in reading it.
Post the latest news and upcoming events if you want your content to get the attention. People really like to shared something with others that they consider as 'news' or something major that's happening around.
Controversial topics with controversial titles are sure shot to do well. If possible, choose titles which are evergreen and keep on gaining traffic over time.
Entertainment and celebrity stories are certain to get the limelight. People love to gossip and they need stories which they can with their friends and relatives. Thus, these kind of updates are a perfect fit to get traffic on your website.
Another hot button to trigger on your page is 'Politics'. If you know how to combine politics with controversy you're set to get a millions of followers on your page. And this is not all. The best part is you can freely post your opinions on such topics and get reverts from thousands of people reading your post. In turn, they will follow your page to stay updated about your posts.
This was all for the very first day on how to gain traffic without shedding a dime. Stay connected with us to learn the second important tactic for directing active traffic on your site.
Was this information useful for you? Do you know more topics for Viral Blogging?
Drop your answers in the comments section below.If you like this post then please also check our 2nd blog increase blog traffic using  YouTube Traffic Production.