One of the most important things after starting your own business is to take it online because you can reach out to a larger market on the internet.
Now to make sure your customers come to your website, it needs to properly designed, look good and also be easy to use. The platform on which you sell or offer the content is as important as the content itself. To make sure you have a beautiful website that engages the customer you will need a premium WordPress theme.

What makes WordPress one of the most popular CMS out there is that it does not require you to have a previous knowledge of website administration and is a highly reliable system that saves both time and money. Whether you are building a website for business, photography, eCommerce, and magazine or just for blogging and personal use, there is no better alternative to WordPress. There are some websites that offer WordPress themes for free but it is difficult to match the quality or features a premium WordPress theme provides.
Today we list the top  best websites where you can download premium WordPress themes.
1. Theme Forest
Theme Forest is really unique and offers designs and templates you are unlikely to find anywhere else. Often used by freelancers and designers of WordPress themes, the website hosts cutting edge new designs that have been created to sell on the TJ marketplace.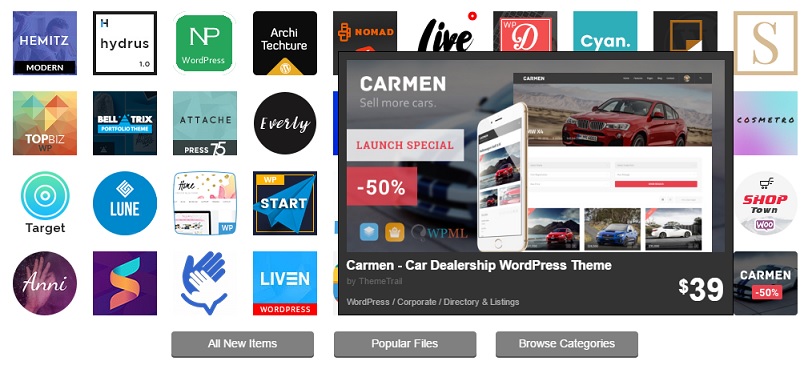 With a set of guidelines that ensure quality, Theme Forest can help the visitors on your website turn into subscribers or customers due to their up to date designs and beautiful themes.
Built for speed, these designs make your website easily readable and provide clarity. With automatic image compression feature, you can be ensured your pages have the lightest codes and load faster than most other websites. They can help you add targeted Focus areas that will help you to get more sales and reach more clients.
2. ThemeFuse
ThemeFuse has created some of the best rated WordPress themes in the industry but often lacks the consistency required to produce such top quality stuff with each theme.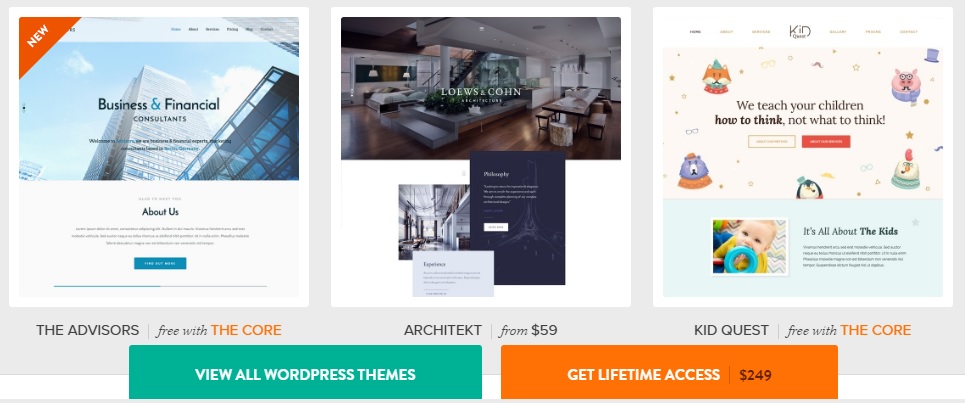 They have created beautiful themes that have powerful functions and come built in with useful features. One feature that sets ThemeFuse apart is that it allows users to try its themes before buying. One just has to create a Test Lab account and select a theme and they can check if the theme makes their design as they need it to.
With premium customer support and a team of enthusiastic designers the service creates designs that provide value for money. The clean and optimized code is combined with smart design architecture that makes sure visitors can easily read and interact on your website.
3. Theme-Circle
Theme-Circle has an intuitive and easily accessible service that helps you create attractive and user friendly websites that have attention-grabbing pages to please target audiences.
The themes available here have smooth graphics and are created with quick-loading code combined with a wealth of different customizable options.
Easy to use, Theme-Circle provides designs that are carefully designed and painstakingly selected to grant companies and individuals to add modern look to their website. Not only do the designs look beautiful, but are quite flexible and have good responsiveness. Packed with various options for layout designs and topnotch customer support, Theme-Circle has it all to help you build a modern website.
Check out theme on ThemeCircle 
4. Elegant Themes
Elegant Themes is one of the cheapest websites for getting premium WordPress Themes and it offers around 89 unique and beautiful WordPress theme designs for just $69 per year.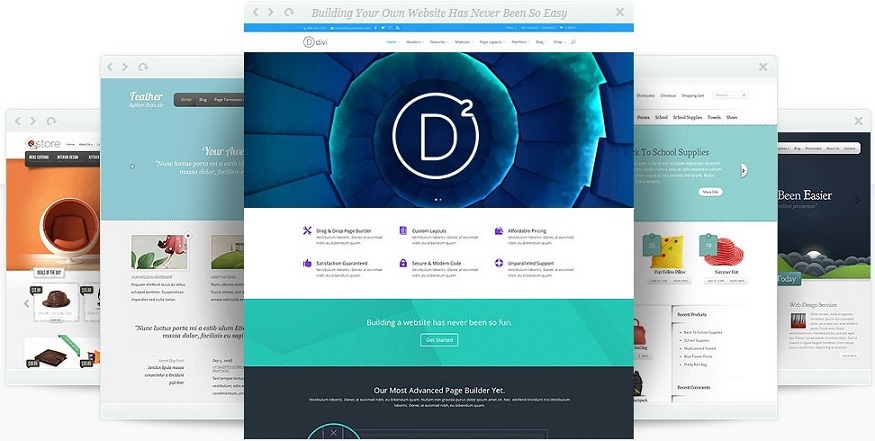 With over 350,000 customers, the service provides many advanced features and even has a 30-day money guarantee if you do not like the content.
 Elegant Themes offers a wide range of choices at low prices and thus the service is perfect for users on a tight budget who want to set up multiple websites or blogs that look different.
Buying this service is like a onetime investment since you not only get instant access to current themes but also get updated ones. The service offers great designs and advanced features such as Short codes, Theme Options and Page Templates along with dedicated support staff.
Check themes on Elegant Themes
5. ThemeZilla
ThemeZilla builds beautiful and affordable WordPress themes that will help your portfolio, blog or business unique and stand out on the internet. Building themes since 2008, the website's superior service and popularity led it to being bought by Pixel Union this year.

The brand focuses on simplicity and this is evident in their themes which use a lot of white spaces and bold colors. That simple look combined with clean lines and easily readable fonts create a design that looks modern and timeless at the same time.
With a small team of world class designers solely focused on creating innovative WordPress themes, ThemeZilla has managed to become popular among leading bloggers and business owners. Every product on the platform has been beautifully designed and users can get help from their dedicated customer support team.
Check out themes on  ThemeZilla
6. Genesis Theme
Undoubtedly one of the most popular sources for WordPress themes, it is no surprise Genesis Theme takes top spot on our list. Offering all of the latest features one can expect from a WordPress theme, Genesis requires users to have no previous knowledge of coding.

One of the reasons Genesis has so many fans is that it works perfectly and complements you at SEO, one of the most popular SEO plug-ins on the internet.
Although a full package costs over $500, trials are available from around $60 where you can purchase the Genesis Framework and get instant access to unlimited updates, technical support and detailed tutorials.
Genesis comes preloaded with custom page templates such as Default, Archive, Blog, etc. that can help you get your site up and running in a matter of minutes and a few clicks.
Check out themes on Genesis Theme
At last!!
Since this websites offer highly useful premium WordPress themes at such low costs it is almost stupid to go looking for free WordPress themes. Offering completely unique and freshly designed themes these are undoubtedly the best places on the internet to get WordPress themes that will set your business apart from your rival and help you surge ahead in the market.