Many Firefox users received a message on the Firefox page such as "Your browser is being managed by your organization" or "Your organization has disabled the ability to change some options".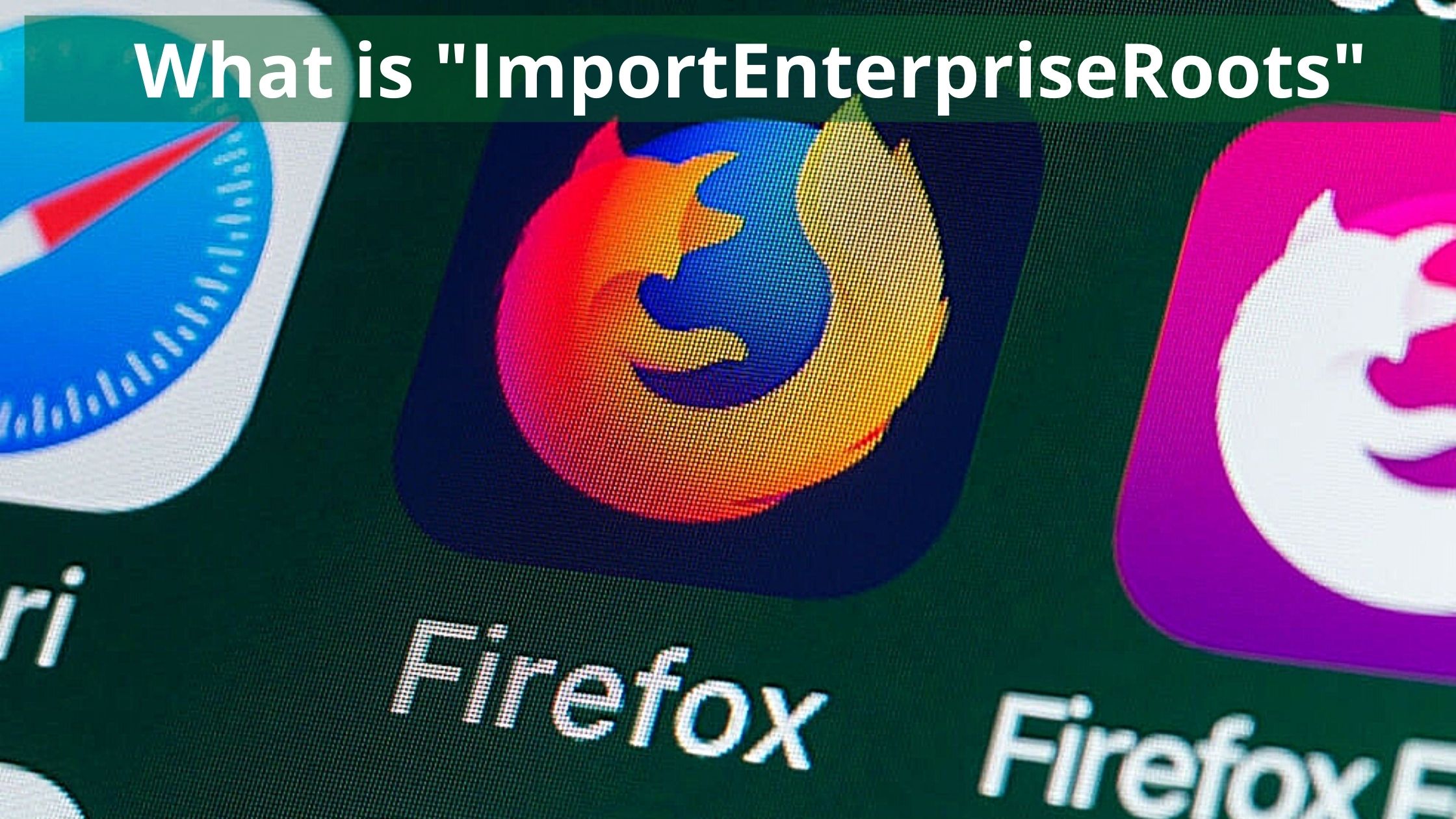 Users of Avast or AVG Antivirus application who have installed the software in their system often see this message on their preferences page.
If you're a sole user of the device and the device is not under any organization, then Avast antivirus or some other program will be controlling your browser.
 As the browser is being controlled by other programs, limitations are being faced by the user and they can be modified via settings. There are some other ad blockers and extensions as well using this policy.
Table of contents:
What are Import Enterprise Roots?
Steps to disable Import Enterprise Roots.
• Disable Import Enterprise Roots
• Disable from Windows Register
• Edit policies.json folder
• Remove Antivirus programs or unwanted extensions
What is Import Enterprises Roots?
In Firefox, Import Enterprises Roots is a policy that allowed SSL certifications from the Windows Certificate Store and if not allowed then it's not possible to read any SSL certifications from Windows Certificate Store.
To root any certificate authority from Windows Operating System, Import Enterprises Roots authority is being utilized.
If Firefox is stopping you to perform certain settings in your browser, simply disable the policy by following the steps as directed below:
1. Disable it by using Firefox
Step 1: Start your system, open the Firefox browser and type "about: config" in the address bar and click Enter.
Step 2: A warning page might appear. Click on the "Accept and continue the risk" button to go further.
Step 3: In the search box, type "enterprise" and click twice on the option saying "true" to make it "false" and change the preference.
Step 4: Lastly, search "security.enterprise_roots.enabled" in the search box and change the preference value from true to false.
Finally, no new certificate authorities such as Antivirus software or third-party extension can control the web traffic in the Firefox browser.
2. Disable from Windows Register
By using Windows Register you can stop programs from accessing Import Enterprise Root.
Follow these steps to disable from Windows register:
Step 1: Go to Task Manager and close all the Running Applications along with the Firefox browser.
Step 2: Go to the search bar and type "Windows Registry Editor" and click on it. Or Click Windows+R simultaneously and type "Regedit" in the prompt and click on enter.
Step 3: In the address bar type "HKEY_LOCAL_MACHINE\SOFTWARE\Policies\Mozilla\Firefox" in the registry editor and click enter.
Step 4: In the Firefox folder, all the enabled policies in the Firefox browser are listed down. Delete the whole folder to disable all the policies at once.
Step 5: Restart your system and then launch the Firefox browser application and now you should not see the same message on your page again.
3. Edit policies.json folder
Step 1: In Windows open the Firefox installation folder, usually located at       C:\Program Files\Mozilla Firefox.
Step 2: Once you're in, you'll find the "Distribution" folder.
Step 3: Once you click open, you'll find the policies.json file, delete it.
Step 4: Now all the policy records which were enabled in the Firefox browser have been deleted.
Step 5: Visit about: policies on Firefox page to check whether the policy value is removed.
4. Remove antivirus programs or unwanted extensions.
Step 1: Disable the antivirus software or unwanted extensions, by just doing that itself you can prevent organizations from managing the browser.
Step 2: Go to the Apps section in your computer, select unwanted apps, programs or any antivirus software installed in your system as Quick heal, Avast, and click on uninstall.
Step 3: In the same manner, remove all the unwanted extensions managing your network traffic and browser settings.
Step4: Go to Firefox, visit about: addons, and select on the three dots beside the extension name to remove it.
If you're tensed that after uninstalling anti-virus software your system will become vulnerable, then run Windows Defender and it will protect users from any malware harm.
But if you successfully modified all the browser and user settings, then you don't really need to get rid of the antivirus as it has a great ability to protect from harmful viruses on the internet.
Final Words:
Using the first step you can temporarily disable the programs from accessing the Import Enterprises Roots policy. Once done, follow the above steps and enable Import Enterprise Roots.