Online testing jobs!!!  looks complex job correct?
I am not talking for software guys but for others it's actually seems complex.
But no worry it's not actually complex task, you just need to run website or software as a user and tell them what issue you are getting, how it is looking, where you struck and what other thing you can suggest to make their product best.
Actually many company start paying to freelancer to test their software and websites so they would get exact idea about what end user think about their product.
And If you expert in finding bugs or error in any application like something not working, color mismatch, website not working perfectly on mobile platform & similar. Then why not do same and start earning online.
Before assign any task you will get whole kit where each and every steps mention clearly. you just need to explore website, software, apps or video games.
So now no more delay and let's know list of best site to get testing work.
Online testing jobs
Let's start with one of the famous Online testing jobs site…
1. Usertesting
Usertesting provide you a site or app name and you need to visit given website or app then complete set of task related to testing.
You will get paid $10 on each task completion.I consider usertesting is one of the best place to get online testing job so please be honest in providing your feedback so your chance to get next work more easy.
Things needed to get start work
Features of Usertesting

[button link="https://www.usertesting.com/be-a-user-tester" size="big" align="center" target="_blank" icon="momizat-icon-laptop"]test on usertesting [/button]
You might also like to read
2. whatusersdo
By joining this testing job site, you will get extra cash in your pocket and You will also get chance to take part in their quarterly competitions and offers so if you win then you would get some exiting prize.
For each site you complete you will get  up to $8 and  generally one site take approx 20 min to get complete task.
You will also get exposure of testing from different type of website and client so it is actually earning with learning work.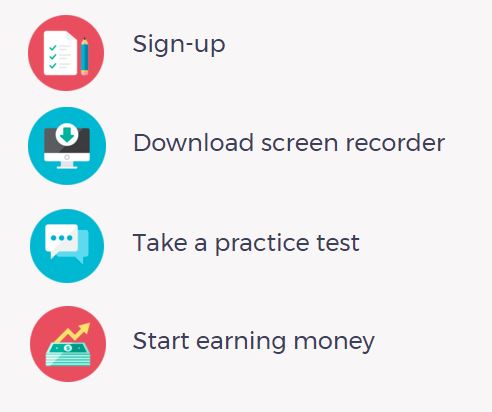 Things needed to get start work
Software need to download from official website.

Computer with internet connection and microphone.

Good in English speaking.
Feature:
You will get Payment  via Paypal.

Frequency of testing task depend on clients requirement.

Payment process on 25th of each calendar month.

[button link="http://whatusersdo.com/panel" size="big" align="center" target="_blank" icon="momizat-icon-laptop"]test on whatusersdo[/button]
3. Crowdsourcedtesting
This site demand a quality work& search for best testing expert worldwide so if you are talented, passionate about quality assurance testing then you can join this. you can get work like test website,software,mobile application and even video games too.
Testing of video games give a high value to this site and you just need to play video games and find bugs. So for video game lover this platform is best for earning with fun.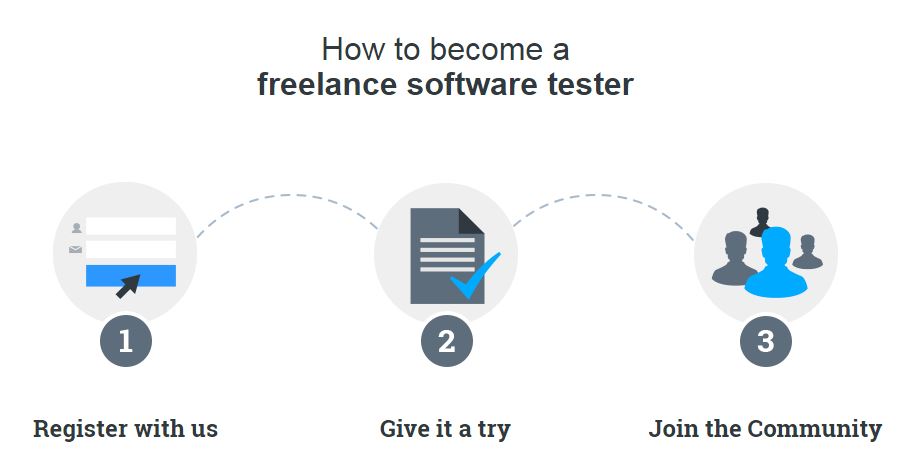 Feature:-
Get help from Global community to learn best testing approach.

Flexible timing means no need to follow any timezone.

Make extra money for every bug you find and if difficult then higher the payouts.

you need to be very fast and provide list of issues in short time frame.

You will see payment of each and every project in the "project details" page.


[button link="http://crowdsourcedtesting.com" size="big" align="center" target="_blank" icon="momizat-icon-laptop"]Test on crowdsourcedtesting[/button]
4. YouEye (userzoom)
Just fill few questionnaire to sign up and become tester here. YouEye Pay you $5-$10 per website you test and each test ever take no longer than 20 minutes.($10 if teating needs audio and video recording otherwise $5).
You have to test website usability so it is easy task and no need any expert knowledge.You will get work according to first come first serve basis so always try to be first if you want to get more and more work.
The number of opportunities you receive on userzoom will depend on a number of factors, such as your demographics and your quality rating.  
you just need to download UserZoom's eCertified testing software to start work.
Feature:-
You need to record your screen, voice and your face.

You must to have PayPal account.

Your payout would be proceed money to your account in about two week.

Joining the YouEye panel is free.

You must be at least 18 year of age to start work on YouEye.

[button link="http://www.userzoom.co.uk/" size="big" align="center" target="_blank" icon="momizat-icon-laptop"]Test on youEye[/button]
5. TrymyUI
TrymyUI want tester to share obstacles that real people run into on their sites and apps. you just need to share your frustration with website to designer and coder so they will make changes.
You will be paid approx $10 for each test you take and a typical test lasts approximately 20 minutes.
Feature:-
You will get money on every Friday through PayPal.

Go through a rigorous qualification process (less than 10% actually make it).

Records the tester's screen and voice.

[button link="http://www.trymyui.com" size="big" align="center" target="_blank" icon="momizat-icon-laptop"]Test on trymyui[/button]
6. Analysia
Just paid by surfing website and tell what you think about website. Analysia pay you $10 for just 10-15 minutes testing task and each session need audio and screen recording. 
Your chance to get work is totally depend on your profile so you can not expect a test work per day but being on the target profile, you can be invited to do a few test per months
Feature:
Audio and your screen will be saved.

You need internet connection and a microphone.

You will get payment via PayPal account.

You will get email from analysia for each task.


[button link="http://www.analysia.com" size="big" align="center" target="_blank" icon="momizat-icon-laptop"]Test on analysia[/button]
Here list of few more websites where you can have best testing work to earn money.
Hope after reading this post you will choose at least one platform and start online testing jobs as part time earning source. If you find any issue or know other best sites then please let us know.