Do you know more than one language and are you comfortable in speaking or writing of both language?
If yes!!! then why not use this talent to make money online?
Now one question surely comes in your mind,  how one can earn by online translation job?
There are lots of platform available where you can easily make money as translator and best thing is that you can do all this task at home…means work at home & earn money:)
[button width="full" color="custom" icon="momizat-icon-spell-check"]Best site to earn money as Translator[/button]
Best site to provide translation work to top companies like Microsoft, Philips, Kodak, Samsung, Nokia, UBS, Oracle etc and also best platform to work for professional and serious translator.
Working specialized in technical document, user guide, digital product, website data and many more. Here you can set your service and rate . This platform helped over 18,900 other people who posted over 208,500 jobs.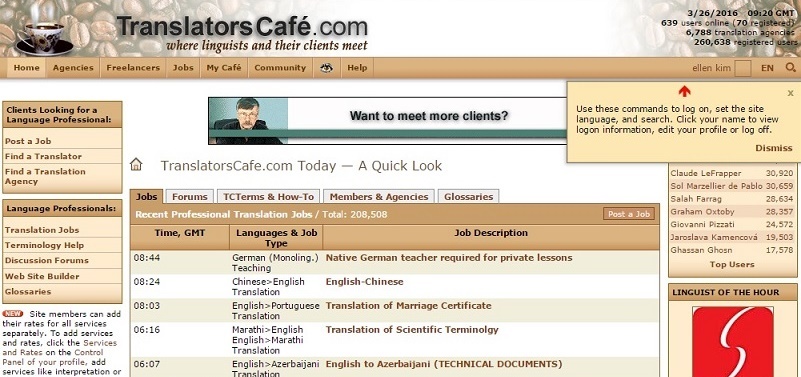 Feature:
Payment options Paypal, Skrill, western union, money gram international.
2. Proz
Leading source of translation jobs and translation work for freelancers. Proz claim of being a world largest community of translator.
Translation, interpretation, localization and other jobs requiring the services of multilingual professionals or companies may be posted.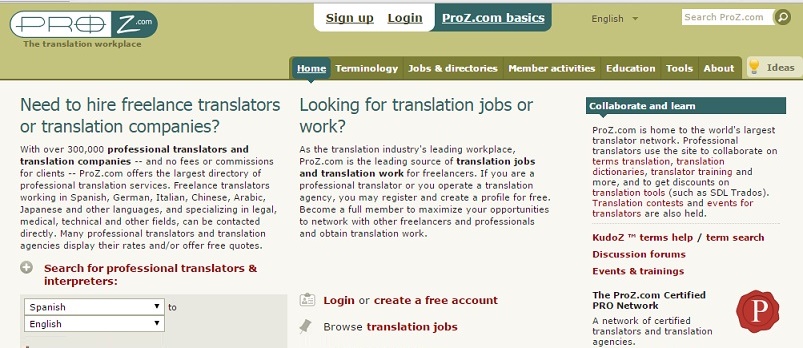 Feature:
More than 3.4 Million question asked and have approx 800k register user.

There is no fees for posting job and also no commission.

Payment will be made in your Proz wallet and Proz does not charge any processing fees.
3. Gengo
If you are expert bilinguals then just need to clear one test and start working with Gengo. More than 10000+ pre-tested translator working in 34 languages.

Feature:
Gengo pay translator twice a month on 10th and 25th .

New job will be listed on portal and also you can receive job alert via mail .

You will be paid via Paypal or Skrill in US dollars.
Translator rate:
Standard:$0.03 per word/$0.018 per character (e.g. Japanese, Chinese)
Pro: $0.08 per word/$0.048 per character
Who can work for Gengo?
If you live in the U.S.(resident alien) and are legally allowed to work in the U.S.

If you are NOT a U.S. citizen, and you live outside the U.S. (i.e. you live in any country except the U.S.)

If you are NOT a U.S. Citizen, and you live inside the US without permission to work
Here you need to specify what language translation you are comfortable for, then once new project work match with your language then you will notify with email.
You will get work like book, CV, Birth certificate and many other document translation. So if you are good with this type of work then You can join this platform.
Feature:
You need to submit resume here.

You need to submit a bid for project belongs to language specify in your resume.

Translation rate depend on difficulty level,region and type of document.

You should have Paypal account for payment processing.
Platform for over 75 language and 2500 language pair. Supported by more than 15000 professional in more than 100 countries.
Platform providing business translations in different fields including legal, technical, websites, applications and software, marketing and more.
Onehourtranslation claim to being fastest translation agency in the world. So by this information you hope to get translator work easily 🙂
One Hour Translation allocates approx. 1 hour of translation time for every 200 words in the document and up to 8-10 hours per working day.
Feature:
You can join as a translator is free.

Get paid whenever you want.

Work whenever you wish.

The rate for General translation in this group is 5.4 cent/word .

You can request for payment out once it reached minimum $20.However regular payment date are 15th and end of the month.

You can use PayPal to get your payment.
Portal for language professional with 38,267 Freelance Translators . Here you will get work easily if you know one more language which is other then English , As English is very common and most of people know.
This website also sell database of translator so if you do not get work from this site then chance to  get work from some one else 🙂
Feature:
You can edit language pair in future.

Payment is depend on language you know.
7. Traduguide
Traduguide is also good platform for finding translation jobs where translator and their clients meet.
Feature:
You will be notified of requests matching your language pairs and specializations.

You have to enter your price quote.

Client connect you directly.

Your own profile page with www address.
Global translator job portal connecting client and translator. Here either you get work by biding or client may directly connect you.
Feature:
There are 2 type of membership : paid and free one. In free membership you can not bid while in paid one you can.

Easy to use translator portal.
Below are few more sites where you will get freelancing work as translator.
Hope you like this blog post…and start doing online translation jobs. If you find any issue in process of getting this job then write us in comment.
A big thanks for reading