Betting Online in India
Online betting is a much popular trade in India. According to the stats, the Indian cricket market is worth Rs. 3 lakh crore annually and approximately 40% of Indian internet users visit gambling sites.
One of the reasons for its popularity is the unavailability of opportunities. In a country like India, we only have legal bookies for horse racing & not cricket. This leaves a void as cricket & cricket betting is an obsession here in India.
Though many fans enjoy betting football, Formula 1, tennis, field hockey, and other sports but cricket remains the uncompromised choice forever.
The only way to do betting in India is via foreign online bookmakers, this too is a semi-legal practice. This is the topic that I wish to discuss in this article.
The Dynamics of Sports Betting
First let me make clear that Dafabet is a gambling company focused on Asia. Their website is one of the best for betting football and basketball. Because they have a large number of Indian clients, they offer odds on IPL cricket and some other leagues and tournaments but do not offer cricket spot bets.
Bet365 on the other hand is a global company. They have odds on every sport and league from all over the world. This means they have odds on FAR more cricket fixtures with each having lots of prop and spot bets, both, pre-match and in-play. Some of the examples covered in this section apply only to Bet365.

The IPL is the most bet on sporting event in India with millions being bet on each game 
Understanding Betting Odds
Online bookies support many different odds formats. No matter which you use the payouts are the same. This is done simply to support betting develop independently around the world, and thus different locations use different odds formats. 
Decimal betting odds are a universal format. This is the one format to use if you are new to online betting and need to make a choice.
For example Delhi Daredevils vs. Sunrisers Hyderabad
Under this format, no matter how much you stake on Delhi Daredevils, it will return 1.55 times on a win. So if you stake Rs. 3,000 the payout is Rs. 3000*1.55= a return of Rs. 4650. Of that Rs. 3,000 was the return of stake and Rs. 1650 was profit.
Notice, that if you are betting for Sunrisers Hyderabad, you would get a big return. This is because in this match the odds makers have declared the team an underdog, feeling they are less likely to win.
Cricket Betting Markets
Besides match winner, there are many other options for betting cricket. At both Dafabet and Bet365, you can find the following markets in the Indian Premier League.
Match Winner– This is simply a wager on which team will win the match.
Most Sixes– This is a wager on which team will have the most sixes in a cricket match.
Most Runs– This wager pairs different popular players together head to head. You make a wager on which of those players will have the most runs in the match.
You can also find future markets for betting on the winners of tournaments or leagues. In cricket, some of the most popular future bets are made by choosing, who you think will win the IPL, Cricket World Cup, ICC Champions Trophy or any other major competitions.
As far as betting on individual matches, there are dozens of more markets available at Bet365. This includes:
The team to win the toss

Top team batsman

Highest opening partnership

Most match sixes

Team to make the highest score in the first 6 overs

1st over total runs

Whether a 50 will be scored in the match (and the same for a 100)

1st wicket method

Runs at the fall of 1st wicket

Most runouts

and many player specific prop bets.
Bet365 also has live in-play betting with a lot of these markets, plus many additional ones. The number of spot bets they offer on all cricket matches (not just IPL) is better than any other betting site.
Betting on Other Sports
When it comes to football, both betting platforms, Dafabet and Bet365 are ideal. Dafabet is known for offering the best odds on Asian handicaps. Bet365 has most of the markets and also has live-in-play betting and live streams of many matches.
For most other sports popular in India, Bet365 is the best. This is a great site for betting on tennis, field hockey, Formula 1, rugby, golf, boxing, snooker etc.
Hope this section is well covered and you have got hands on knowledge about, the betting platform. Let me now touch the Indian Betting Laws in detail.
Is Online Betting Legal in India?
In India, our gambling laws are difficult to understand, and this is sometimes true even for legal professionals. The primary law that makes gambling a crime is the Public Gambling Act of 1867. At the player level, the penalty for the same is a small fine of Rs. 100 and up to 1 month in prison. Before you panic, my personal observation is that this law is rarely enforced at the player level.
The Central Lotteries (Regulation) Act of 1998 is an example of law confusion. This is a Central Government law that exempts state approved lotteries from punishment under the Public Gambling Act as long as the lotto is not drawn more often than once a week. This law is ignored in 13 states that have multiple draws daily because they disagree with its validity. Their argument is that the Constitution of India (Seventh Schedule Entry 34 List II) clearly gives each state the right to create its own gambling laws.
As you can see, this is a confusing topic. However, sports betting law is somewhat clearer. The only state that has legal betting provisions is Sikkim. In a few Indian states there are stricter laws against it, and in all others, the Public Gambling Act of 1867 applies, but, is rarely ever enforced at the player level.
The confusion, however, doesn't end here. The Public Gambling Act is nearly 150 years old and dates back to the time of British rule. It, of course, doesn't specifically mention the internet. Companies such as Bet365 and Dafabet are legal and licensed in the countries from which they operate. The police here have no jurisdiction over these websites & hence are not overly concerned about it.
All this said, please understand I am not a lawyer and nothing in this article should be considered as a legal advice. All I can report is what I mention in the intro. It is widely quoted that our online betting market is worth Rs. 3 lakh crore per year and that 40% of Indian internet users have used online gambling sites. While not 100% risk-free, it's something you should have no issues with.
Now comes to Dream11 and let's have few information about it
Dream11 is the world's no. 1 fantasy cricket & football game of skill, with over 4 million gamers across India and USA. They are a Series B funded startup at the intersection of sports, gaming, and e-commerce. Young entrepreneurs Harsh Jain and Bhavit SheIth founded the company in 2012 with the vision to make fantasy sports a part of every sports fan's life!
This is the second venture for Harsh and Bhavit, having previously co-founded Red Digital (a social media agency) which was acquired by Gozoop, India's largest independent digital agency.
Believing in the business idea, the founders' passion and scalability of the model, Kalaari Capital and Think Investments (a hedge fund in the Bay Area) have invested in Dream11.
What is Fantasy Cricket?
Fantasy Cricket is an online game where you create a virtual team of real cricket players by optimizing the allocated budget and score points depending on how your chosen players perform in real life matches. To win a Fantasy Cricket League, you must work towards attaining the maximum points and the No. 1 rank in your Fantasy League.
What is Dream11 Foundation?
Dream11 Foundation is the philanthropic arm of Dream11 that aims to positively impact and provide sustainable growth impetus to deserving individuals, societies, bodies or organizations.
FANTASY (How to Play fantasy cricket dream11)
Welcome to Dream11, the world's largest Fantasy Cricket game of skill! Fantasy Cricket is all about using your cricket knowledge and skill to create your Dream11 team within a budget of 100 credits in virtual money. You must play Fantasy Cricket to hone your talent and outperform you tknowledge of cricket.
Your Dream11 team earns points based on how your chosen cricketers perform in real-life matches. So remember, this is a strategy game based on selecting cricketers before a match begins.
Fantasy Cricket on Dream11 is a game of skill, so brush up on your cricket knowledge and you'll have a much better chance of winning!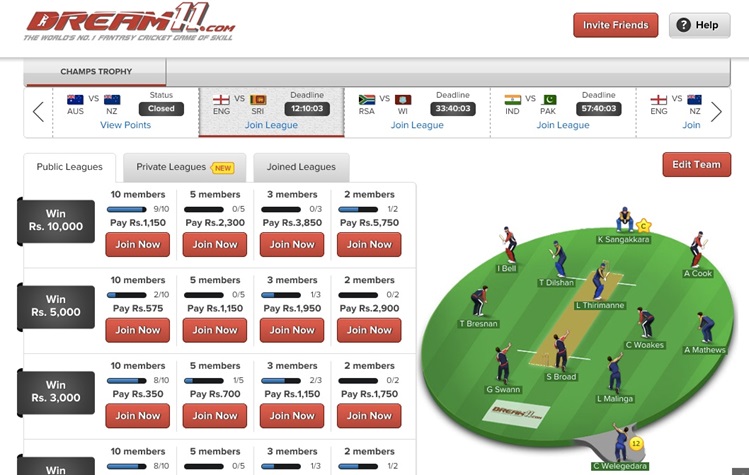 Here are 4 easy steps to get you started:

Create Your Team
Use your skills to create your Dream11 cricket team with 100 credits in virtual money.
You can make unlimited changes to your team before the deadline.

You can also change your Captain & Vice-captain.

Make sure you keep a tab on which of your players are playing and keep your team updated at all times to win more!
How do I play fantasy cricket dream11
Please follow these simple steps to play Fantasy Cricket dream11 , the world's largest game of skill and win cash legally! 
Step-1: Let's open website Dream11  then choose your country & sports  as below.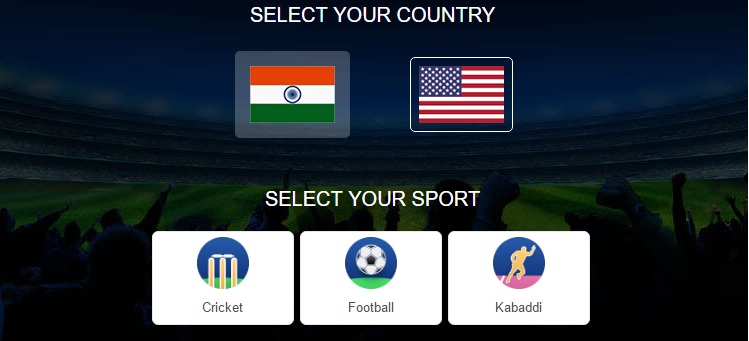 Step 2: – Once you have selected your country, the website would redirect you to the registration page. Register by providing an Email and Password. You can also use Facebook and Gmail to log in to this site.
Step 3:- Now select a tour means select match from list of all upcoming matches.  You will find all domestic as well as international matches.

Once you select matches then you need to choose a player so Click on the 'Create Team' button.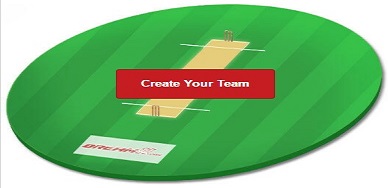 Step 4:- Select your Fantasy Team of 11 players (including a Captain and V-Captain) within the virtual budget of 100 Cr from all the players in the particular match.

You can Join Paid or Free Leagues of your choice to play fantasy cricket Dream11 . Paid Fantasy Cricket Leagues let you win Cash and require an entry fee, for which we provide multiple payment methods such as Credit Cards, Debit Cards, Net banking, Mobile Payments, and Cash Cards.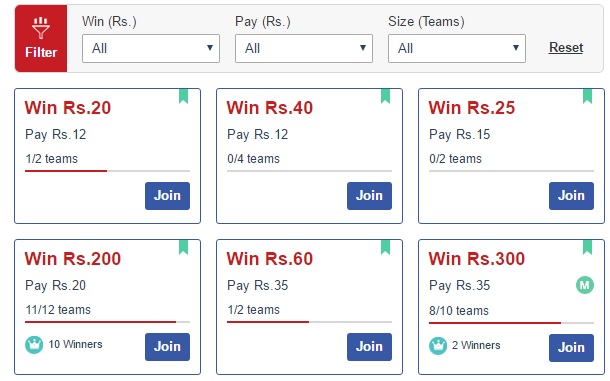 Once the Live match starts, your Fantasy Team starts earning points on the basis of actual performance of the players selected by you. Final points, rankings, and winners are declared after the end of the match.
One of the best thing in Fantasy cricket is REFER A FRIEND: For Every Verified Friend, YOU BOTH GET RS250 EACH.

How does Get-a-friend work?
There are 3 simple steps to Get-a-friend.
Invite your friends to join Dream11 fantasy cricket.

Your friend verifies his/her account.

Now both of you can instantly use Rs.250 Cash Bonus to join paid Fantasy Cricket Leagues.
How does my friend verify his/her account?
Verification is really simple. Go to your Dream11 account balance page and follow the 3-step verification process.
Whom can I invite?
Any of your friends who is above 18 years of age and isn't already a registered user of Dream11
Can I withdraw my referral bonus?
Referral bonuses can only be used to join paid Fantasy cricket leagues on Dream11. For public league sizes of less than 10 members, only one member (from you or your referrals) will be able to join the league using cash bonus.
For every other member (from you or your referrals) joining the exact same league, entry fees for the league will be deducted first from the unutilized deposits bucket and then the winnings bucket.
Apart from the above scenario, you are free to use your referral cash bonus in any other public leagues on Dream11. This includes using a referral cash bonus in less than 10 member leagues where no more than 1 referral member joins using a cash bonus. The winnings from the eligible leagues can be withdrawn as cash.
Does the referral bonus expire?
Yes. But only after a period of 30 days from the time it gets credited into your Dream11 account.
When I do I get my referral bonus?
As soon as your referred friend becomes a verified user of Dream11. The entire bonus of Rs. 250 is released in parts – Rs. 25 for mobile verification, Rs. 25 for email verification and Rs. 200 for successful pan card verification.
How I do invite my friends?
You can invite your friends using either Facebook, email or share your referral code or link directly with your friends.
What is the maximum number of friends I can invite?
You can invite as many friends as you like. The more the merrier.
But before start betting on any game, let's know few things about Fantasy cricket
When does the Fantasy Cricket Game start?

The Fantasy Cricket game starts as soon as the deadline for the round ends. The deadline (denoted by the countdown ticker) is usually 1 hour before the start of the first match in the round.

How do I select my Fantasy Cricket Team?

After logging into your Dream11 account, click on the 'Create Team' button for the particular Round you want to join. Select your Fantasy Team of 11 players (including a Captain and V-Captain) within the virtual budget of 100 Cr from all the players in the particular match. For more guidance, please click on the 'Creating Your Team' link in our 'Help' section more details. We're sure you'll select a kick-ass team and hope you win a lot of cash!

Can the pricing for Dream11 fantasy sports players be modified?

Yes, we review our fantasy sports player pricing from time to time and make changes to make the skill game more exciting for you. Rest assured – to be absolutely fair to all our gamers, we'll not make these changes while a round's leagues are open and getting filled.

Can I change my Fantasy Cricket team for future rounds?

Yes, you are required to create a new Fantasy Cricket team for every round on Dream11.

What if one of my chosen cricketers does not play in the round?

Need to choose your Fantasy Team carefully! The player who does not feature in the starting 11 in the matches (included in the round) does not get any Fantasy Points.

How many cricketers are needed to create a Fantasy Cricket team?

You need to select 11 cricketers to create a Fantasy Cricket Team, with a minimum of 3 bowlers, 3 batsmen, 1 all-rounder and 1 wicket-keeper, while the other 3 cricketers can be from any category. Please click on the 'Creating Your Team' link in our 'Help'section for more details on possible team combinations.

Can I choose cricketers from one cricket team only?

We allow a maximum of 7 cricketers to be selected from one cricket team.

What is the use of a captain in the Fantasy Cricket Team?

The Captains always has some charisma! The cricketer you choose to be your Fantasy Cricket team's captain will receive 2 times the points and VC will receive 1.5 times the points for his performance. So choose your Trump Cards thoughtfully!

When I make changes in the Fantasy Cricket team – how long does it take for the change to reflect?

The changes are instant! You can make unlimited changes any time before the deadline hits for a particular round.

Can I edit my Fantasy Cricket team during the round?

Come on, where's the skill in that? You can create or edit your Fantasy Cricket team only before the deadline, which is usually 1 hour prior to the start of the first match of the round. So keep an eye on the ticker!

When do you update the squads for rounds on Dream11?

The squads for matches/rounds featured on Dream11 can keep getting updated till the deadline for that particular round as per the alerts received from our service providers. We request you to keep checking for such updates till the deadline for respective rounds.

How can I see my Fantasy Cricket Team's rankings?

You can click on the particular round that you have created your Fantasy Team for, click on the 'Joined' tab just above the league options and then click on the 'Show' button to see the updated points and rankings for yourself and your opponents in that League.

How can I change my Fantasy Cricket Team Name?

Sorry, but once your Fantasy Cricket team name is registered, you can't change it. Choose your team name wisely, it's permanent!

How do I create Multiple Teams for the same Round?

Multiple team option is enabled after creating your first team. You can create multiple teams (max 4 teams) by clicking "Create Team 2" button and so on which is displayed above the field preview on the right hand side of the leagues page.

How many Teams can I create in a Round?

You can create up to 4 separate teams in a round

Can I join the same League using Multiple Teams?

You can join only one league with one team. However, leagues that display 'Multi Entry' on them allow you to join the same with multiple teams.

Can I edit my Teams?

Yes! You can edit your team(s) before the round deadline Can I choose which of my teams compete in a league (Team 1 or Team 2) after joining? Yes! You can choose your team in a league (Choose Team 1 or Team 2 to compete) from the 'Joined Leagues' tab until the deadline.
Hope you like this article and now know how to Play Dream 11. You can start virtual playing fantasy cricket on Dream11 and start making money.