Whatsapp is one of the most popular messaging app and having approx 600 million active users. User are very excited to use many new features of whatsapp and try to avoid few of existing also.
One of the most common annoyances with whatsapp is automatic download media files like audio, video and images.

You know why people feel annoyances for automatic download?
This feature eats up all your mobile data(mainly when some of your whatsapp group member or friend send dozen of picture without relevant to you and some time also create embarrassing moment when it automatically save some inappropriate images in your phone(Download nude picture send by your naughty friend).
Is it happened with you also….correct?
So no worry luckily, whatsapp also allow us to stop automatically save images and it's quite simple process also.
Stop whatsapp from automatically saving photos into your phone
Step 1: open whatsapp so you can see screen where all your chats are displayed and click on three dots (.) at top right corner then select setting option under menu.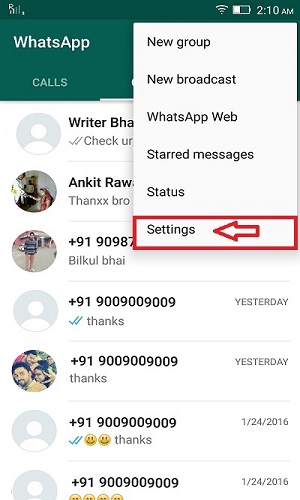 Step 2
For android user:– Now you need to tap on Data usage setting and on data usage screen you will see 3 option under media auto-download 'When using mobile data', 'When connected on wi-fi' and 'When roaming'.
For iphone user: Now you need to tap on chat option and then on next screen just toggle off the switch for 'save incoming data'.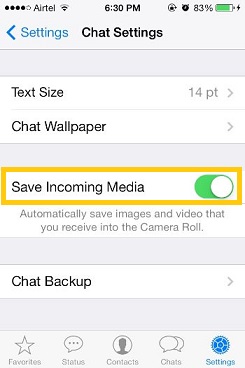 You can tap one by one and uncheck all type of media file(like photos, audio, video and documents) that you want avoid automatic download. Now tap on 'OK'. Now onward whatsapp not going to download any thing automatically.
Note:you can download automatically and stop the media from being displayed in your phone's gallery by just creating a .nomedia file in whatsapp image folder.
so it hide all your images in whatsapp folder. So just browse WhatsApp/Media/WhatsApp Images/ & create .nomedia file .
If you want to see them back then just delete .nomedia  that file.
Hope you like this post and if you want to know more tips about WhatsApp then check Best Tips of whatsapp. Please write us in a comment if you find any difficulties.