With its unique features and fresh updates, Discord is gaining immense popularity with more than 140 million active users per month. Recently, Discord added its new feature called Custom Status Discord which helps you to change and customize the default status.
Earlier Discord had only Default status options, where you can set your status to Online, Idle, Do not disturb, and Invisible. With custom status, you have more fun with emojis while conveying your status to your friends. This article helps you in understanding and setting custom status of Discord.
How to set custom status?
If you are using a Discord application on PC, launch the application and login into your account.
Click the profile icon on the bottom-left corner of the system. You will get to see 5 options.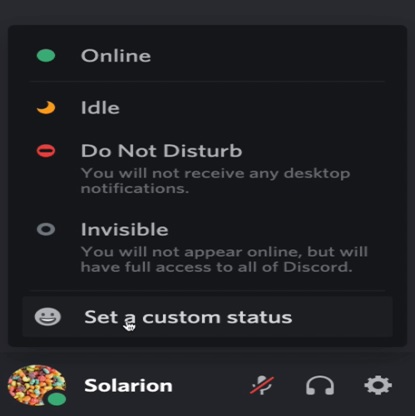 Select Custom status option among them. You will see a box popped-up where you can set custom status using text along with emojis.
In addition to the message, you can also select time for the status to get cleared.
By default, custom status gets cleared after 24 hours. You can also change it by selecting on Don't clear. If you want to clear it after 30 minutes, 40 minutes by selecting accordingly.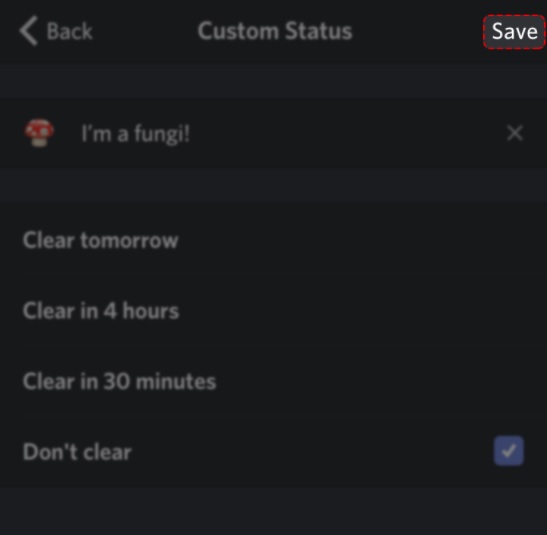 Click on Save option and you are done with setting up status.
You can follow the same process on any device.
Fun Discord status ideas:
Moto of Discord behind introducing Custom Status settings is to amplify the fun you have with Discord. So, here are some ideas that help you have fun.
People love to communicate through emojis. It makes communication realistic. Discord offers a number of emojis, which you can append after the text or you can prepend before the text or you can use it in the middle of the text.
Discord also allows you to add Kaomoji, some cute Japanese emoticons in your custom status.
You can change the font of your custom text message to make it look cool by giving through third party text generator applications.
You can add trending hashtags on Twitter to draw attention or convey your interest and opinion on it.
If you are not interested in adding long text messages in custom status, you can just add a single emoji based on status. If you have no knowledge in using emojis, use Emojipedia to understand the meaning of emojis.
If you feel like sharing a memory with your Discord friends, you can add it in the custom status message.
You can also share your favourite video or article link or if you own a YouTube channel or a blog, you can also share it through custom status messages.
These are different ways of using custom status to convey what is status with your Discord mates.
Bottom line:
Discord is one of the most popular group chatting applications, which was launched in 2015. It was initially designed for gamers, to form gaming communities and enjoy group-gaming experience. But! Its unique features attracted not only gamers but also people from other backgrounds to form communities and use Discord. Discord allows people to form a community, and each community is called a Server. In servers people can chat via text-message or audio-chat. With the growing popularity, Discord is introducing more new and unique features to grab more attention and increase its user base. One such feature is Custom status, which tells everyone on Discord what is your status or reason to be away from Discord. It would be public and visible to everyone in the community of Discord. So, double check before you customize status and make sure you don't add any type of private data.