Google AdSense, a program run by Google, allows publishers to serve the automatic image, text, video or any other kind of interactive media advertisements, which are targeted, to the audience and the content of the site. The advertisements further are sorted and maintained by Google.
If you want to earn good, revenue generated for Adsense Youtube is either per-views basis or on the basis of per click. Google uses this technology in order to serve the advertisements, which are based upon the content of the website in addition to the geographical location of the user and varied other factors.

It has become one of the most popular programs, which specialize in the creation and placement of banner advertisements on a blog or a website or YouTube channel.
Eligibility for an Adsense accounts for Youtube
The good thing with Adsense for Youtube is that you don't need to have an Website and need to comply with the website guidelines, all you need to have is just an Gmail Account which is linked with Youtube and hence a good standing Youtube channel in order to monetize your videos.
How to apply for AdSense for Youtube?
Following are varied steps that need to be followed
1. Go to Youtube.com and don't start watching videos 🙂 here you are for some other task.
2. Log-In into this with your Gmail ID Linked with you Youtube channel
3. Once you login  then click on your channel setting as below. This give you all setting options.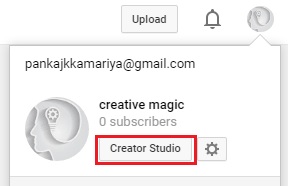 4. Navigate to Channel>Monetization and click on Monetization  where you can see an option for enabling monetization.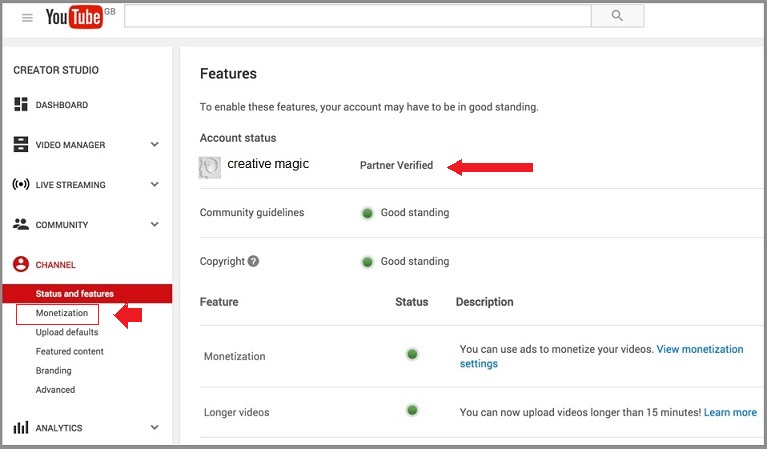 Before start monetization please check if it show partner verified or not. it should be verified.
5. Now enable youtube account to monitized click on enable monetization link there. You will be brought to Monetization page in your Channel Settings.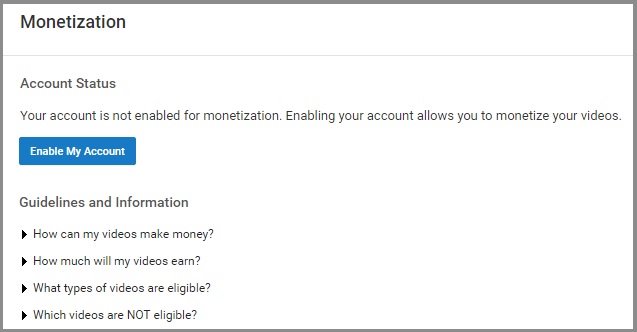 6. Next accept term to enable monetization feature of your youtube account.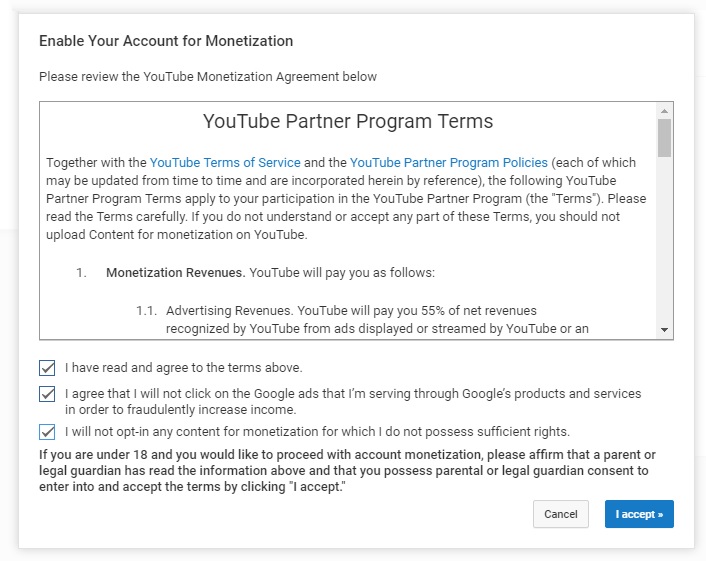 7. Now it move you to the Video Manager, Select the video you want to monetize using the check box and then click on Enable-Monetization

It redirect you to new screen where you can select location where you want to put ads in your YouTube videos and whether you want skippable video or full video.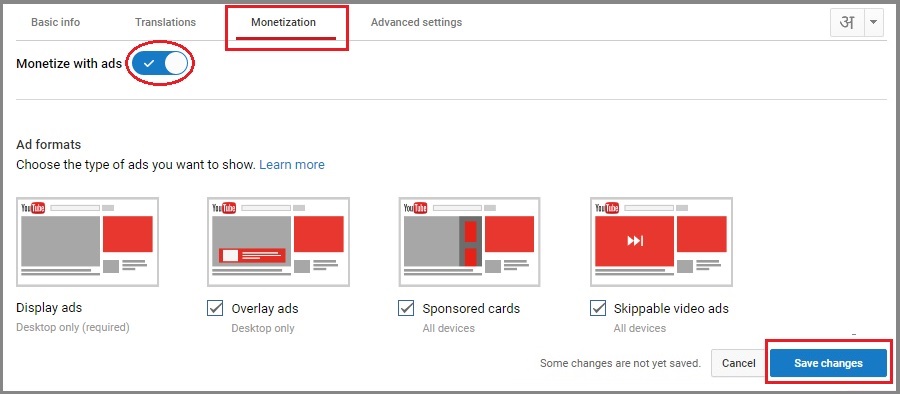 Once you enable monetizing then you can see video comes with green dollar sign as below. And also videos that are not eligible for monetized due to copyright will also appear under the Copyright Notices tab.

How to create an AdSense account 
1. Go to Monetization page  as shown above steps. then click on "How will I be paid?" section. then tab on  AdSense Association page and follow next steps to get adsense. Once you click next then you will see below screen.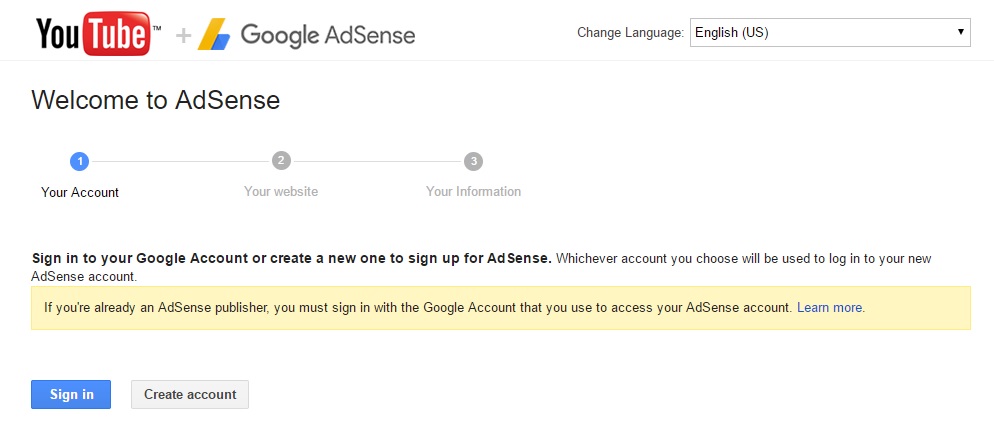 Either you can create new adsense account or sign in to your google account credential.One point noted here that you are not force to use youtube account as adsense account. You can use any independent account which already have adsense. I am clicking on sign in to get in by using youtube email.
2. Click Save and Continue and your contact information and submit your AdSense application. Accept AdSense Terms and Conditions and move ahead.
3. You will be redirect to your youtube with  message saying that your AdSense application has been received.

That's all steps you need to do for setting youtube adsense .Once you complete you will see Review or change AdSense association and AdSense Settings options to change any setting related to youtube adsense.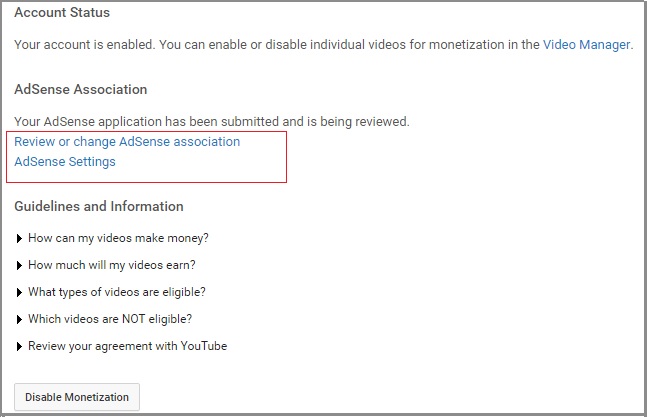 Adsense will update you once  your account get approved and also update Adsense ID on Monetization page. It will take 48 hours approx to get update
Finally, Your Videos Are fully Monetized and ready to earn from Adsense for every view and click that you get on your videos.
Being a YouTube partner, it allows you to monetize videos on the channel while earning money from the revenue. AdSense has been extremely popular for monetizing the content along with stepping-stone for individuals who wish to earn online. After having, the AdSense approved, it is important to increase the traffic. Not only this, but users should also learn some basic AdSense optimization tips like the placing of ads and targeting high CPC keywords. Once this is done, the user can focus on creating niche based AdSense sites.
Policies that need to be adhered:
All the publishers are required to adhere to specific policies so it is important to read them carefully. If any of the users fail to comply with the policies without permission from Google, then they have the right to disable the ad, which does not serve to your site while disabling the AdSense account at any point of time. When the account is disabled, you further are not eligible for any kind of participation in the program of AdSense.
Following are a list of such policies that need to be adhered to.
1. Invalid clicks and impressions
Publishers might not click own ads or even use any means for inflating impressions or clicks in an artificial manner. This also includes the manual methods as well.
2. Encouraging clicks
Publishers are not supposed to ask others to click the ads or even to use deceptive implementation methods in order to obtain clicks. This includes offering compensation to users for the purpose of viewing ads or to perform searches. It also includes other practices like promising to raise money for the third party to obtain clicks or for placing the images next to the individual ads.
3. Video guidelines
Publishers are restricted to upload any type of Sexual Content types of videos that violates Google Adsense Policies.
4. Copyrighted material
The video being uploaded should be solemnly of that person only and he/she should have full rights of the video. Copied/Infragmentated Videos will not be eligible for Monetization and can affect your Account's Standings too.
5. Traffic sources
Google accepts traffic from all over the world and hence the owner will be paid for every view or click.
Hence, Google's AdSense is an extremely good revenue-sharing opportunity for small, medium along with large youtube channel holders who can easily earn through monetizing their videos on youtube.
At Last
One of the easiest ways for monetizing the YouTube videos is to enable the Monetize option for the account while linking it to the Google AdSense Account.
This is one of the most common and easy ways for making money for YouTube videos. Once, the association is done with an AdSense account, you will be further provided with an option for submitting the videos for monetization. Only if the video passes the monetization requirements of YouTube, can it be approved for monetization?
General criteria for meeting such requirements include the videos to be adviser-friendly while owning the rights to the content for using it commercially.
So do you monetizing  your YouTube videos with Google Adsense?  or getting any question in mind then let me know by comment here