If I tell you that you can make more than $200 (12000 INR) extra income by just spending 20-30 minutes per day on some specific websites by viewing ads?
You'll probably check the calendar for being 1st April, won't you?
Well, don't. And yeah I am completely sane and no I haven't taken any strong hybrid version of marijuana. Today I am going to introduce you to the concept of PTC websites.

These are websites which pay you real money to view the online advertisement. Long story short, you can create an account on these Paid To Click websites(People also called them PTC site) and check them 2-3 times in the day for new ads.
You are paid to view all these advertisements and you can make a considerable amount of money from these PTC websites in less time than what you spend checking your Facebook account.
But for first timers, the real problem is that there are thousands of such websites and most of them are pure spam. And if you are not super free, then you can not check each one of them and see which one really works.
That's why for your ease, we have brought you a list of Ten best PTC websites where you can get paid for online ad viewing.
1. ClixSense
ClixSense has been offering one of the highest payout rates with trust able and timely payment methods. Comparing with the overall record, this site has the least complaints against them.
It fulfills all the requirements a good PTC website should have. You are paid for viewing ads and you can view dozens of ads per day meaning you can earn 10,000 rupees per month by only giving 5-7 minutes each day. Plus you also have a chance of winning daily rewards, one such reward can add an extra 500 Rupees cash in your wallet.
Earning 
Earn upto $0.02 per PTC Adclick.
Earn $0.008 by referral clicks
Minimum payout – $8
Payment methods –Via Check, PayPal, Pay too
2. InboxDollar
Doesn't matter where you live, InboxDollar offers one of the highest pay rates in PTCindustry. They have been in the business for 15+ years and they are not only surviving but growing as well.
The website offers around 8 ways of earning money and if you are super active, you can easily make more than $1000 each month with this single website. The best thing? One of the ways to make money is by playing games. Yay!
You do not  need to pay single penny to join this network even they pay $5 for  just for trying their service.
Minimum payout – $30
Payment method– Cheque

3. Swagbucks
Swagbucks is a great website for people who are trying their hands in the digital marketing world for the first time. The site has enough reputation and is based in El Segundo, California.
For the start, you can use the site as a PTC website and earn some extra income by clicking on ads and completing various offers. Once you are set, you can also start working as a freelancer and start earning a great monthly income.
Minimum payment – $5
Payment methods- PayPal, Amazon gift vouchers and much more.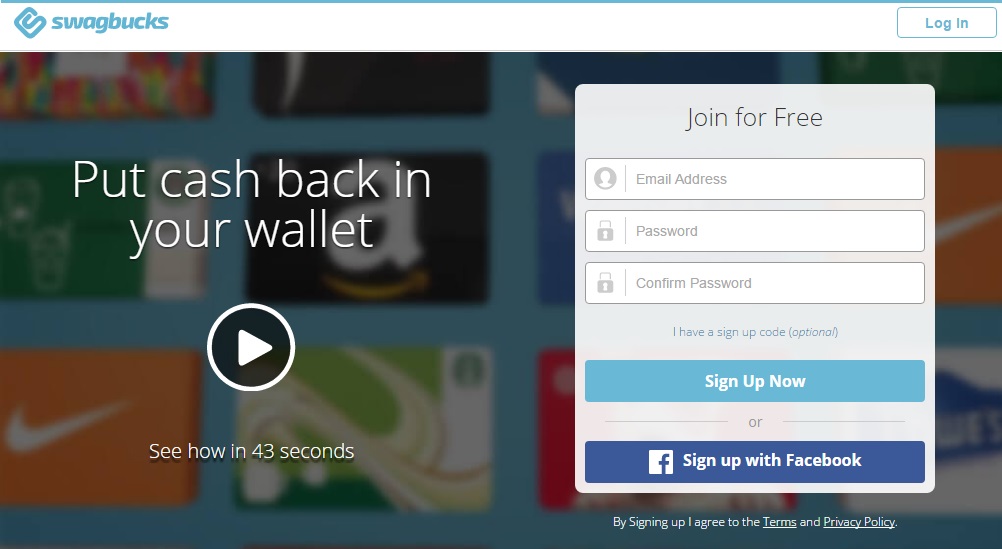 4. NeoBux
Neobux (pronounced Neobucks ) is one of the most trusted websites in the house. It's one of the oldest PTC websites and you can earn some good extra income with it.
However, you'll need to log in during some specific times of day to make the most money as new ads are served at that time. Once you become a premium user, you can double or even triple your income if you know the right time to log in.
A minus point of the site is that many people have reported the lack of high paying ads on the site and you can only make good money by referring people.
Minimum payout – $2.00
Payment methods- Paypal, Payza, Neteller, Skrill.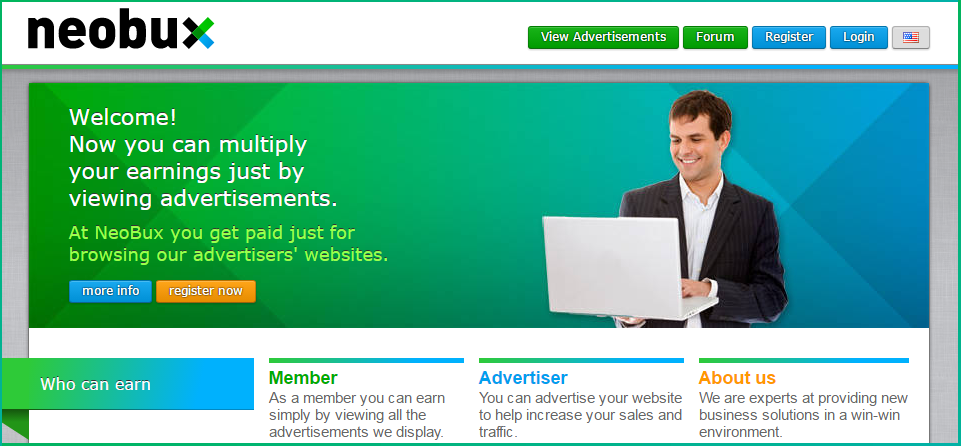 5. Traffic Monsoon
While I am still trying to figure out why someone would name their website 'Traffic Monsoon', you can earn some good monthly income with this website.
There are numerous ways including viewing ads and referring people with which you can earn passive income. However for viewing paid ads you'll first need to get qualified by viewing at least 20 free ads.
Minimum payout – $2 at first withdrawal and then +$1 each withdrawal till $10 ($3 at 2nd payment, $4 at 3rd and so on).
Payment method – Payza, and Solid Trust Pay.
6. Paidverts
Trusting new PTC websites is a very painful process. There are almost no real reviews of the site you have no idea how they will act once the number of users increases. Thankfully, Paidverts is a website which is breaking this tradition.
It is a relatively new site but has gained enough trust to be featured on the list. However the process of earning is a little different, when you sign up you'll first need to earn Bonus Ad Points(or BAP).
The better your BAP score is, the better your ad servings will be and the better you'll earn. People have claimed to be earning more than $50 per day so they are worth giving a try.
Minimum Payout – $1
Payment methods – Payment Methods: Paypal, EP, PM,STP, Neteller, Bitcoin, Bank Wire transfer.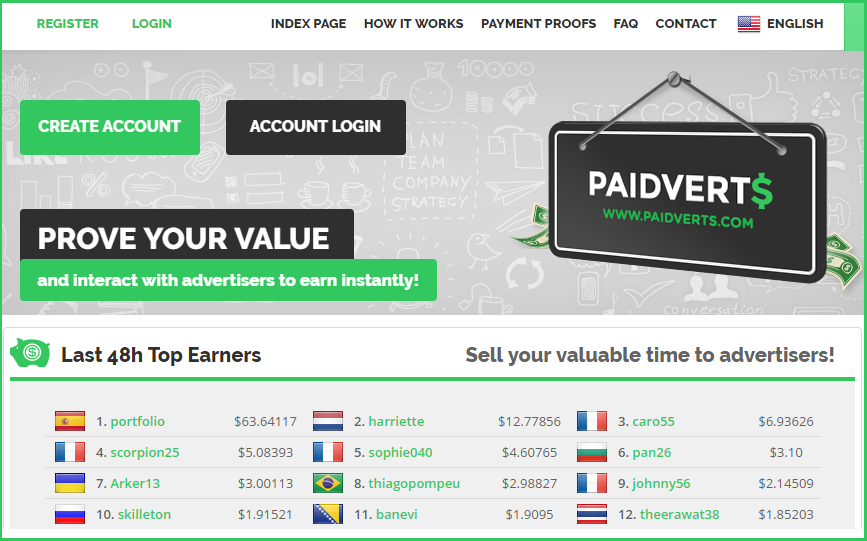 7. GPTplanet
Free to join best PTC website and has been paying user for more than 4 year.. People using this website as trust able platform and earn up to $0.005 to $0.01 per ad view.
If you referring someone then Earn up to 100% money. There are different membership available so if you start earnig some amount and trust on website then go ahead for upgrade your account. on upgradation your earning increase with approx double money.
Minimum Payout – $1
Payment methods -Via Payza and PayPal.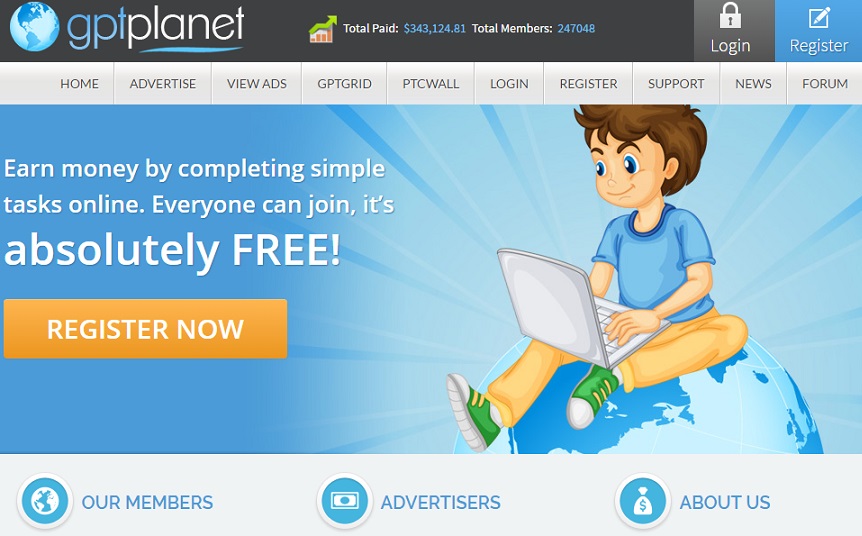 8. Buxvertise
This platform will pay you for viewing advertisements, completing offers, completing surveys, playing games and other fun stuff.Best thing about this website is daily pay out so you do not thing aabout legitimate or not.
You can earn from $0.001 to 0.00225 per advertisements and if You want to  earn higher income with premium membership.
Min Payout : 7$
Payment options: Paypal , Payza and Neteller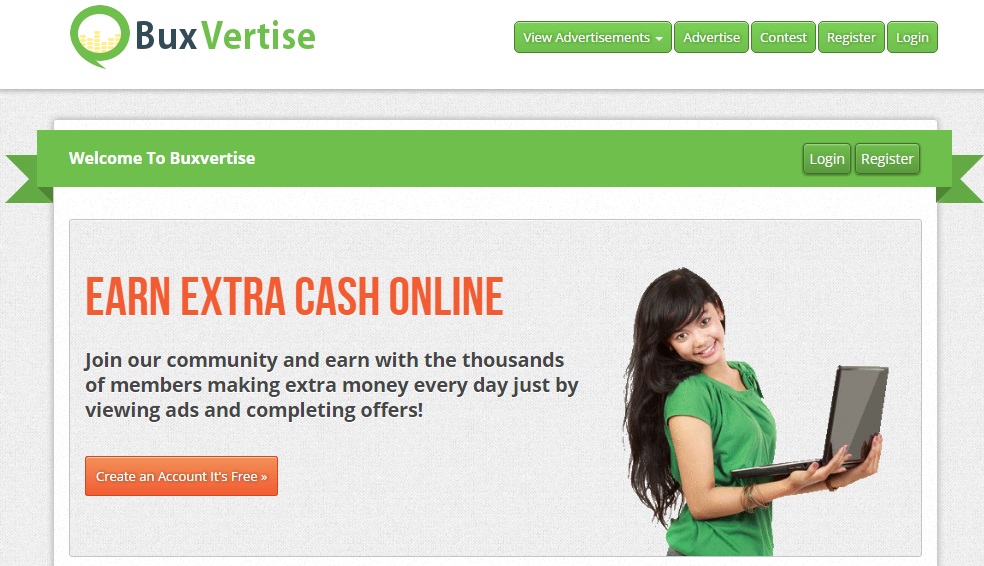 9. WordLinx
If you have plenty of time and are looking to make some good passive income without spending thousands of hours reading confusing online guides then this is the perfect site for you.
Started as a PTC website, now they offer money for various other activities as well. You can choose between things like viewing ads, completing tasks etc. The minimum payout is a bit high but you can reach it easily.
Minimum payout – $10
Payment methods – PayPal and peace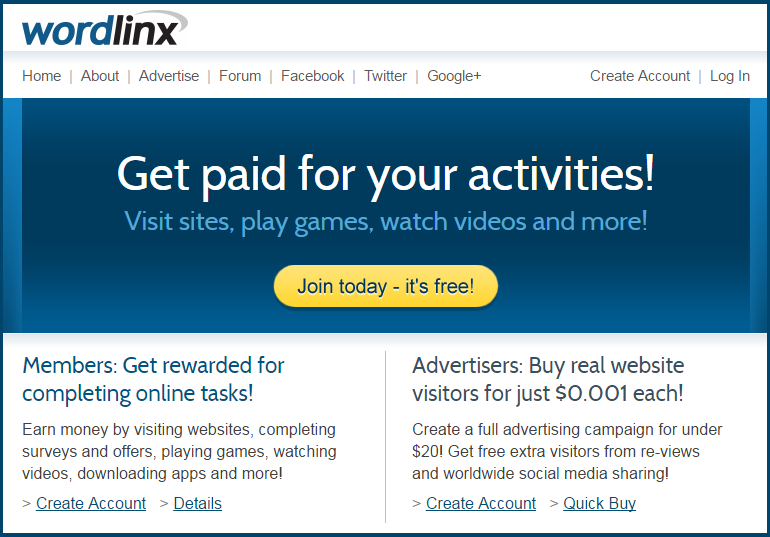 10. BuxP
The difference between this and all other websites is that BuxP offers video advertisements and you are paid according to the length of the video.
Minimum payout – $8.00
Payment methods – PayPal, Payza.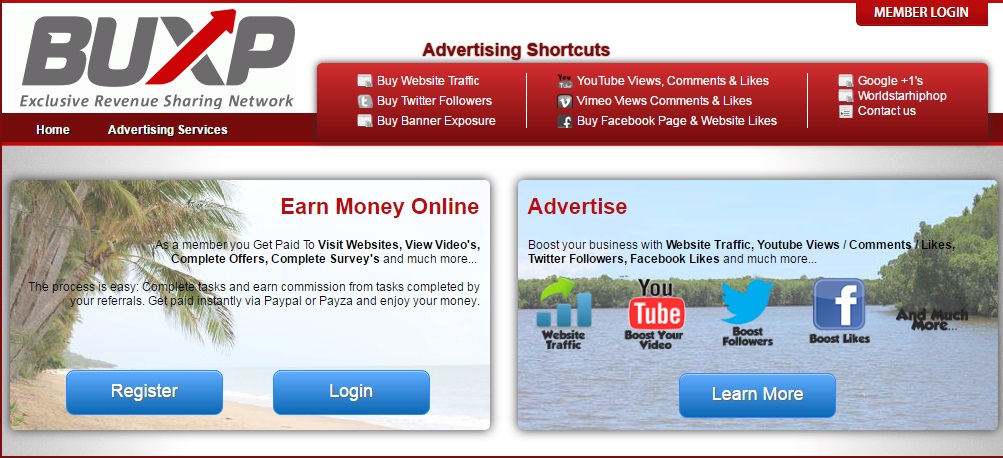 Hope you like this post and join any one pay to click website to start making money online.
A big thank for reading