There was a time when I used to play a classic snake game on my Nokia phone. The game was like a straight black line moving around a grid. The best part was the snake gets longer whenever I feed him a dot. It was one of the iconic games of my childhood days. And I know almost everyone has played this game in their Nokia time.
But if we talk about today, the snake game has evolved to a modern game Slither.io. You can play it on both your mobile phone and PC. It also includes a snake that gets longer whenever it consumes dots. If you're looking for an alternative to Slither.io, check out this article.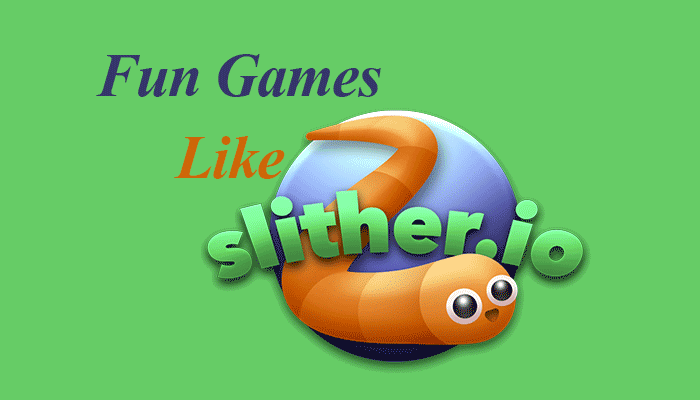 Here, I'll outline some cool and best games like Slither.io.
1.   Agar.io
With about 100 million downloads, Agar.io is one of the most played and popular games on this list.
In this game, you will get to play as small dots or balls instead of a snack. You will get bigger after consuming small dots.
As you get bigger, the balls will get slower. So if you want to climb its leader board, you have to use some strategies to conquer the balls.
2. Diep.io
If you're looking for a shooting game instead of snakes, you must try Diep.io.
As a player, you will be a tank and have to blow up the things that get in your way. If you want to stay safe in the game, you do not have any choice instead of shooting things.
You will upgrade and unlock your tank's abilities whenever you shoot an object.
In Deip.io, you can enjoy several game modes, such as survival, domination, tag, maze and sandbox mode.
3. Worm.is
This Worm.is is a copy-cat of Slither.io, but it contains a worm instead of a snake.
You have to control the worm to eat the scattered items. The game comes with added features like speeding up and ejecting mass that will give you a smooth gameplay experience.
Moreover, it also contains a chat section at the bottom right so you can enjoy it with your friends.
That is why we can say that Worm.is is one of the best games like Slither.io.
4. Tankio 3D
Do you like a tank battle arena? If yes, then I will recommend you to play Tankio 3D.
In this game, you have to control a tank and shoot every object that gets in your way.
However, shooting objects will upgrade and unlock your tank's abilities.
You can enjoy different weapons and tanks whenever you shoot the object.
You can play the game offline, and you can match up against bots that make it distinct from other games.
5. Mitos.is
If you want to enjoy better mobile gameplay, you must play Mitos.is.
If you want to stay entertained while playing it, the game will offer you different game modes.
You will play as a cell and have to eat your opponents to grow longer. The game comes with features like speeding up, ejecting mass and creating duplicating cells.
6. Splix.io
If you love fast-paced games, Spix.io will be your first choice. Its gameplay mechanics are similar to snake with minimalist design.
Your goal is to move around the free space and capture more area for the enclosure.
If your snake got crushed with a block, you will lose. The game might sound slow, but you will not get bored due to its fast-paced movements.
7. Snowball.io
The game consists of a snowball that gets bigger and bigger as it moves around.
Your goal is to flick the opponents by moving your snowball. When your snowball gets bigger, you can split it into small snowballs to snipe your opponents.
However, it is simpler to play this game, but it gets challenging as we level up.
Wrapping up
If you're playing Slither.io for a long time and want to get things changed now, the above mentioned best games will keep you entertained. So choose one of your favourite games from the list and start playing it.