If you are here, then you would have got annoyed with the "Outdated server error" interrupting your entertainment on Minecraft.
But! Don't worry.
You are not alone. This is one of the most common errors that occur on Minecraft. In this article, I am going to help you in understanding and solving the error.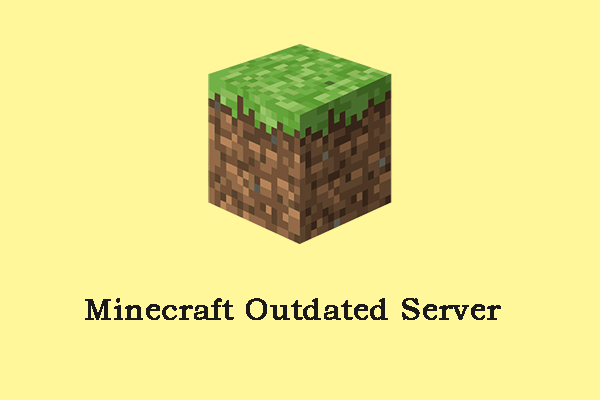 What does this error mean?
This error generally pops up when you have an out-dated or older version of Minecraft or when you are using a beta version for the game in order to connect to a server/world with Higher Version. This error indicates that you are not permitted to use the servers until you update your game version.
Beta versions cannot play with Stable versions. If you are using the Beta version then you need to uninstall it , then reinstall a stable version and again try connecting to the server.
Methods to fix the error:
In order to fix the error, you have to check their Client/stable version before you connect to the server. If you identify that you are using an outdated client version then immediately update it to the latest version of Minecraft client to solve this error.
If you don't have any idea about how to check the Minecraft version then follow these steps:
Open your Minecraft Launcher.
Wait till the Launcher is fully loaded.
Look for the Version number in the Left-bottom corner – You will find something like "Minecraft 1.1" where 1.1 is its version code.
Once you have found the version you are using, go to Minecraft official web page to check if your Version code matches the latest version available. If it does not match then you will have to update your game to the latest version to solve the "Out-dated server" problem.
How to update Minecraft?
When you have a good internet connection, launch your Minecraft application and it will automatically update your game to the latest version available.
If you are using Minecraft on your Android/ iOS device or on your Xbox then follow these steps to update your game.
Update Minecraft Java Edition (PC/MAC)
Open the Minecraft launcher on your PC.
The system will automatically update itself if you have a working internet connection.
If it doesn't happen, then Press the "Arrow" placed just right to the play button and select "Latest Release" to update it.
Update Minecraft on Your Mobile Device
If you are using Minecraft edition on your Android or iOS then follow below mentioned steps to update your game application.
Update on Android
Start your Android device and open the "Play Store" App.
Click on the three lines icon at the top-right corner and select My Apps & Games.
Under "Updates" look for "Minecraft" and click the "Update" button.
Update on iOS
Open the "App Store" on your iPhone/iPad.
Search "Minecraft" in the search bar.
If you already have the app installed on your mobile with an outdated version then it will show you the "Update" app button. Click on it to update the Minecraft App on iOS devices.
Update on Playstation 4
Usually, all the games on PS 4 receive automatic updates. Whenever the game is ready to update and you have a working internet connection, the Playstation will automatically update your game to the latest version that is available. If the app does not update automatically for some reason, then select the game using the options button and click on "Check for update" to update Minecraft manually on PS 4.
Bottom Line:
Minecraft is one of the most popular video games, with 126 million monthly active users. Because of its immense popularity, Microsoft acquired it for $5 Billion which was the highest selling price in gaming history. Minecraft is not only a fun game but also it helps to unleash inner-creativity. It makes you build new worlds with lakes, trees, peoples and many more in the cities. Fascinated by its concept, many western schools have added this to the curriculum. This article helps you to use the latest version of a game application and enjoy the game to the fullest.