In the present scenario the world is switching from the old mediums of television, radio, newspapers to their phones and personal computers. A generation that is inclined to the digital world attains  all its information globally through the net. 
Thus there is a need for businesses and other firms to promote their brand in a sphere where they can get their target audience. The requirement is to shift from the old school promotional landmarks to the trending digital world.
Platforms like Facebook, Twitter, Snapchat, LinkedIn, Instagram, search engines etc. are harbingers of the maximum eye balls and thus they should become your marketing zone.
A general observation suggests that to have an email list is a rule of thumb to do any sort of  work online. It eases the process of connecting to an audience that is informed and also interested in your work.
There are multitudes of benefits associated with this methodology of marketing.
Finding a reader is a one time job. Later they will also attend to your new updates.

Your every new product or advancement can be sent to your list and within a short span of time that new development of yours will get all the attention it seeks.

Emails are checked very often by individuals it is more productive than other sources.

The process is quick and the attention you receive is wide range.
Many individuals show confusion regarding creating an email list because they are bereft of a website or blog.
But do you know A website or blog is not necessary 
Often it is also believed that to have an email list one must publish regularly on their blog, gradually enhance return traffic and then endeavor to convince individuals to apply for their newsletters.
What people do not reckon is that even in the absence of a website or blog they can start an email list.  The moment you initiate a list you get subscribers who would show interest in your business strategies.
It also becomes necessary because it fetches you the money. The tiresome time that will be invested in establishing a blog can be utilized to find the right people for your work.
You need to realize that you are not a prominent figure who will receive an audience immediately through a website. But your newsletter on any well developed site with an audience  can bring you the requisite mob for your work.
Here we bring to you the top 5 methods that you can use to create an email list without a website.
1. Get AWeber 
Aweber is an app that allows you to create your own email list even if you lack a website. The site is most recommended. Its pricing policy is flexible.
The app is in partnership with various other popularly visited website and promotes your email form and newsletters there. You can get a free trial to explore the app and its functioning. They also hold up webinars to attract audience for your work.

[button link="https://www.aweber.com/" size="big" align="center" target="_blank" icon="momizat-icon-envelope"]check out aweber[/button]
2. Get a free account on Mailchimp 
To start with marketing and get subscribers without a website needs an email list. This is the first and the most crucial step that applies to all other steps.
Access mailchimp.com and create a free account. As soon as you do that you can start to build an email list. Once you manage to establish a list, you deploy your form to furnish you with information from subscribers for your email campaign or newsletters.
The website is excellent for non bloggers and the sign up takes barely a month. The site is free to use.
You can find the steps to use this account on   coffeecup.com
3. Get an email signup form on Facebook 
Creating a blog or website can be a long journey but a Facebook page with a signup option can fetch subscribers with its own growth in a short span.
Facebook is a widely visited app and individuals can easily subscribe to your newsletter through the Facebook page. The idea is to get more subscribers through a source where you already have some connection instead of starting all out of the blue.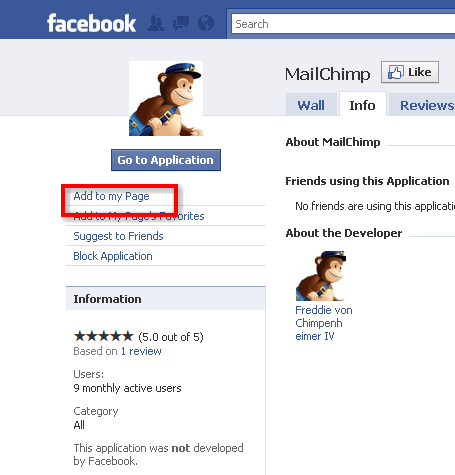 Generally the Facebook page doesn't have the sign up  option but you can get the tab in the right hand corner of your Facebook page through the  MailChimp's Facebook Signup App at  blog.mailchimp.com
4. Create an online flyer 
Once you manage to build your list then try to get a flyer.A digital flyer is an easy way to grab attention of people and receive subscribers.
You can go to smore.com and create an online flyer. This flyer can further include an access to your email form and get you subscribers who take interest in your work.
5. Use Snapretail app 
Snapretail app is a technically advanced platform that facilitates email marketing for small scale businesses. The platform allows you to get the target list and subscribers who are genuinely ready to invest in your plan.
It offers ready to send emails that are well designed and get attention. Despite the list the app also promotes your work in other social sites where it can get attention.
[button link="https://apps.shopify.com/snapretail" size="big" align="center" target="_blank" icon="brankic-icon-phone"]install snapretail app[/button]
Some suggestions for the signup form
Keep the form simple. Ask for the basic and necessary information.

Chose an eye catchy headline for your work to get instant subscribers.

Post the headlines of your next plan prior to the launch. This way you can anticipate a potential audience in advance.

Pin a tweet pertinent to your signup form on your twitter account.

Stay active and aware regarding your audience. Welcome feedback to know how to enhance your work.

Try to establish your signup form on websites with maximum clicks and users.
Thus avoid the labour of creating a website with no audience and begin to prepare an email list that will bring you recognition.