Hello, Everyone! As we all are aware that a blogger or an affiliate marketer someday struggles to get traffic on their new blogs,
Making money and generating traffic is very hard if you don't have the proper tools and keywords. So, As a digital marketer, am today going to mention the Top 5 Tools every Digital Marketer should know and should use. The list mostly has paid tools and some free tools too.
So, The Tool which deserves to be on the number 5 is the Open Link Profiler, Read the review below.
1. Open Link Profiler 
Open Link Profiler is a great and lets you access information about a Blog's backlinks free of cost, You may get only some tries and certain information because Nothing is free in this world 😉

Open Link Profiler gives all the data about a blog or a website's backlinks and they also mention the source from it was made, the anchor text which was used and shows that is it dofollow or nofollow.
I don't know why but sometimes Open Link Profiler shows the data of backlinks wrong but it is still tolerable because we are getting it for free and we should not have any complaints.
In my opinion, Open Link Profiler is a great tool and somehow good tool because they are providing us free services and we should not complaint more.
 My Rating For Open Link Profiler would be 3.5/5.
2. MailChimp 
This is another very important a digtal marketer should know because building an email list is a very important aspect of SEO and other things today. I recommend Mailchimp because of their free and awesome features.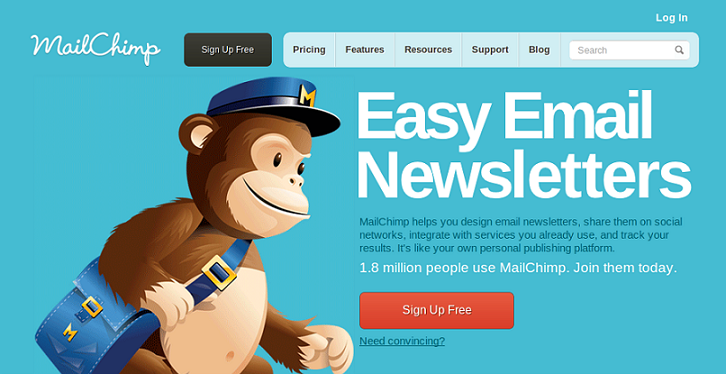 It has several packages and most of us go for the starter pack because of less subscribers and less emails per month. Mailchimp has a list of customizable options and themes which makes the email look so attractive and makes a positive impact on the user.
MailChimp has several Plans and they are listed below –
The Started Pack – Allows 2000 Subscriber with 12000 Emails per month. I would recommend everyone to go for this pack who are just starting off with their new blogs. Don't waste your money buying higher packages.
The Growing business pack – The Growing Started pack is packed with some very cool and useful features like Automatic Emails, Database Connectivity, Message Targeting and much more! However, You need to buy an extra add-on to increase the number of subscribers and emails per month. The package costs only $25.
The Pro Marketer Package – Packed with some great features and other customizable options. Available only for $199 per month.
The High Volume Sender Package – It has many useful features like mandrill and costs only $240.
You Need to buy an add on to increase the number of subscribers and emails per month.
3. Cognitive SEO 
This is the best tool I have ever used to do research for event blogs. It gives a detailed and a organized data of backlinks of a website or a blog. If you can see the websites they made backlinks from, then you can repeat all the steps and make your link too.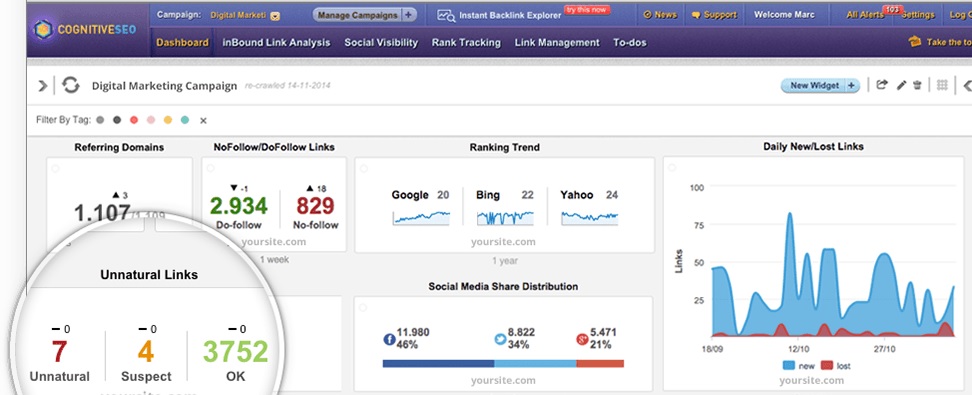 The Best thing about this tool is that it offers a 14 day trial which is great in my opinion because AHRefs also doesn't provide and takes $7 for the trial alone which lasts 14 days only.
Here are the things which I like about this tool –
This tool does Great Backlink Analysis.
It offers a 14 Day free trial which other companies do not tend to provide now 😀
It has a clean and simple User Interface which can be good for people.
It has easy navigation.
I would recommend everyone to go and try cognitive SEO because it is a great tool and has a 14 day trial.
My Rating for cognitive SEO would be 4/5.
4. SEMRush 
SEMRush is another big player in the market famous because of their clean and simple User Interface which from a point of view is great.

SEMRush offers many useful and cool features which can help anyone to do the perfect keyword research and analysis. SEMRush offers many data aspects and I have mentioned some of them below –
Keyword – It shows keywords and related keywords to your searched keyword which  is the same like Adwords somehow.
CPC – It provides the cost per cilck of the keyword. If a visitor comes to your website and clicks on an advertisement then you may get this amount. For eg. $0.09
Comp – SEMRush also provides the competition based on ranking a keyword. Lower means that the competition is low and the keyword can be ranked with a bit of hardwork. Higher means that there is high competition on ranking a keyword.
Keyword Volume – This means that how many times a keyword is searched in the Google Search Results. This data is same as Google Adwords.
Position – This means that on what keyword a blog is ranking on which position and in which country, You can then steal his keywords and Rank and Bank!
Although this is a paid tool and quite expensive. It costs $69.95 Per month and it is the lowest pack. $549.95 is the highest Pack which is the business pack.
Now, As we have reached to the Number 1 tool. The Number tool which helped me stabilize bhi rankings and get new keywords is Ahrefs.
5. Ahrefs 
It is another paid tool but trust me guys, You wont find any better tool than this. it is my Personal Favourite tool too and It has really awesome features and tools! I always use this tool for my keyword research, keyword analysis, backlink profile and for many other things.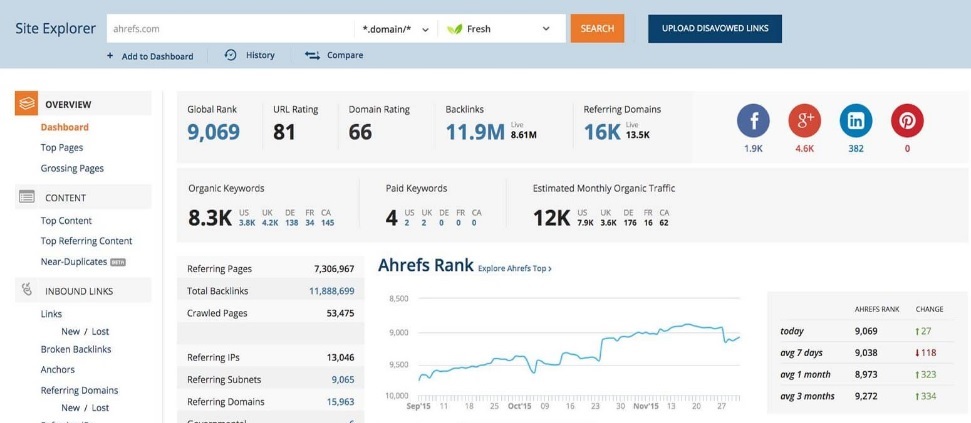 The only thing which people don't like about this tool is that it does not have any FREE trial and is very expensive. the lowest package starts from $99 Per month which is quite expensive but still worth it!
Here are some tools and services which Ahrefs offers –
Allows Keyword Research
Allows Keyword Analysis
Allows Keyword Competition analysis.
Helps to see on what keywords your competitior is ranking for.
Clean and simple User Interface.
Allows to see all Backlink Profiles of your competitor.
Awesome Customer Care Team.
The Only thing I sometimes dislike about Ahrefs is the price point because the price of their services is a bit higher which should not be so.
Conclusion 
Guys, These were my top 5 tools which I use everyday as a digital marketer and if you want to add up something in this list then do comment down below as we love to hear from our readers.
If you are having any query or difficulty regarding this topic then feel free to comment down below because we love to hear and solve the querys of our readers.
Stay Tuned For more Articles. Peace.