Comment Backlinks are one of the most famous and easy links to build for any blog. While they are comparatively less beneficial than the links you get from some other techniques such as guest posting or broken link building, they are certainly useful in ranking.
However, without knowing the right technique, you can build as many comment backlinks as you like and they won't benefit your blog in any way. That's why today we have brought this guide explaining how to build comment backlinks – the right way.
What are comment backlinks?
In simple words, comment backlinks are basically the backlinks which are build by commenting on various blogs. You must have seen a lot of blogs include a field to enter your website URL alongside other fields such as your name or email address in the comment section.
Normally when you leave a comment and enter your website's URL in the website field, your name which appears with your comment on that page gets linked to your website giving you one backlink from that page.
Although sometimes you can also get a backlink from within the comment or get a link to a specific page of your blog instead of the homepage. It depends what kind of comments the owner allows. Based on what kind of comment backlinks you can get, we can categories the comment backlinks in these three types:
Types of comments backlinks
As we said, the comment backlinks can be categorised under the following three types:
Regular Comment links – The links we explained in this post earlier are pretty much the resemblance of regular comment backlinks.  These are the backlinks you can get by adding your site's URL in the website field and these links are associated to your name.
Some sites also use plugins such as Disqus for controlling spam which only makes this process easier. You can just sign up once at Disqus' website, add your site's URL in your profile and then whenever you comment on a site which has disqus installed, you automatically get a comment backlink from that page.
Anchor Text or HTML enabled comments – The second type of comment backlinks are the links you can get from within the actual comment instead of your name and with an anchor text. It becomes possible because some sites allow you to use HTML tags within the comments.
Using those HTML tags, you can use an anchor text of your choice for the comment you are going to leave. Such links are especially useful when you are trying to rank any specific page for a specific keyword as you can get a link with your Keyword as anchor text.
CommentLuv enabled links – We talked about how Disqus is a plugin used for comments previously, similarly there is another plugin named CommentLuv which is used by bloggers to attract comments on their posts.
CommentLuv allows you to link your name in the comment to any specific page or post from your blog. This is again especially useful when you are trying to build links for a specific page to increase its authority and rank it for a specific keyword.
How to build quality comment backlinks?
As we said, building just any comment backlinks will not do any good to your blog and if done too much, comment backlinks can even become harmful. Here are the points you should keep in mind before building a comment backlink-
1) Relevancy – As any other backlink, the relevancy of the page and the whole blog from which you are getting a link is very important. The blog you are getting the link from should be in the same niche as yours and it's even better if it matches with the main subject of your blog.
2) Authority – Again, authority of the site is an important factor which decides how much a backlink will be beneficial for you. Normally a site with more than 30 DA is good though occasionally you can build links from sites with lower DA as well if you are doing it for Micro Niche blog and they are highly relevant.
Overall the relevancy of the site is the biggest factor. If you are getting a link from a lower authority relevant blog than it's often better than higher authority non-relevant blogs.
3) Do follow link – While most of the comment backlinks are no follow there are still some blogs which offer a Do Follow comment backlink. If you are working on a micro niche blog, it's generally better to work hard and find blogs offering a Do Follow comment link than getting tens of No Follow Links.
4) Outbound links – Like any other kind of links, the number of outbound links or the number of links a page is giving to other sites affect the quality of the link you are getting. So try to build links from posts which have fewer comments and avoid any post which has more than 50 comments.
5) Text around your link – This is something which is often overlooked by people. The density and contexuality of text just around your link matters very much in determining the quality of your link.
So instead of leaving a comment with little to no text such as 'Good Post' 'Nice Read' etc, you should actually read the post and try to write at least 2-3 lines in the comment which also includes words related to your own niche.
How to find blogs to build comments backlinks?
Now as you have learned enough about comment backlinks, it's time to build some. But before building links you need to find the right blog to comment on. The obvious way to do so will be by searching your keyword in Google and then filtering out the sites.
However, you need to spend a long time to filter all the results and find the sites which matter to you. So instead you can try a few tricks listed below to find blogs to build comment backlinks:
1) Spying on competitor: Probably the easiest way to find blogs for not only commenting but for any other type of link building as well is spying on your competitor or stealing his backlinks.
For doing so you need to use any of the available tools and check the backlinks profile of your competitor. Then from the list choose the sites which are relevant to you and use them to build backlinks.
There are lots of paid tools available for checking a site's backlinks. And if you don't have money to spend, you can use OpenLinkProfiler which is a good free tool for the same.
2) Google Footprints – The second method to find blogs to build comment backlinks is by using Google footprints or Google Dorks method. If you have never heard of it before let me explain.
Many sites have specific words on their pages which indicate a certain type of link building opportunity. So what we do is search for these specific words along with our keywords to find blogs with those oppertuninty.
Dorks to find Do Follow Comment Blogs
"Comment on the Post"

"Enter your comment:"

"Comments on this entry:"

"Blog Comments Powered by Disqus"

"Sign in to comment on this entry."

"Comments (You may use HTML tags for style)"

"Login or register to post comments"

"Sign in to Comment On this Entry"

"You must be registered and logged in to leave comments."
CommentLuv Enabled Blogs
Keyword +" CommentLuv is Enabled" 

Keyword +"KeywordLuv is Enabled"

"Long Tail Keyword" +"CommentLuv is Enabled"

"This blog uses premium CommentLuv"
Dorks to find .EDU and .GOV Sites
site:.edu  says" "leave a reply"

site:.edu inurl:blog "post a comment"

site:.edu inurl:blog "post a comment"

site:.edu inurl:blog "post a comment" –"comments closed" -"you must be logged in" "keyword"

Site: .edu "blog comments powered by disqus"

Site: .edu "comments powered by Disqus"

Site: .gov "blog comments powered by disqus" "

Site: .gov "comments powered by Disqus"

site:.edu inurl:blog "comment" -"you must be logged in" -"posting closed" -"comment closed"
Other important Dorks
Keywords "top commenter"

keyword "no comments"

keyword "leave a comment" / "leave * comment"

Keywords "You can use these tags"

Keyword(s) "Recent Comments"

keyword "notify me of follow-up comments"

Keywords "Notify me of follow-up comments"
For example the CommentLuv plugin adds the following line at the end of every page where the plugin is enabled- "This blog uses premium CommentLuv"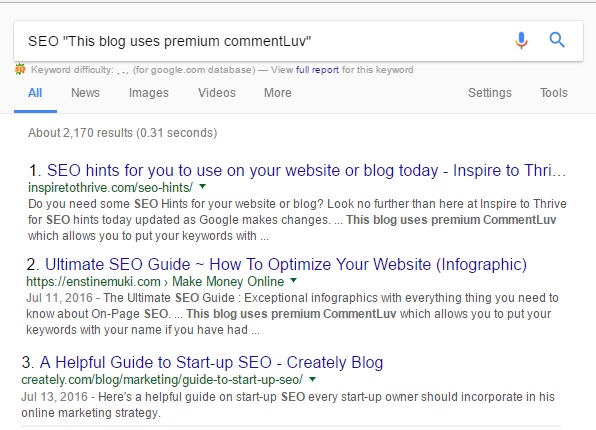 So if we want to find blogs in our niche which have CommentLuv enabled then we can search for this line or footprint along with our Keyword in Google something like this:
As you can see in the picture above, the results will show you blogs which have CommentLuv enabled which you can use for comment link building.
There are lots of such dorks or footprints that can be used for finding various kinds of blogs such as .Edu blogs, Blogs offering Do follow Links and more. We have listed all the dorks that can be used in the file which can be downloaded from below:
3) Drop My Link – The third method is not exactly a unique method but only an extension of the previous method. Drop My Link is an awesome site which allows you to find the blogs you are looking for without much effort.
All you need to do is sign up for a free account. Then enter your keyword in the given box and choose what kind of link building opportunity or blogs you are looking for from the drop down menus.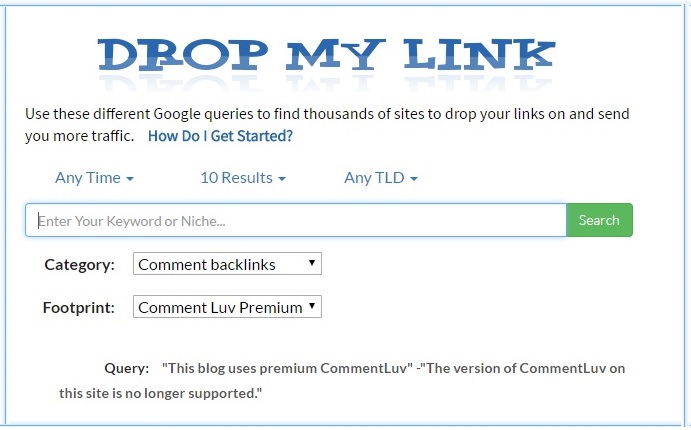 Now just click on the search button and it would automatically perform the search using required Dorks to find your desired blogs along your keyword, making the whole process much easier.
Now below are list of most awaited thing!!! High PR commenting sites.
PR-8 Blog commenting sites
| Website | Niche | Website | Niche |
| --- | --- | --- | --- |
| Politico | Political news | issuu | interested general things |
PR-7 Blog commenting sites
| Website | Niche | Website | Niche |
| --- | --- | --- | --- |
| ehow | How to (craft,tech,decor and many more) | Copyblogger | Content Marketing |
PR-6 Blog commenting sites
PR-5 Blog commenting sites
PR-4 blog commenting sites
PR-3 Blog commenting sites
Wrap up
Remember that while comment backlinks can be an essential part of your link building strategy, they alone are no enough to rank a blog. Also, the frequency of comment links should be adjusted according to the blog you are making and the difficulty of the keyword. 
For example, if want to rank an event blog, you need to start building at least 10-15 links per day from almost any kind of blog, around 2 months prior to the event. On the other hand, if you are trying to rank a micro niche site, you should build 4-5 highly contextual links each week.
Did you enjoy reading this article? Do you still have any questions left? What other guides would you like to read from us? Do let us know your thoughts in the comments section below.