If you are Indian and using any app to transfer money then you surely know one name "Paytm".
And while demonetization in india most of people aware of such app.
Paytm has become a popular eCommerce platform in India but with shopping they also provide platform to transfer money from paytm wallet to any bank account or I can say from one account to another account via paytm with 1% to 4% charges that depend on how you are transferring your amount?

Note: Now there is no charge on transfer money using  Paytm
Paytm is an extremely secure digital wallet which makes your life easier! Now you can transfer money to any bank account any time .
So here I am writing steps through which you can transfer money from paytm wallet to any account or other paytm wallet
Before start let's know term & condition to transfer money:
Make sure you have 45 days old account.
Mobile number and Email  must need verification.
Amount one can transfer must be between 100-5000 INR.
If your per month limit is less than need to upgrade your account.
Note:  You can transfer maximum  25000 in a month and merchant can transfer more.
Transfer from Paytm account to Bank account
Step 1: Initially, open Paytm wallet or Paym mobile app (you can download app from here Android/Windows/IOS.) Once you download then open app and complete sign up process. Once you sign up and get in then you can see your screen like below.
If send money not selected automatically then please select send money option.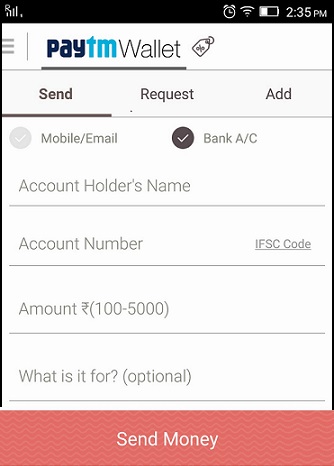 Step 2: Now fill Account holder name, Account number, IFSC code (by clicking on link and Select bank name from given list of bank, Select state, Select city and Select your branch or you can direct provide IFSC code.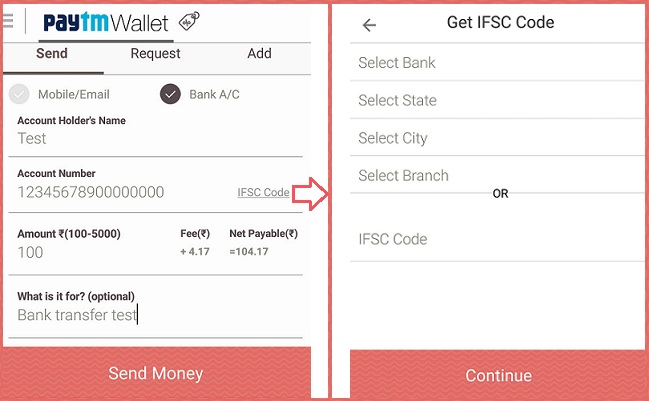 Step 3: Provide Amount which you want to transfer and make sure amount should be between 100 to 5000 INR(Indian rupees) other wise you will get message like below. Then click on Send money button.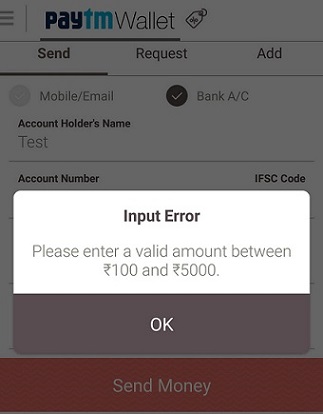 Processing fees(Change time to time so please refer Process fees of Paytm)
4% charges on money transfer to normal account.
1% changes on money transfer to upgraded Paytm wallet.
Step 4:- Next Paytm ask you to verify your mobile number by sending an OTP code . So please verify by providing OTP digit.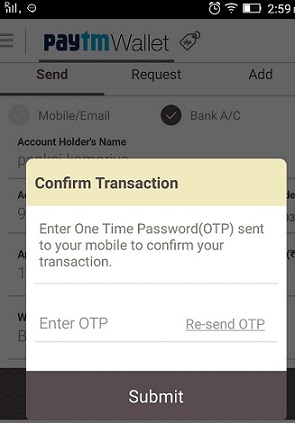 Done!!! Now ask receiver account holder to check money in their account .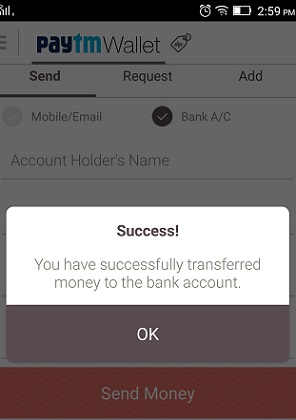 Hope with this simple steps you learn how we can transfer from one paytm account to another Paytm account.
One Paytm wallet to other Paytm wallet
Step 1: Again open same Paytm wallet and now select mobile/Email instead Of Bank account like below.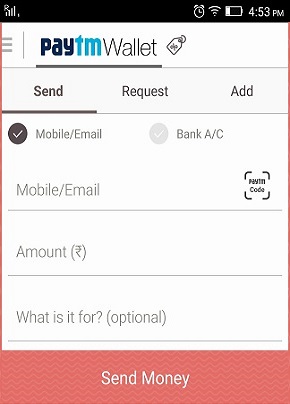 Step 2: Provide either mobile number or Email and Amount you want to transfer. Third text box Is optional one so you can keep blank too and  then click on Send Money button.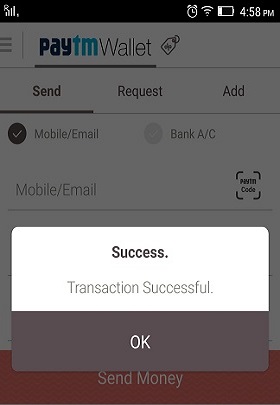 That's it sir and madam !!! Your money now not in your wallet…it's now in other paytm account.
Feature of Paytm wallet:
You can check your passbook means all transition.
You can change your mobile number  & email ID
You can save your debit/credit card information so next time no need to provide.
Hope you like this post and learn how one can transfer amount from paytm wallet to Bank account and One paytm wallet to other Paytm wallet.
Even if you Feel any issue while transfer money or any process then please write us in contact us or comment.
A big thanks for reading