Bharat Interface for Money (BHIM) is one of the biggest step taken by Indian government to accomplish digital India dream.

BHIM enables fast, secure, reliable cashless payments through your mobile phone. You can transfer money to other Unified Payment Interface (UPI) applications and bank accounts for quick money transfers. (Most of Indian bank support this initiative).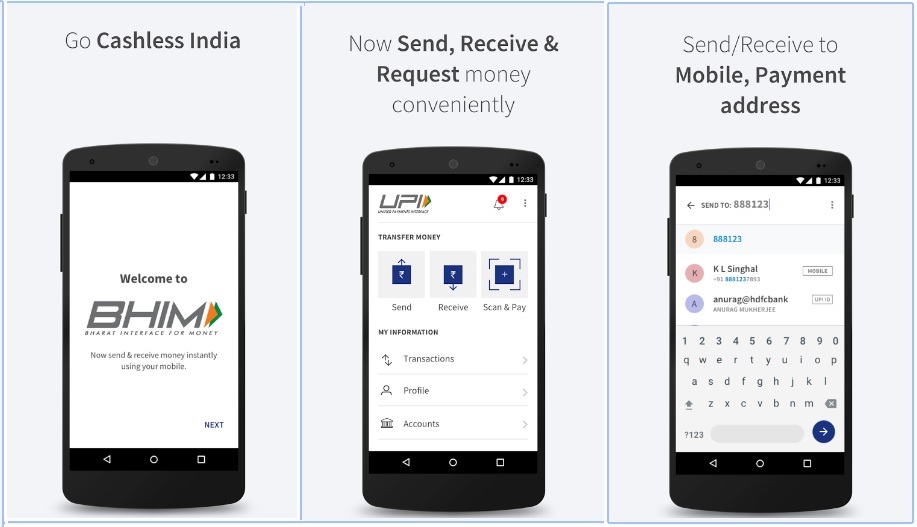 How Does BHIM app work?
1.   Just download BHIM app from Google play or apple itune and register your bank account.
2.   Set UPI Pin for your registered bank account.
3.   Now you can use mobile number to transfer payment.
That's it.. simple!! Correct?
BHIM app hits more than 10mn downloads mark
Other features
There is no charges for making transaction through BHIM.
You can transfer money any time  from BHIM means 24*7.
BHIM is very fast app and your transaction can be completed within few seconds.
You can send money to unregistered user using Mobile number, Account number +IFSC and Aadhaar Number(Any one).
You can receive payment by just sending a request and get reverse payment instantly.
You can check your balance and transaction detail in just one click (No need to go ATM or bank)
You can Pay using QR code and shopkeeper can keep their QR code outside of their shop.
You can SPAM/Block any user who are sending you a payment collect request.
Available in 12  language like English, Hindi, Tamil, Malayalam, Telugu, Gujarati, Punjabi, Marathi,Kannada, Bengali,Assamese and Odia.
How do I send money?
1.      Firstly click on  Send Money Option.
2.     Select receiver payment number (Mobile number from contact list or Aadhar number or bank             account)
3.      Now Enter amount you want to transfer
4.      Your registered bank automatically get selected.
5.      Enter UPI PIN and send.(You can also use QR code and  'scan & pay')
How do I request money?
Request money means you are asking someone to transfer particular amount in your account.
1.      Select request money option.
2.      Enter or select receiver mobile number or Aadhar number.
3.      Enter the amount you want to request.
4.      Click send button.
Transaction Limits:
Per transaction maximum limit of Rs. 10,000
Per day maximum transaction limit of Rs. 20,000
How you can earn from BHIM App
As a referral program initiate by India prime minister Narendra Bhai modi to benefit those people who inspire other to install BHIM app.
If other people through your referral link download this app then you can earn Rs. 10 on each download.
How this app is secure?
Firstly you need to enter PIN while open App and also if you want to transfer money or check payment then app ask UPI PIN so this dual code provide this app security in some level.
You can also connect your Bank customer care or BHIM customer care number provided below.
BHIM APP Customer Care Number : 022 – 4000 9100
BHIM APP New Customer Care Helpline Number: 14444
BHIM APP India Toll Free Number : 022 – 4000 9100
BHIM APP Customer Care Email ID: upi.developers@npci.org.in
Hope you like this post and download this app to help country in moving one step ahead toward digital India.