if you are an artist and have painted enough paintings. Then the time might have come for you to start selling your paintings
And if you are looking for place to buy or sell your paintings then  No need to be worried . There are many website available online where you can sell your art without much effort.
I have summed up few online e-commerce websites for selling of paintings.
1. Amazon
Amazon can be said as an excellent e-commerce website to sell almost anything. It is the biggest website platform available out there.
The amazon has an arts section whose features gives you wide range of option to sell you paintings, prints, drawings and other artworks. Let have a short view on its features.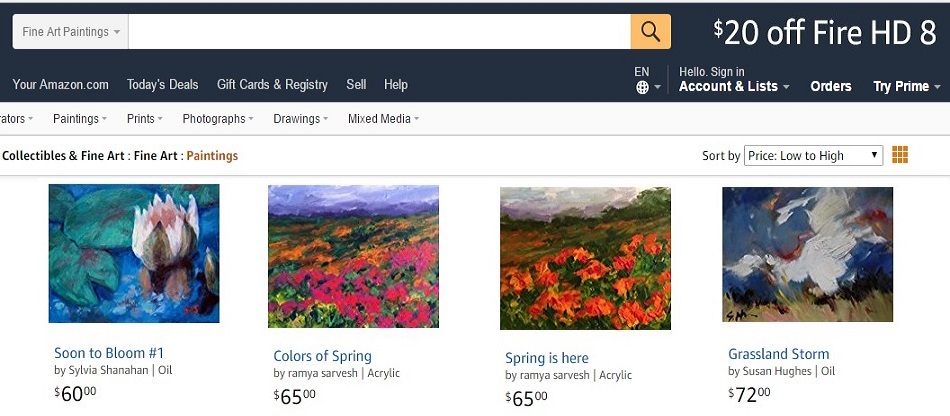 Steps to sell painting on Amazon
 Start with researching paintings in Amazon.

Look price and type of painting people selling.

Check if there are similar designs to the ones you make.

Writing description about painting. you can write some emotional stuff so people will buy emotionally. 

Take picture of your painting and best when picture hang on wall.

Do small SEO or take expert help and make sure to sell painting cheaper initially. 
Why Choose Amazon (How Amazon help to get more selling)
Amazon Prime – This is a very big acquisition tool used by the customers. When a customer is registered it does bound him to come back. It also provides the customer with speedy service and a priority basis delivery.
But for amazon prime, the customer should have to be registered in it. This service is free for few days after that you have to pay a nominal yearly annual charge.
 Search -Amazon search is very optimized and gives you results as soon as you finish typing and provides you an instant search option. So if you give 
 Amazon hassle free ordering – it provides you with most simplified one click option to order any product and gives you very consumer friendly and simple interface. 
[button link="https://www.amazon.com/gp/help/customer/display.html?ie=UTF8&nodeId=201414190″ size="big" align="center" target="_blank" icon="linecon-icon-world"]Sell on amazon[/button]
2. eBay
eBay is one of the largest e-commerce websites for various products. eBay has one of the eminent collectibles for sales which includes various art, painting, and other items.
Consumers can use PayPal service which is beneficial even for the seller of art item. Let's have a peek at its some features.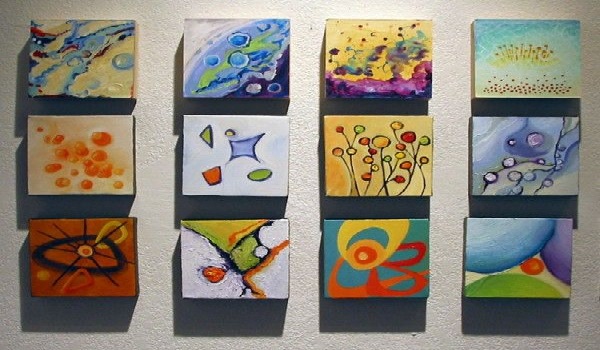 Steps to join eBay for painting sell
Before joining eBay account please make sure to create  PayPal account so that eBay can pay you.
Create account on ebay and make sure to update all information.

You can decide price as per uniqueness of your painting.

Take photo and use proper keywords in description so easily searchable your painting.

On getting order Wrap the items well and ship to customer.
3. Etsy
 It is one the biggest website and creative marketplace that can be used for buying and selling art and various other unique goods.
Etsy provides you with an option to set up your own store to sell your paintings, photography and other artwork.You can read here tips of selling paintings on Etsy.
There is another feature called Etsy blog which provides space for new exposure and assists in sales. This is Brooklyn-based organization and had restructured its business recently. This website uses a non-conventional approach for selling of products. Now let's see some of its features.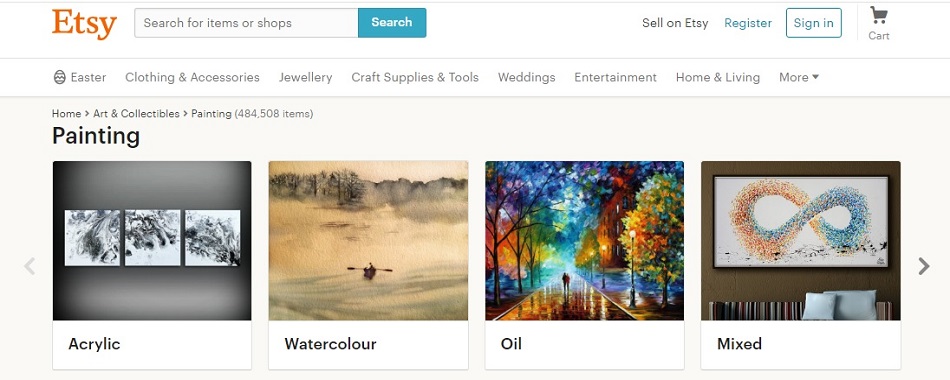 Feature of eBay
Etsy blog: – it is one of the unique features that comes quite handy for writing a product description. You can also share information about the painter or photographer here and can maintain a profile. Depends on how you want it to work.
Your shop: – your shop features provide you with an option to set up your own shop. Which a very cool feature of Etsy where you can add several products of yours with its detailed description. It provides an option for billing which can be credited to your account after delivery.
Etsy message: – it is one of the best features which this particular website provides. It gives you the option to communicate with various buyer and sellers which hold an account in Etsy. Etsy is one website which provides features of both social networking and e-commerce.
[button link="https://www.etsy.com/in-en/c/art-and-collectibles/painting" size="big" align="center" target="_blank" icon="linecon-icon-world"]Sell on etsy[/button]
4. DeviantArt
Deviant Art is the one of the largest community which provides access to more than 290 million art pieces and has around 31 million users that are registered.
This Website is an interesting place to sell your paintings, arts, photograph and films. It has a popular Tumblr Blog that provides you with a feature to put your work for general viewing and get massive exposure. Let look at its few feature.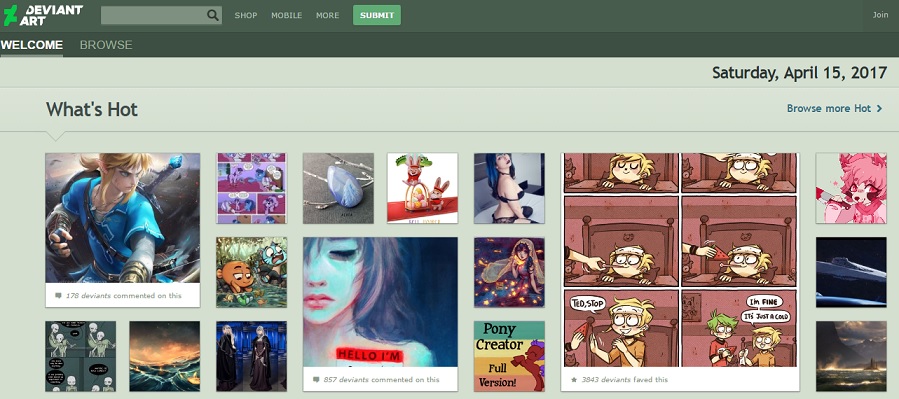 Few features of Deviant art
 Shop: – This shop feature provides you access to products which are put for sale. Inside the shop, you can view painting and artwork and can buy or comment on the product as you like.
 Search: – Deviant Art search is an effective tool deployed by this website to search results according to your need. However, it lacks the instant search but still, its search is good and gives you better results.
Comment: – it gives a comment functionality so you can comment on the paintings and photographs.
[button link="https://www.deviantart.com/" size="big" align="center" target="_blank" icon="linecon-icon-world"]Sell on deviantart[/button]
5. Zazzle
Zazzle is an excellent place for buying and selling of paintings, arts, electronics and other products.
It  provides you an efficient Make engine tool which can customize anything from t-shirts to paintings. You can keep up with interesting art and paintings on the Zazzle.

 Few Good feature of Zazzle
Search: – Zazzle search is a fast and effective tool, which can be used to perform a search for a product of various categories. It also features instant search and gives result while you type which is an advanced tool and comes in handy for searching products.
Product catalog: – it has a huge variety of products and its catalog organized, Products are segmented into categories for easier browsing of particular products.
Review: – it gives a feature of review which is also beneficial when buying a product. The consumer can rely on the review and make a sale on its basis. This review feature makes it almost easy for the consumer to select the best product out of the box.
[button link="https://www.zazzle.com/sell/designers" size="big" align="center" target="_blank" icon="linecon-icon-world"]Sell on zazzle[/button]
 Hope you like this post and start selling your own painting in good rates. If you are using any other site then please write us in comment.