Are you addicted to the internet? Do you watch several random videos? If yes, then you have come at the right place. Here I will tell you about few video sites which pay a good amount if you watch the video. I know you are very excited to know about these sites. After all, you can easily earn without any hard work. You may get payment to watch videos from several sites online. But it's very difficult to know which best site is?

You don't need to worry as I have chosen top 5 videos site which pay you, you just need to sign up and get money for watching content of new video. Well, it's very interesting! Let us take a look on these websites.
1. Paid2YouTube
I love this website. Frankly speaking, I am also using this website to earn money. I am getting good amount to watch YouTube videos. It is a great opportunity to earn legitimate amount. If we talk about the payments, then we find low. You will earn $0.005 per video watched;
so you need to spend lots of time top watch videos before you earn. But, the good thing is that you can earn more money from referrals, make ratings and by leaving comments. If you would like to buy YouTube views for your account, it is also a great service.
2. Perk.tv

Perk is a great way to earn money by watching videos. You may see videos in the Perk TV app, in the browser! Both way are effortless, but sometimes there may be a glitch which needs a restart / refresh.
If you will earn points at Perk from watching videos, the points can be redeemed for gift cards and Paypal. You can earn 4-5 Perk points by watching each video. There are also many apps for Perk available, you may see them at Perk.tv website.  Enjoy free earning!!
3. Earnably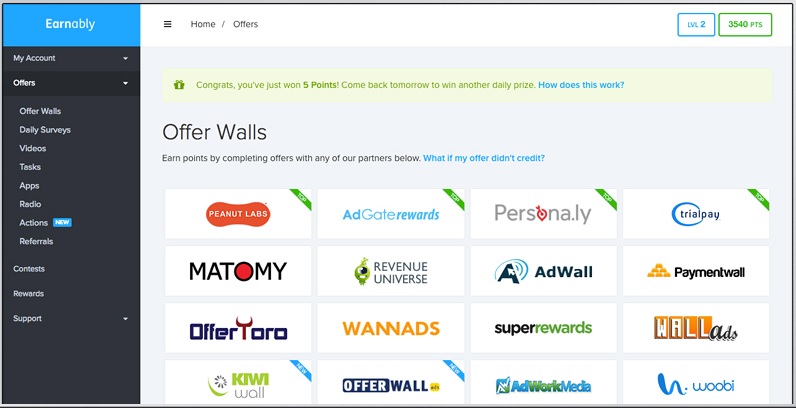 It is known as a rewards website where people may see videos in order to earn Bitcoin, Amazon gift cards as well as Paypal deposits. I would like to suggest the AdBistro videos which are sixty second videos that give one point each. This site enables you to see up to 100 videos every day. You just need to click on a new video every time; however it is a simple $1.00 a day which you may earn while working on your other important work. It is totally free to use. So, enjoy earning today!
How can you start?
You need to create an account with this site which takes 5 seconds, after that you can start earning points by watching videos, taking surveys and completing offers, and then redeem your points for instant, real rewards.
Watch videos on Earnably and earn money
4. QuickRewards (Now opinionrouter)
It is also known as a great rewards website which can pay Canadian , UK and USA users in order to visit websites, do surveys, watch videos, to get paid for playing games as well as cashback on shopping. You can redeem the points via the Disney Store or Walmart, voucher for Amazon or Paypal.
You can try one of the above mentioned get paid to watch video sites. I hope you enjoyed my blog.
Happy watching Videos and YouTubing!