Content creation has taken the pace as the world is evolving. The importance of the content cannot be ignored. This has been developed as a whole industry. Successful businesses are standing over quality and valuable content. There is a neck-to-neck competition between different sites to rank higher in SERPs based on content.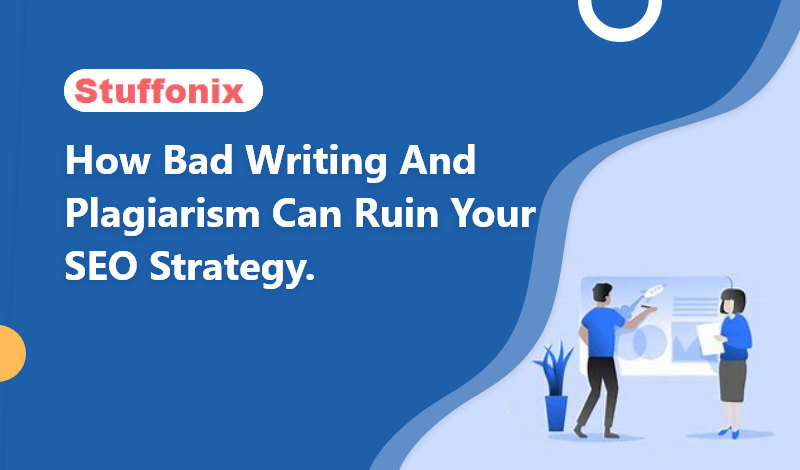 Content defines you and your goals, its importance is well-known to everyone in convincing the target audience. Good quality content changes your prospects to reality. The written part makes up the content that has to be extraordinary to grab the attention of the people.
These days' people are also relying upon copying or plagiarizing others' work but it will not do the job for you. Plagiarized content will wash out your all-other efforts. People will have an impression of duplicate content and will not be able to put their trust in you and your business. Your entire SEO strategy will be demolished.
If you are aiming to start an SEO strategy, be aware of the gaffes and their consequences. There is no room for blunders in SEO strategy because one mistake can cost you much longer.
SEO?
You must be aware of the word SEO, right? Yes, it is search engine optimization. It is the optimization of your site to increase quality web traffic and to enhance the visibility of it for the target audience. More visibility means more visitors and more visitors mean a high Google ranking. As much as your visibility will be improved your site will grab the attention of more people. It will attract more potential customers to your business.
Google crawl and indexes webpages and sites to check the content available on them. It prefers original, unique, and informative for its users. The pages with repeated and duplicated content are taken to the last search pages for that particular topic. Google doesn't want its users to see the same old material.
What content is reviewed as bad and plagiarized content?
Bad content:
Needless repetition: To update your website with trending topics is best to gain the attention of the audience. The more relevant and up-to-date material will be there, the more readers it will attract. It is the best strategy to engage quality web traffic. It depends on the content you are writing that will it do what we have talked about before or else it will end up as a catastrophe for your SEO strategy. People are always waiting to see exclusive and never seen content. When you will provide the same old information that they already know it is surely a piece of bad content for them.
Some writers think that rehashing the work already existing online will work but it's not like that. Words will be different but data and knowledge will be the same. People need new concepts, new ideas, only this can make your SEO strategy game strong.
Be your own identity and don't follow in the footsteps of someone else. Unique is valuable just trust this. Write it yourself, modify it with trendsetting techniques that people love to see as infographics, videos, images, facts, and figures.
Unpleasant headlines: Headlines are the backbone of any write-up. Some readers only see the headline and decide if they should give it a read or no. Sometimes only because of the headline, people read your entire post. On the other hand, even if your post is much interesting but the headline is unattractive people don't consider reading it.
Whenever you are going to write something, focus on the headline try to work, and brainstorm in creating an appealing headline. Your SEO strategy will be all rust and dust if the audience will not read your content just because of the headline.
Tips for the best headline:
It should be explanatory.
No ambiguity
Should pique your interest
Naturally flowing keywords should be embedded
It should be exclusive
Brushing aside the trends: To compete in the current market it is very crucial to keep yourself and your strategies up to the recent trends. This era is about social media, people are following social media platforms religiously. You must design your content for social media marketing, it will help you gain more outreach to the target audience.
Social media plays a role in communion between people and businesses. So you should optimize your content for SEO strategy in a way that can be uploaded on social media. Your content can be uploaded on your page as well as on related platforms also.
No target audience: Target audience or niche market is 101% important. This point cannot be skipped. Your content should be written to serve a niche audience and to satisfy specific people. If you will try to please and entertain everyone you are just ruining your whole SEO strategy.
If your content will not be targeted, your content marketing and SEO strategy will all go wasted. Be narrow but relevant and impressive.
Plagiarism:
There are many kinds of plagiarism that writers, businesses, and content creators adopt. Plagiarized content be it of any kind is illegal, unethical, and is barbaric to quality writing.
The main types that people more often use are patchwriting, copy/paste, and accidental or inadvertent plagiarism.
Patchwriting: It is a kind in which you will take some already existing content from a site and rewrite it in your own words. It is the restatement of the original content. There are two kinds of patchwriting. One in which you reword or rephrase the content keeping the concept the same. While the other is in which you take a paragraph as it is and includes that in your piece of writing without any changes.
Copy/paste: It is when you copy and paste the entire piece of writing of someone else as your own. Not making a single change to the content and just copying it and putting it up on your site. It is the worst kind of plagiarism.
Accidental plagiarism: Unknowingly or unintentionally done plagiarism is when you forget to mention the source or place the wrong one. It is also when you are writing something just after reading the related data from the internet there is a probability that you may write the same line unconsciously. But if you think this will not be counted as plagiarism you are mistaken.
What plagiarism will cost you?
Affects your quality content:
Plagiarized content has no value in front of the audience. Copied content is not acceptable for people who believe in quality. Plagiarism affects the quality of your writing. Sometimes while copying you try to replace the words with their synonyms and that can also alter the meaning of the content. It will damage the reputation of your site.
Google will not rank your site:
Google crawlers and indexers keep an eye on the content present online. If they find copied content Google will not rank it in top positions. Plagiarized content can bring in increased web traffic but quality web traffic will be just a dream. Search engines are smart enough to see which sites have the best and unique content and which sites they should show on first search pages.
How you can detect plagiarism?
The most effective is to use plagiarism checkers. You can try many things like paraphrasing, adding your concept, quote the write-up, citation, to remove plagiarism.
Let discuss one of the best plagiarism checker "Check-Plagiarism".
Check-Plagiarism:
Try out this tool by clicking here. https://www.check-plagiarism.com/
It is user-friendly as well as works with accuracy.
How to use it?
You can copy/paste the content in the textbox or can upload a file from PC in any format be it doc, Docx or txt.
By clicking on "show advance options" you will get an option to exclude the URL.
After doing the above steps click the button "Check Plagiarism".
The result will show you how much of your content is plagiarized and how much is unique in percentages.
It gives you an option to generate a plagiarism report and to make it unique.