Fiverr is like a heaven for freelancers and people who want yo make money online. You will get millions of freelancers who ready to do almost every work you can imagine, and all of this at the price of $5.
There are thousands of deals sealed on fiverr every day and if you are a stabilised freelancer and have best fiverr gig then you can earn a four-figure income each month very easily. If you are not much aware about fiverr then please check What is fiverr and How does fiverr work.
However if you are a new seller looking to make your mark, then it can be very hard for you to easily get place in fiverr as There are many experienced freelancers in all popular fields and most buyers only go for buying from trusted freelancers.
That's why today we have brought you a list of ten unique and best fiverr gig ideas which you can sell on Fiverr and start earning instantly.
1. Writing Gig 
If you are good writer then writing Gig is best idea on Fiverr and you can find many writing Gig on this platform and you can also set from $5 for a article to $500 for a book.
You can even do simply proofreading CV's or translating work from one language to other language.

Below are few writing Gigs related to writing work..
Resumes & Cover Letters
Proofreading & Editing
Translation
Article writing
Write Reviews
Write Comment
Note: While writing a full post at $5 is not a very great idea as it will cost you 3-4 hours at least, writing a description is a completely different thing.
There are lots of things selling online and all of them need an attractive short description, but most people don't know how to wrap their words to make an attractive 100 words description, so if you have the talent you can offer to do it for people.
2. Designing Gig
Design is not easy for those who are not creative and not hard for creative people. So if you are creative and have good idea about designing then you can easily complete this gig and make Good money.
Designing Gig is one of the potential work in online world and many people searching for designing is first check Fiverr gig to get best result in less price.
Best fiverr gigs related to Designing on fiverr like
Logo Designing
Business card
cartoon of any person
Book Covers & Packaging
T-shirt designing
Facebook page designing
Note:  Logo and Facebook page designing  is one of easiest thing to do so you can create Gig for them..but make sure quality matter as many people looking for this type of work. You can check free Logo designing site.
3. Programming and technological Gigs
If you are from technical background and working in any software company or student of IT field then you can do micro jobs on Fiverr and start making money.
This is best fiverr gig for programmer and you can choose work like setup wordpress site or test any site. If you are taking work like set up or create any corporate site then you can set high price for that particular gig.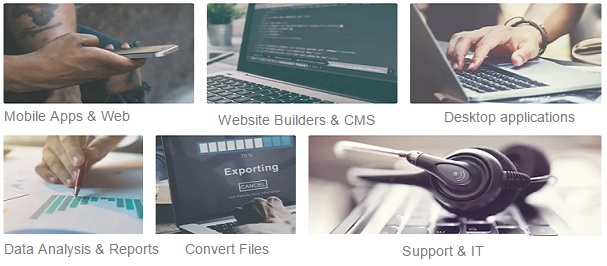 Fiverr Gigs idea of Programming
Developing WordPress site
User Testing
Converting file
IT Support work
Develop mobile or desktop application
It is easy to do IT support work and wordpress site development but for any of programming work you can surely add more amount or more number of Gig. If you are not aware about wordpress then please read how to install and configure wordpress step by step.
4. Video and music Gig
If  you love music or have good knowledge about software which help in audio and video mixing or editing then you can create  this type of Gig also.
This is best Gig for singer or voice over or lyrics writer  and you can create Gig for the same.
Fiverr Gig Ideas for video and music
Mixing video
Voice over job
creating new video
jingles
5. How to guide
Once you become an expert on something, like let's say On Page SEO, you can create a video tutorial explaining all the do's and don'ts of that topic.
You can put your personal experience and make a good V-Guide (Video Guide) on that topic and then sell it on Fiverr. All it will take is one day of preparation, 2 hours of making the video and a few more hours of editing it.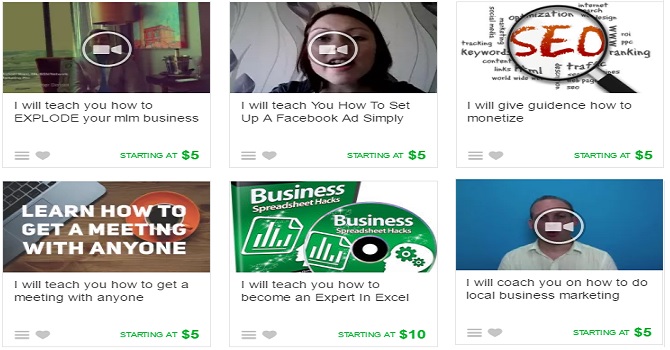 Means you'll have your guide ready within 2 days and if the topic stays relevant for even 6 months, then you can easily earn $400-500 from that single video.
6. Gigs set
Give an idea to make $100+ dollars from one gig. Once you have a set of similar gigs and all of them are up and running, sell them all with a wholesale discount.
there is no such feature on Fiverr currently but you can create a new gig and add all the services as 'extra', then mention that specific gig on all your small gigs.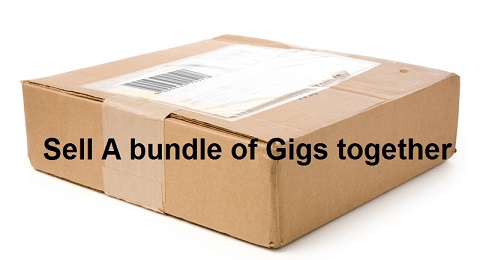 For example, if you have 25 videos on different aspects of SEO selling at $5 each, you can bundle them all to be sold at $100, and you'll be making around 20 times of money from each sale on this 'Gig Set' then what you can earn from a single gig.
 7. Research work
If you are good in googling then it is easy for you to make money using this fiverr gig idea. you can create  Gig to search any thing from keyword to any subject topic to any other information.
It is easy to be a topic researcher or keyword researcher, you just need to learn few tricks which help you to get efficient search data.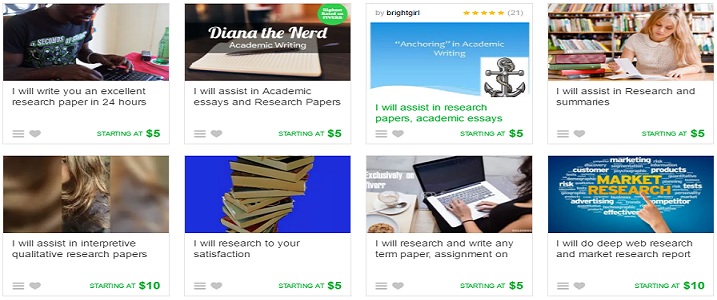 New bloggers are always looking for a way to get things done as cheap as possible. So lots of them don't buy necessary software such as Semrush or others required for keyword research.
You can actually buy these software and then offer to do keyword research based on that particular software.
You can offer to do keyword research on 5 main keywords and provide 10 long tail keywords for each just at $5. This will surely attract bloggers who don't have enough money to buy these apps but want to use them.
And Lots of bloggers have very little time to do research about their new project, or they are just too lazy to do it by themselves. So you can offer to do research on any specific subject and gather all the data related to it.
Best Fiverr Gig for research work:
Market research
Domain research
Keyword research
Top research
Few More Simple Gigs …
8. Data entry
I consider this is best fiverr gigs which required very less effort and With increasing online work, many digital marketing and other such companies are looking for people for data entry tasks.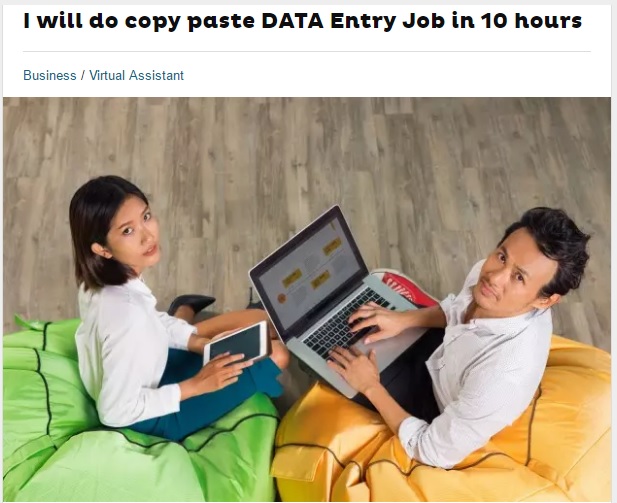 If you are looking for to start a Fiverr gig without having any experience, then these types of gigs are made just for you.
But be careful, do not take more work than you can handle as it will decrease your reputation. I suggest you to start off slow and increase the size of projects slowly.
9. Web 2.0 Link Submission
Web 2.0 are links coming from websites made on free site building platforms and there are thousands of gigs saying 'I'll submit your link on 200 web 2.0 for $5'.
So what's unique in this? Well, the current SEO is all about quality and not quantity. So instead of offering to create 200 automated low-quality links, offer to submit 5 high-quality contextual links and you'll surely get noticed.
And nobody stops after building 5 links, so you can further build a reputation in your client's eye and get some long-term contracts as well. So even if will only be making 30-40 link a day, you can earn $1000 per month easily.
Conclusion:
Which one of these gig ideas you liked the most? What do you think will sell the best? Do you have any unique Fiverr gig idea? Do let us know in the comments section.
Hope you like this blog post…If yes then please subscribe this blog, follows us on twitter, like our Facebook page and if you have any doubt or want to add something then please write us in comment or contact us.
A big thanks for reading