The home's farmhouse style is both comfortable and charming. The relaxed and easy feel of vintage decor and rustic pieces lends everything a lived-in and no-fuss atmosphere that is ideal for our family. The farmhouse style does not imply that you live on a farm. However, it does imply that you are decorating and styling your home with a simple and practical mindset, which is often associated with country living. Instead of bright and flashy decor, you prefer soothing colour schemes, natural elements, and texture.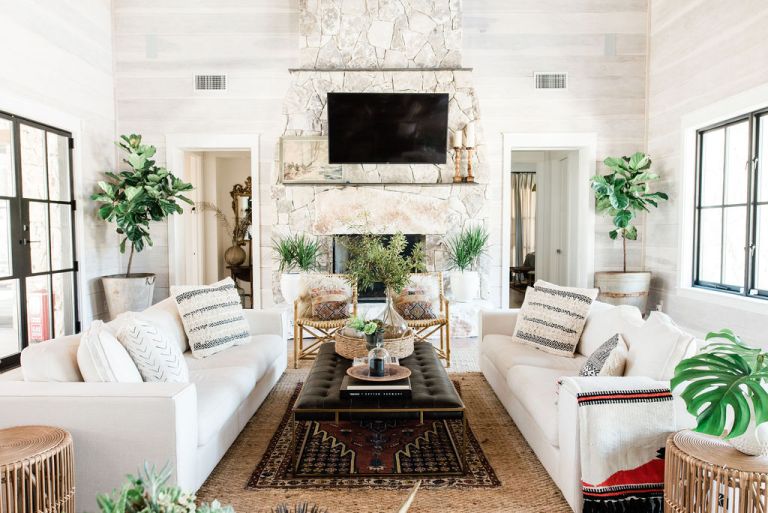 The modern farmhouse style has recently made a significant impact on the decorating scene. This decor style is light and airy, evoking memories of simpler times, such as a cool breeze through the fields and sweet tea on the porch. The good news is that you don't have to live in the country to achieve this relaxed look.
Here are 12 ways to incorporate a farmhouse vibe into your home, no matter where you live:
1. A Combination of Old and New Elements
Vintage items mixed with new and exciting items. Instead of using a standard vase for your flowers or greenery, try something unexpected and vintage, such as an old flour sifter. Incorporating the old and putting it to use in a practical way is a big part of the farmhouse style.
2. Colours that are too bright should be avoided.
If you want to achieve a farmhouse look, avoid using a lot of bright or crazy colours in your decor, in addition to light-coloured walls. We understand that this may ruffle a few feathers, but we truly believe that neutral colours will help create a more calming and cosy atmosphere in your home.
3. Neutral colours should be used to paint the walls.
The first step toward achieving a farmhouse look is to use neutral paint colours. Avoid using dark or bright colours, and try not to paint each room a different colour. It doesn't have to be white; choose a soft beige, cream, or even grey.
4. Barn Doors with Sliding Tracks
The fact that these doors are simple to install and enjoyable to have around the house is a very appealing aspect of this design element. Sliding barn doors are a huge hit. If you want a farmhouse look, use bronze hardware and a milky-white door.
5. Use Chairs With Cross Backs
The ultimate farmhouse chair. When placed on a dining table or kitchen counter, they instantly transform a room into a farmhouse style. They complement the rustic beams on the ceiling and are both casual & refined.
6. Make Use of Open Shelving
Because the farmhouse style is based on simplicity, open shelves are a great way to have stylish access to dishes, books, and other items. Repurpose an old hutch by installing rustic shelves or storing laundry supplies inside.
7. Lanterns should be included.
If your current lighting isn't cutting it, why not experiment with hanging lanterns? These are bold enough to stand out, but they also work well in almost any setting. Consider installing them on a porch, foyer, or even in the kitchen.
8. Make use of wood
For a more rustic, farmhouse look, try incorporating wood in various forms into your decor. You could also use old Barnwood to create a farmhouse-style sign, similar to the bakery sign or hire screen patio contractors to achieve the mix of old and new look of your dream farmhouse.
9. Refinishing Antique Furniture
If you have any old furniture that is starting to show signs of wear, consider repainting it. You won't believe the difference if you're new to painting furniture. Keep in mind that this does not always work for every piece of furniture, and some pieces are better left in their natural colour.
10. Utilize Natural Rugs
Rugs are a great way to liven up space when your flooring is in need of an upgrade. A natural rug made of wool, sisal, or jute is simple to install. Braided rugs in soft colours also look great and make farmhouse elegance simple.
11. Allow Some Natural Light in
Natural light has the ability to make any room appear larger. If you live in an apartment with windows, take advantage of them and make the most of every square inch! Natural light also contributes to the mood of a room.
12. Include some fresh greenery.
This is a design element that is both attractive and functional. Herbs grown in small pots on a sunny windowsill simply cannot compete. When available, use fresh greenery in wreaths or table centrepieces.
Conclusion:
There are numerous ways to transform any home into a farmhouse look with a little bit of creativity and some handy work. We hope you found this post useful. If you have any questions or comments about the article, please leave them in the section below. We will gladly assist you.