Now a days every website owner want their website should be user friendly and free from errors. So companies start paying good money to freelancer to test their website.
If you expert in finding bugs or error in any application . Then why not do same and earn good money …Yes you just need to explore website, software ,apps or video games.
Here I am showing you a list of best site to get testing work .
Best Site to Get Testing Work
1. Usertesting
Website:-Visit site

You need to visit given website or app then complete set of task related to testing and get paid $10 for each task. Please be honest in providing live feedback about it.
Feature:-
Pay you via PayPal.
Your mouse movement an voice recorded for each task you complete.More than 700,000 test taken by users for big companies like Apple,Yahoo, Facebook, Microsoft and many more.
Work receive depend on your demographics and quality rating.
You will receive exactly 7 days after you complete testing task.
You do not need webcam to work with this company.
What do you need to get start work here?
A PC or Mac, internet connection and microphone. If you would like to take mobile test then you should have mobile device.
You need to download testing software.
You must be elder than 18.
English fluency.
2. whatusersdo
Website:- View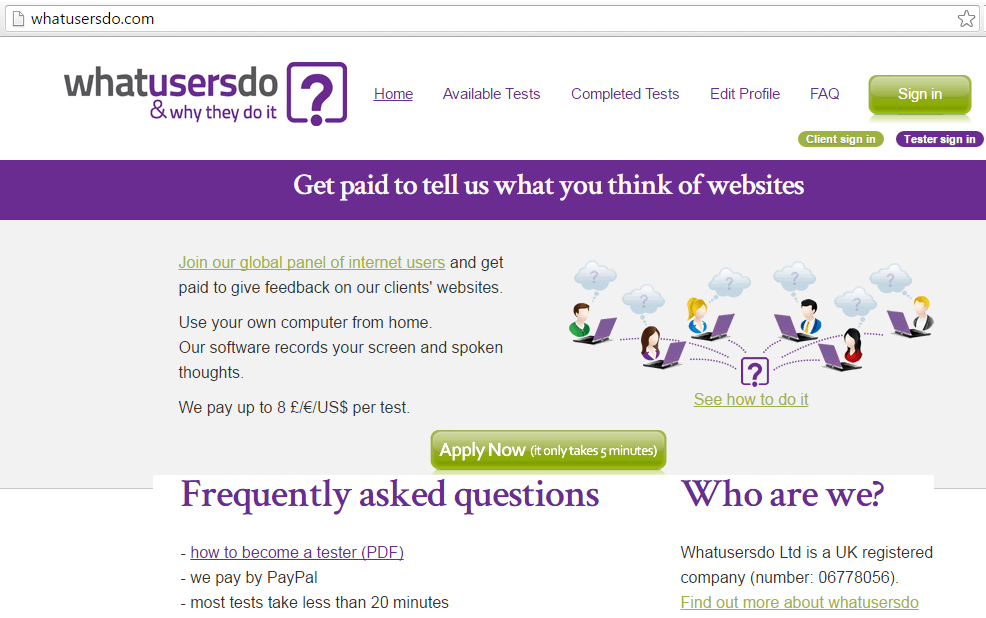 Earn by providing feedback on client's website and for each site you complete, you will get  up to $8 .You just need to invest small time generally 20 min to get complete task .
What do you need to get start work here?
Software need to download from official website.
Computer with internet connection and microphone.
Good in English speaking.
Feature:-
Pay via Paypal.
Frequency of testing task depend on clients requirement.
Payment process on 25th of each calendar month.
3. Crowdsourcedtesting
Website:- Visit site

This platform always look for best testing expert worldwide. If you are interesting in video game then you will get chance here to test video game and best thing is you just need to play game. In addition of video game you will also have option of website , software and mobile testing .
Feature:-
Make extra money for every bug you find and if difficult then higher the payouts.
you need to be very fast and provide list of issues in short timeframe.
Global community to learn best testing approach.
Flexible timing means no need to follow any timezone.
You will see payment of each and every project in the "project details" page.
4. YouEye / Userzoom.com

Website:- Visit site

Just feel few questionnaire to sign up and become tester here. YouEye Pay you $12 per website you test and each test ever take no longer than 20 minutes. you have to test website usability so it is easy task and no need any expert knowledge .You will get work according to first come first serve basis so always try to be first if you want to get more and more work.
Feature:-
You need to record your screen , voice and your face.
You must to have PayPal account.
Your payout would be proceed money to your account in about two week .
Joining the YouEye panel is free.
You must be at least 18 year of age.
5. TrymyUI
Website:- Visit site

It providing a very structured type of website testing where you just need to provide your thought about what you are doing on websites .Here also you will get $10 for each usability test and it take no longer than 20 minutes.
Feature:-
You will receive money through PayPal.
Get money roughly after 72 hours after test has been completed .
Go through a rigorous qualification process (less than 10% actually make it).
Records the tester's screen and voice.
6. Analysia
Website:-Visit site

Just paid by surfing website and tell what you think about website. Analysia pay you $10 for just 10-15 minutes testing task and each session is recorded .So I think it is good way to earn money easily.
Feature:
Audio and your screen will be saved.
You need internet connection and a microphone.
You must have PayPal account.
You will get email from website for each task.
Here list of few more websites where you can have best testing work to earn money.
 Hope you like this blog post…If yes then please subscribe this blog, follows us on twitter, like our Facebook page and if you have any doubt or want to add something then please write us in comment or contact us.
A big thanks for reading