Sponsored Link shortening or paid URL shortening is one of the easiest ways of making a considerable income doesn't matter if you are a newcomer or elite blogger.
If you don't have any resources, then you can just share your links on social media and start earning, or if you have a successful blog, you can replace your internal links with shortened URLs to add hundreds of extra dollars in your income per month.
But like any other industry, there are plenty of fraud sites which either doesn't pay you or offer very low pay rates, that's why today we have brought you a list of Top Ten websites to earn money by shortening URL.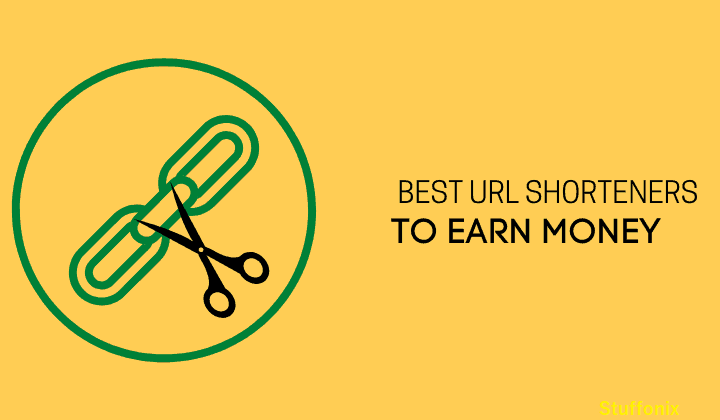 Top URL shortner sites for making money
So let's start with first site
Shorte is what I currently use to shorten my URL because they are simple & awesome. No innovative or unique feature can make you the best if you are not the best in basics and they certainly are the best when it comes to the basic link shortening.
They have the highest pay rate compared to other URL shorteners paying as high as $11 per 1000 views. Plus they have some cool features like Bounce Rate Monetization, Social Share Widget and WordPress Plugin to maximize your earnings and at the end, that's what really matters.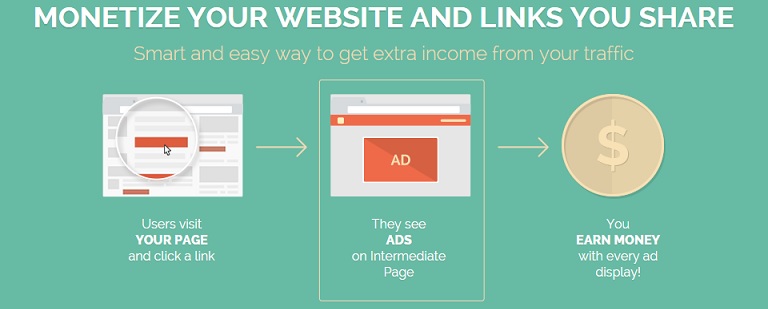 Doesn't matter if you are a regular blogger or don't even know anything about it, you must have heard about Adfly.
They are one of the most famous url shortner and they have one of the highest pay rates paying as high as $9 for thousand views.
They also offer some great features like website widget to maximize your earnings from your blog. The referral commission is 20% which is satisfying enough.
Minimum payout – $5
Payment methods – PayPal, Payoneer, and Payza.
Adfoc is a US based company so they have a high payout rate for traffic that comes from US or UK. You can get paid somewhere from $1 to $5 for every 1000 clicks. It's good for placing links or your blog or forums etc.
However, the bad thing is their terms of use. It's very different from the normal terms of URL Shortening websites and many people got their account blocked simply because they broke the rules one way or another.
For example, according to their terms, you can not share their URL on Facebook or Twitter (no I am not joking). That's why I suggest you to read their terms before using.
Minimum payout – $10
Payment method – PayPal, Bitcoin Wallet.

Ouo.io is an innovative company in many ways. They have introduced some new features which regular URL shortener don't have, and as a result, they are enjoying a rapid growth.
For example, they offer a minimum revenue of $1.5 per 1000 views regardless of the country your traffic comes from. Unlike other sites they also count multiple clicks from a single IP address.
Minimum payout – $5
Payment methods – PayPal and Payoneer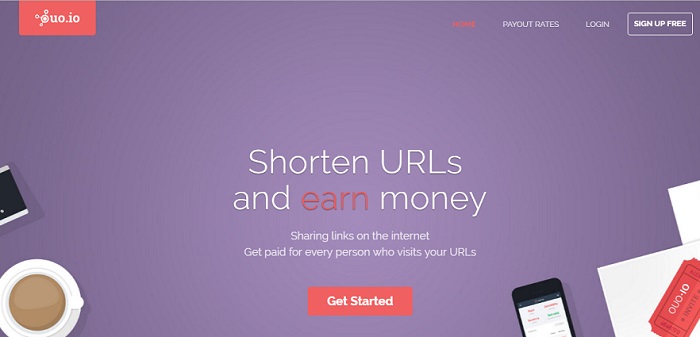 BinBucks is a relatively new URL shortening website which is quickly getting popular. They have one of the highest pay rates when it comes to traffic from tier 1 countries like US and UK.
However, many users have reported that their rates are not constant and while you can earn up to $10 from 1000 views, most of the times your earnings are between $1-2 per thousand clicks.
Also, their referral program is not so powerful as it offers only 10% commission on referrals. You can not use their network for shortening adult links.
Minimum payout – $10
Payment methods – Paypal

AdYoume help you to shortening URL and boost your online earning. You just need to paste on social media sites or your own site and get paid on each click.
Earning money depend on country you are living like for India you can earn up to $2 for each 1000 clicked. For more detail you can check here .
This sites also trusted as all above site so you can go with this too and earn while sitting at home.
Payment Method: Payza, Paypal, skrill, Vodafone Egypt, cashu or Wire transfar.


Hope you like this post and choose any of above site to start doing url shortner work a make few bucks everyday.
URL Shortener Service Discontinued
1. Blv.me – Service Discontinued
Blv.me is a CPA based network, unlike other URL shortening services which are CPM based. It means when someone clicks on your link they are asked to complete any task such as filling surveys etc before redirecting to your URL.
You are paid somewhere between $0.01 – $2.00 per completed task. It's best for sites who offer to download files which are not available elsewhere on The Internet. Even if you can arrange 50-100 clicks per day then you have a good chance of earning a considerable income.
Minimum payout – $20
Payment methods – Payza, Bank Transfer, and Skrill.

2. Linkshrink – Service Discontinued
Link Shrink is an ad network which quickly became popular when it was launched back in 2014. They had one of the highest pay rates in the industry and some awesome features like Daily payout.
However, maybe they were not ready for the reaction they got. They got more exposure than they can handle, results? Many people reported a massive drop in their eCPMs and the site lost trust.
Fortunately, the owners of LinkShrink have learned from their mistake and now they are growing their reputation as a trusted site back slowly. For now, they offering a more stable CPM and payments in every 15 days. Overall If you are looking to experiment with your current network then you can try them.
Minimum payout – $5
Payment methods – PayPal and Payza.

3. Linkbucks – Service Discontinued
If you are looking for a trusted URL shortener then probably there is nothing better than LinkBucks. They have been in the business for around 14 years now and there are almost no complaints about late payments against them in this long time.
In fact, they are the first URL shortening website I signed up for about 4 years ago. However, their pay rates for top countries are very low compared to other websites. You'll only make $1-3 per thousand views from countries like the UK which is disappointing.
Minimum payout – $10
Payment methods – Paypal and Payoneer.

A big thanks for reading