Google AdSense is an awesome way to generate a reasonable income. But it is not that easy, as it may sound or read. even a decade of web-work cannot hep you escape a ban. And once you get Google AdSense banned, then there is little to no scope of getting in back!
So why do people keep getting banned by Google AdSense ? Let's analyse. But before that, remember the thumb rule: If you are serious about making money online, diversify your work and don't use AdSense as your only source of income.
Now lets discuss what repels Google that may ban you from AdSense.
7. Poor Quality Content
The Quality of your content is extremely crucial. If your content is not original and of good quality, consider yourself doomed! Create a website or digital content that 100 people love to visit daily rather than creating something that has a receding rush from a million to none. Google hates websites with poor content and if you don't mend your work, it may even remove you from its search engine. 
So offer quality not quantity and be loved not only by the visitors but Google as well, to avoid getting your AdSense account disabled.
6. Ads Placement That Promotes Accidental Clicks
Ad Placement is all about getting adequate attention. Ad placement decides CTR–Click Through Rate. The more accessible the ads are to the visitors, higher is your CTR….in-turn higher the clicks.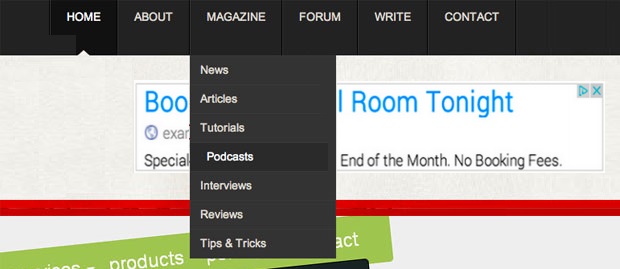 However there is a clincher. Some websites place their ads in such a manner that people click them accidentally. Either the ads are placed right beneath buttons or amid navigation(Like above image). In both or any of these cases, Google has the right to disable the account of the website with such deceptive ad placement. Google promotes only intentional ad clicks and if you test its patience be ready for your AdSense account disabled.
5. Clicking Ads on your Own Site
Never ever click on ads on your own website or any other digital medium, nor encourage others to click it. Google is very strict with this and can result in a permanent ban of your website. Do not even intentionally refresh the page for impressions. Use Google publisher tool bar if this is the case.
In other cases, there might be a human error. Google understands this "It has that much Ad Sense." So here you will not be penalized.
If you want to know more information about advertiser appearing on your site, then just type URL of the ad directly into your browser's address bar. So it will not consider your own click.
You can also check the Google Publisher Toolbar to know more about how Google Adsense works. The Toolbar helps you check the destination of ads without risk of an invalid click. 
Here is the right way of 'How to make money with Google AdSense.'
4. Manipulating ads
If you manipulate any ads or even the size of the ads, then also Google AdSense can take an action against your account. The keywords within your site should neither be irrelevant nor an improper implementation should be done like resizing to non-standard size.
3. Not following AdSense content rule
Publishers are not willing to place their ads on sites which promote watching pornography or for that matter content available for adult view only. So if your site has content related to these categories, then your site will surely be banned from Google AdSense. You can check what is adult content here that violates the AdSense program policies.
2. Using Bot Or Generate Irrelevant Traffic
Traffic and more traffic is what every on-line business needs. But do we really work hard to generate it? Most people either attempt to buy Traffic or use an artificial automated bot to drive such awareness. Simply shell out say a mere INR 1000 and a thousands of traffic-for-traffic sites will come to your help.
Mind it, if you are doing that, you are inviting big-time trouble. It is totally against Ad sense. Another main cause why people get banned from AdSense for abusing Google's TOS.
Even if you are willing to buy traffic then make sure to check traffic source and if you find traffic source is valid then you can go ahead with paid traffic.
Just have a look at Fiverr Gigs which are selling false traffic and even people are buying without verifying.

If you get such huge traffic in just $5 then why is SEO the need of the hour? Think and act wisely. 
1. Click Bombing Attack
This is the scariest and most common reason to invite Google AdSenseAccount removal. And mind it, Google has not solution for this attack. It is entirely your responsibility. 
Data research shows that 90% of new AdSense publishers are not aware of this threat. You will be surprised to know 50% of AdSense users have no idea 'What is a Click Bombing Attack'.  In simple words it is an outsider's attempt to sabotage your on-line business by insistently clicking on your ads over 100+ times. All this to get you AdSense banned viciously!
Why People Click Bomb?
Well, study shows only some do it for fun while most people do it to get the rivals clicked out of their business. We at Stuffonix know quite many who have been click bombed in the past, only to invoke a Google AdSense ban. There are big brands as well. Only few get out of this trouble. 
Conclusion
Still if you are thinking that you have so many bucks in Google AdSense so how Google can ban you then for just your information I am sharing you one scenario of how 19 year old boy get banned by Google despite of having $46,000.
If you have read it this far, then you are either here since you have already been banned by Google AdSense or are ready to prepare avoid a ban. Latter is the best thing to do. 
And don't worry, in case your AdSense got banned, there is a Google AdSense alternative.
If you have any queries, do tweet to us @Stuffonix and @MahimaSharmaS. We will be happy to guide you.