Looking for the simplest way to earn money from home?
Well then, you're on the right page! Data entry jobs are the best way to make some money using your computer system at home. Whether you're a college pass-out, a housewife, unemployed or retired person or just looking for ways to add some extra income to your bank account, data entry jobs are the easiest and effective way to do so.
And the best part is, you do not really have to be qualified to take this up. Even if you do not have super good qualifications and are looking for work that doesn't require much skill, this would be the perfect option for you.

We'll further discuss different kinds of data entry jobs in detail. The types of data entry jobs include online and offline jobs (as per the requirement if a company), you can read about them and make a choice according to your suitability and interest. So, let's get started with 10 best kinds of data entry jobs that you can take up from home and work with your own convenience level but before reading  I recommend to read Top 5 scam to avoid before join any online job.
P.S. You can thank us later as this is really going to help you in making money while sitting at home! 😛
1. Basic Data Entry Job
The most basic type of data entry jobs include those that have to do with typing. You'll be simply asked to type things in MS Word or Notepad. It's quite easy as most of the typing jobs include the use of simple English words and can be taken up by anybody who knows basic English. All you need is a good typing speed (preferably more than 30WPM). You'll be given some books, images or online articles to see for reference and do the work in accordance to the requirements of the company.
The more fast you type, the more work you get and more the work you get, you can end up making more money from home doing such basic and simple typing jobs.
2. Filling Survey Forms
It is another easier kind of data entry job. Almost every firm needs to get the feedback of the customers before introducing or upgrading their products and services, so they contact market research companies that have a huge database of customers like us. These research companies will ask you to fill up a survey form if you're interested to do that and pay you for your valuable feedback. You get paid for each and every survey form you complete.
It is a fairly quick and easy way to make money from home, don't you think so?
You might also like to read
3. Captcha Entry Job
Do you know what captchas are?
Okay, let us tell you. So, captchas are basically meant for identifying whether you're a human or robot.
Those images that you see with certain characters mentioned on them while you're creating your account are called captchas. There are many firms who would want you to help them in creating an account and solving these captchas. In return, they will pay you for that.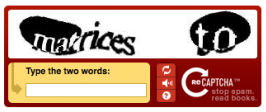 The average cost is Rs.100 for solving 1000 captchas. However, the payment budgets are different for different companies plus it also depends on the quantity and quality of work the companies would want from you. Check  Top sites for online captcha entry work.
4. Completing Forms
Many a times, companies want people to fill up the forms on their behalf. Such data entry jobs include checking all the fields intricately and completing the form with much-needed accuracy. You'll be expected to manage huge data and fill up each category with appropriate values. Click on submit once the form is filled.
More than typing, you need a bit of a common sense for this job as there are different kind of form categories to complete like making tables and other stuff. Then you might be asked to copy the same stuff and paste it in all that forms for that company. Depending upon the budget of the company, you'll be paid Rs. 10- Rs. 50 per form.
5. Image To Text
This is by far the most common type of data entry job. There are many companies who would ask you to do such work without making any investments. Now let's talk about what you really have to do in such work from home jobs.

You'll be given the work to convert an image file in to a MS document. There will be some text written in the jpg files, you just have to check and copy that in MS word and you'll be paid for the same.
6. Re-formatting And Editing Job
Companies look for well-educated candidates for getting this work done. One needs to have a good over the language atleast. The person hired for the job will be asked to re-format and edit the content in documents and files given to them. That person basically has to look for any grammatical errors, spelling mistakes and sentence formations. Any sentence where editing or formatting is required, you need to do that and the company will pay for doing this properly.
7. Re-Formatting Data
So, there are not only content files that have to be formatted, you can even be asked to re-format a form or a document in a particular manner. For an instance, you can be asked to align all the paragraphs on the right side or the left side or something else…….
Re-formatting data jobs usually include formatting of letters and similar content files. It's really easy to do!
8. Audio To Text
A bit advanced but a good way of earning money from home. So, what you have to do is carefully listen to the audio files that will be given to you and reproduce it into a text format. Of course, you need to have great listening skills and good English vocabulary to be able to do this kind of job. If you are well worse with the English language and you're a patient listener looking to work from home, then this can definitely help you in adding some money to your account.
9. Medical Transcriptionist
This is one of the most high-paying jobs among the list of all the data entry jobs. You'll be asked to prepare a word document in which you have to write down the medical text from the images files given to you. The words that you'll write down will be all medical words and terminologies that might have never heard of before. Plus the words are long and difficult to spell; therefore, you need to see almost every word before typing it to maintain accuracy in the work done by you. It's a painstaking job but the advantage is that you're paid more for doing such thing that needs great concentration and patience.
Most of the data entry operators fail in doing such kind of things and the medical firms are in need of some great hands who can do this consistently and accurately for them. Therefore, if you have an eye for detailing and can manage doing this work from home, then you are sure to get some good returns for the same.
Please also read: Best site to get transcription job easily
10. Captioning Work
You might have guessed the kind of work we are here talking about from the heading itself, isn't it?
If not, we'll tell you! This sort of work is usually required by the media and entertainment industry including news channels etc. You just have to write down the headlines and captions- for various images, videos, blogs and other stuff- given to you by the company. All TV stations require such kind of work on daily basis. They usually prefer hiring somebody for a full-time data entry job in office instead of getting somebody to do it from home.
However, there are still many TV stations and other companies that need more people to do this work for them and therefore, they also hire people to complete this work from home and pay a decent amount for this work.
So, there you have it- the list of 10 best data entry jobs that you can do from home!
Of course, there are many other kinds of data entry jobs that you can do from home. However, we have listed the 10 most common kinds of data entry jobs above that you can comfortably do from home and make money without any hassles of going to the office or following time schedules regularly. And you know what?
You can easily earn Rs. 30,000+ sitting at home from such job opportunities if you're smart and intelligent enough. Students who want to make some money to manage their college expenses can take up these jobs and work on them after their college classes are over. It's the best way out to earn something while working with your own time schedule and routine. Choose the kind of job that suits you more!
Do you know about more such jobs that can be done from home? Do share with us in the comments section given below.