We all love freebies, vouchers and now with the evolution of technology we all want a little extra.
Correct!! But are we getting that extra? 
Well here I am writing you few apps which give you something extra…you can make free and easy calls via many android applications. 
But not all of these applications are best only few of them are give you hassle free experience of free calling. So here is the list of top 5 best and free calling apps for android.
Top free calling apps
1. Line (Free/Premium)
Line is one of the applications which allow you to make calls to people even who are beyond your local boundaries, long distance and even international calls.
For using this application you need to necessarily have a 2G, 3G or a 4G internet connection And in case if you have a Wi-Fi connection then it is the best to make a free voice call.
Line is available in free of cost and if you want more feature then you can purchase this app in price 1$ to 50$.
Check below few features of Line
Free unlimited calls using this application.

 It has over 400 million users worldwide and has N number of features in the phone.

One can even call the people who are not using the application without any problem.

It has multiple lines support and usually for most of the operating systems and PC which is the best feature.
Application information
2. MagicApp 
This is one of the most unique and the best app for free calling. They even allow you to connect on free calling to all the non magicApp users as well. Though this app has regional restrictions one can still make use of the applications.
if you are calling within US and Canada then of course they are no charges and one does not have to pay anything, but if you are calling beyond that magic app holder then there are regular charges.
Application information
Installs- 10,000,000 – 50,000,000

Rating- 4.1
3. Nimbuzz Messenger
Nimbuzz provide you free unlimited calling and message facility. But if you want to do international call then you need to pay few bucks. This app is consider a trusted app as more than 200+ million people already using this app.
Below are the few feature of Nimbuzz
You can use their group chat and  chatrooms facility to discover new friends 

Nimbuzz avail file sharing facility to user.

You can express using their stickers.
This app is available in many platform like android, iOS, windows,Blackberry, Symbian, Java and may more.
Application information
Installs- 10,000,000 – 50,000,000

Rating- 4.2

4. Whatsapp calling 
Whatsapp is one of the most preferred connecting applications used nowadays. In India everyone uses whatsapp calling and this is one of the most user friendly application.
It is easy to download and use as it does no contains any ads so user not feel any annoying with this app. whatsapp now even allows you to make video calls with voice calls.  
user can be in any part of the world, but he/she should necessarily have an internet connection to use this app.
Whatsapp calling even works with a 2G, 3G and 4G internet connection . just in case if you have Wi-Fi then it is the best for calling.
The only sad part is one cannot call the other person if they do not have the application on their phone or if they do not have internet connection.
In case if you called but the person's internet connection was off it will show as missed call to the other person the next time he on the internet connection.
Application information
Installs- 1,000,000,000 – 5,000,000,000

Rating- 4.4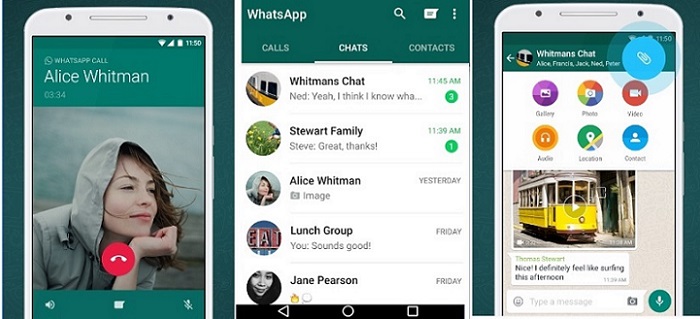 5. Viber
Viber had introduced free calling facility way before any other applications did. This feature in viber was introduced when internet calling was only limited to skype. With the growing competition in the world of applications viber has still sustained itself. 
Viber with around 200 million users is one of the most used and best calling application right now on the play store. Though to make a call both the users must necessarily have an internet connection and the application both.
Application information
Installs- 1,000,000,000 – 5,000,000,000

Rating- 4.4

Hope you like this post and use at least one free calling app. We recommend if you have whatsapp then use that app for calling .