Free Recharge! This is probably the most loved word of current generation after food. And imagine my joy when I found out that I can get unlimited free recharges without spending a single penny.
Yes, you read it right. There are lots of apps which offer free talk time for completing simple tasks such as trying new apps or watching video ads, which is kind of fun in itself.
But like any other online services, there are lots of fake free recharge apps as well, and then there are lots of apps which do give you the money, but the rates are so low that you will probably have to spend all day to get a 10 rupees recharge.
Recommend: We have mentioned Rating, Number of installs which one must refers before installation of any application. It not only give you legitimacy but also help you to built trust
That's why we have brought you a list of best free recharge apps for android, which are not only trusted but high paying as well. Not wasting any more time, let's start the list.
Top 10 Free mobile recharge app
1. Taskbucks- Get Wallet Cash & Recharge
Taskbucks is an application which doesn't offer mobile recharge directly, however you get money through Mobikwik cash or Paytm wallet which is just the same.
It offers plenty of tasks including downloading different apps, running pre-installed apps for a definite time, filling forms etc.
The best thing about the app is it runs like GPT websites, which also offer cash for completing tasks.
Which means tasks are available most of the times and you can earn as much as you want, not like other apps which have limited offers each day.
Rating: 4.4
Number of installs:10,000,000 – 50,000,000
Requires Android:2.3 and up
2. Ultimate Freeb –Free Recharge
Ultimate Freeb has the highest rates to offer when it comes to completing tasks for money. You can use the standard way of downloading apps or complete various other tasks for earning a reward.
The referral reward is also quite high (30 INR) compared to some other apps in the list, and what better?
You also have the option to transfer the money directly into your bank account and then you can spend your earnings as you like.
Rating: 4.2
Number of installs:1,000,000 – 5,000,000
Requires Android:4.0 and up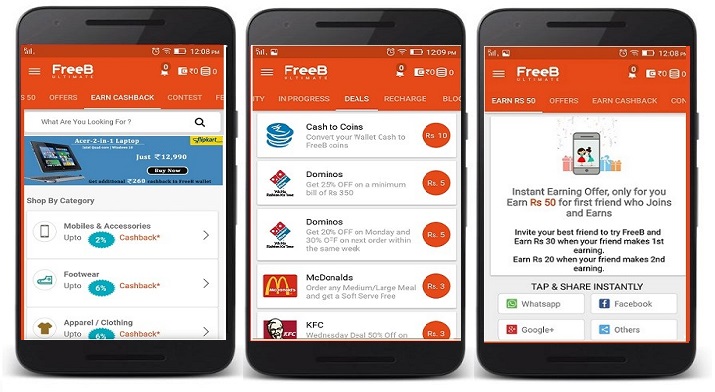 3. FreeATM
Coming back to standard free recharge apps, FreeATM is one of the best apps in current time. The app offers money for downloading various apps which can be redeemed as mobile recharges.
Daily BONUS added.
Earn ₹30 for each referral.
₹20 Sign Up BONUS ( Guaranteed ).
The app comes in a tiny package of 3 MB and runs flawlessly. Till now I have seen very few complaints about lags or crashes.
So if you are looking for a good and simple free recharge app, this is the one.
Rating: 4.7
Number of installs:500,000 – 1,000,000
Requires Android:2.3 and up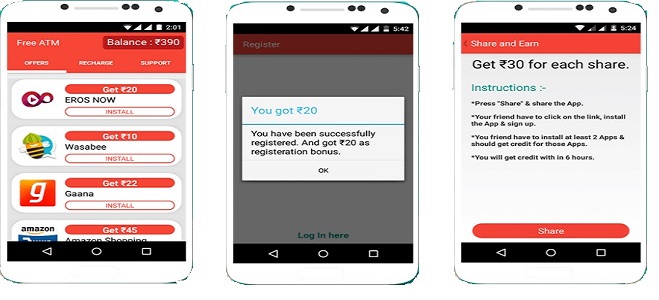 4. DataBack
This is a little bit of cheating from us as DataBack is not only a free recharge app but the reward it gives you is equally rejoicing.
Databack refunds as a part of  mobile data like 2G, 3G and 4G.
You will also get 25MB free mobile data for your each referral.
Instead of making money from downloading apps, you will get free mobile data. All you have to do is open the app you would like to use through this app and after using it, you'll get the all the data back which has been consumed by the app.
Rating: 4.5
Number of installs:1,000,000 – 5,000,000
Requires Android:3.0 and up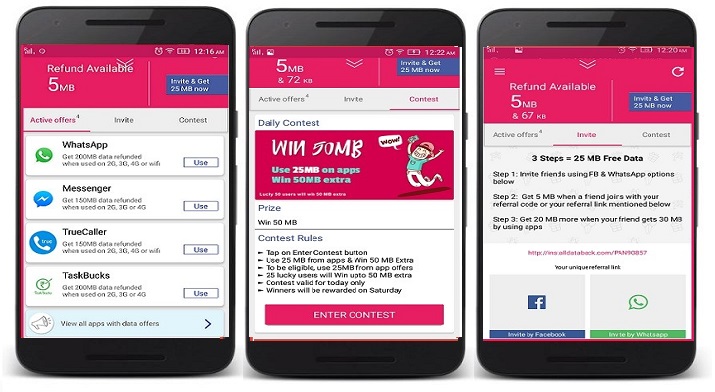 5. Fokat
Whosoever has chosen the name of this app must be a true Indian recharge hunter. Anyways if you are a shopping geek then Fokat might be a very useful app for you.
Get free recharge for every action you do on Fokat app.
Get exciting deals of best ecommerce portals for Free
It lets you earn a reward when you buy things on e-commerce platforms such as Amazon, Flipkart, and Snapdeal. Plus you get a 50 rupees referral commission as well.
Rating: 4.0
Number of installs:500,000 – 1,000,000
Requires Android:4.0 and up

6. Ladooo
A lot of people complain that they don't get their account credited even after completing the task. So if you are also looking for an app which will not cheat you, then you should try Ladooo.
You can pay for your Uber ride
Free Paytm cash for downloading some of the best apps from Ladooo app.
Free DTH recharge across Videocon d2h,Tata Sky,Sun TV, Dish TV, Airtel DTH and Reliance Big TV
More than 9 million people have used this app and it's one of the oldest free recharge apps after Mcent. You can earn money by watching promotional videos on Ladooo.
Rating: 4.3
Number of installs:5,000,000 – 10,000,000
Requires Android:2.3 and up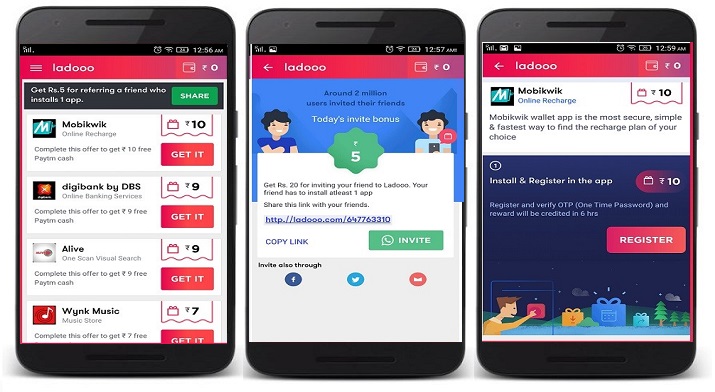 7. Earn talk time
Earn talk time is one of the most innovative free recharge apps in the list. You can earn money by not only downloading apps but by watching video ads and other tasks as well.
Earn Rs. 50 on referring your friends.
Mainly reward by downloding apps.
Earn on App Data usage, Send free SMS from app.
Plus you can spend the earned money in many different ways. The biggest relief is that you can pay postpaid mobile bills from earned money. No other trustable free recharge app offers this service at this time.
Also, you can use the money for things like paying DTH bills and prepaid mobile recharge. At the end if you are earning too much with referrals, then you can turn your money into Flipkart vouchers means unlimited shopping.
Rating: 4.2
Number of installs:10,000,000 – 50,000,000
Requires Android:2.3.3 and up

8. Mcent
Mcent is one of the original apps which started giving free recharge and made this concept famous. In fact, it was the first free recharge app I downloaded on my phone.
The amount of money you can earn per download us very high and most of the time you can earn 100 Rupees in just 3-4 download. However with time, the app had become a little slow and has started lagging so it will only make it to number 8.
Rating: 4.1
Number of installs:10,000,000 – 50,000,000
Requires Android:4.0 and up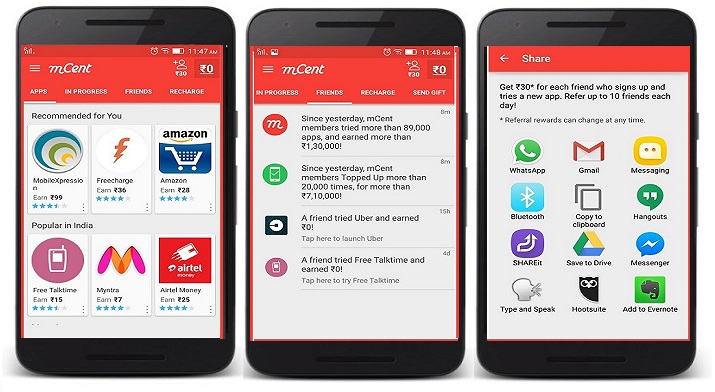 9. Pokkt Money app
Pokkt money is a free recharge app most suitable for students and specifically – scholar students. The app offers money for downloading different education-related app.
Get free Paytm cash and avail free cab rides.
Get free movie tickets, free shopping, order food, pay for utility bills, etc.
Means you can not only find a great directory of education app for free but also earn free recharge by downloading them. You can earn 5 rupees per download.
Rating: 4.1
Number of installs:5,000,000 – 10,000,000
Requires Android:4.0.3 and up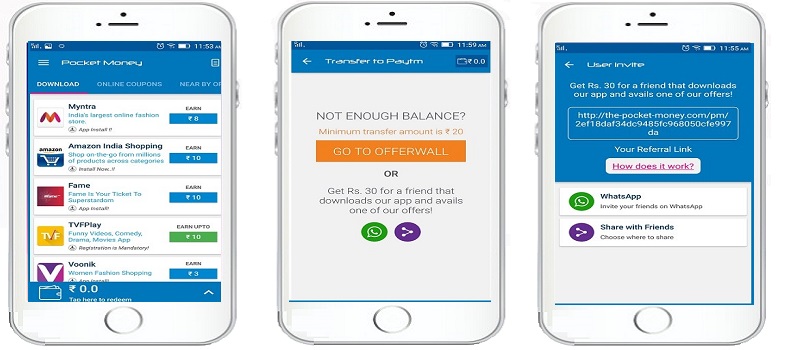 10. Mojo Free recharge
If you're a type of guy who loves to earn referral commission then you are going to be little disappointed. The referral commission is high but you only get the money once the other person has earned more than 200 Rupees himself.
Earn recharge for maximum offers.
360 Rs and above for referring friends
However, an interesting feature which makes this app very likable is that You can actually transfer the money to your PayPal account which can later be transferred into your bank account.
Please also Read: How to create Paypal account in simple steps
Because of this feature, Mojo free recharge app is loved by bloggers who earn high referral commission through their blogs which are more than enough to only spend on recharges.
Rating: 4.2
Number of installs:500,000 – 1,000,000
Requires Android: Varies with device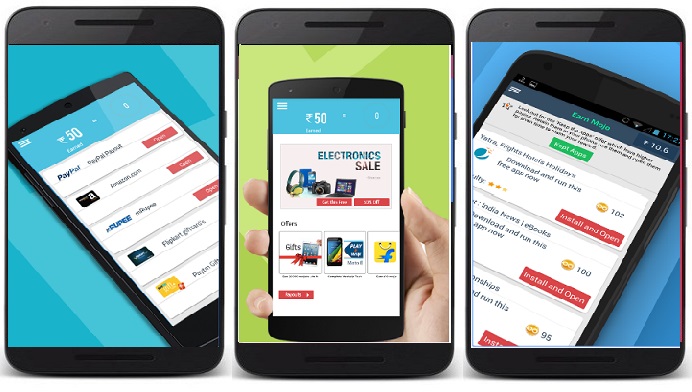 Hope you like this post and download 1-2 apps which help you to start earning free mobile recharge. Please check number of install and review of user before use any app.
A big thanks for reading