Mobile phones nowadays are no longer used just for calling and texting; they are practically used as storage devices. We have phones in the markets with expandable memories to 256 GB. With such huge memory space available to store things, why shouldn't this be utilized?
Have a nice movie; why not store it in your phone memory? Come across an awesome app on Play Store; why not download it instantly on your phone? The list goes on and on!!
But what if any of this data gets deleted accidentally and it's like you can never have it back. Thankfully you do not need to be worried about losing your Android data anymore. Just apply the below technique and you will have it all back; just like it had never gone!!
Recover deleted files from android without root
Step 1. Connecting Android to your PC
The first step is to install the Android Data Recovery application and run it. Subsequently, connect your smart phone using the USB cable.
Step 2. Enable the USB Debugging option
Turn on the Android device and select the USB debugging. Once done, your PC/laptop can access the connected smart phone. Here is how you can go to the debugging option for various versions of Android.
For Android 3.0 – 4.1: Go to "Settings" > "Developer options" > "USB debugging".
For Android 4.2 or newer: Hit "Settings" > "About phone". Tab "Build number" for 7 times till the dialogue box "You are under developer mode" occurs. Then go back to "Settings" > "Developer options" > "USB Debugging".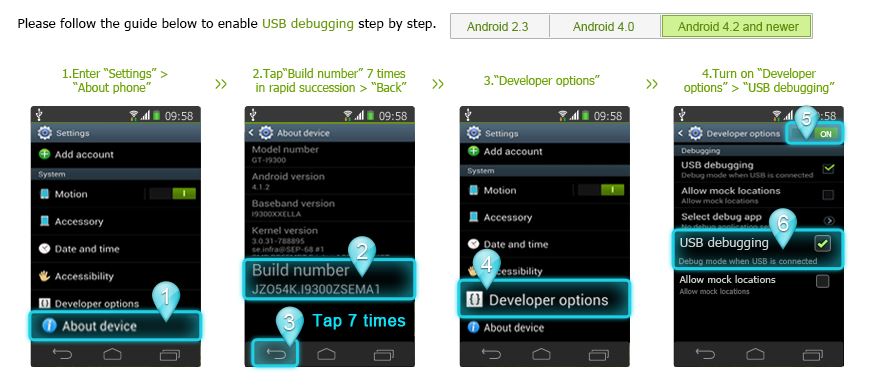 Step 3. Choose all the file types to recover
Your smart phone is successfully matched now and you will be asked to select files types that you intend to restore. Tick whichever ones you want and then the click "Next" button. Android Data Recovery app will scan and check all your options in the connected smart phone.
Step 4. Grant root permission to the device for scan
In this step, the program will check device information and then try to get root permission. When the window as below occurs, turn on the connected smart phone. Then hit "Allow/Grant/ Authorize" to make sure the root request is accepted.
Once the program gets root permission, it will enable a data scan. Scanning can take some time. During this process, please wait patiently for phone file recovery.
Step 5. See the files preview and recover the lost files
The scanning is now done! All the selected items will be orderly sorted and listed at the left pane. Choose the contents you wish to recover. They will be exhaustively shown in the table. If there is too much information, tap the "ON" icon and set to display the deleted items only. After that, choose all or some of them. Finally click "Recover", all that deleted files will be retrieved and saved on your PC/laptop.
Hope you like this post and will able to Recover deleted files from your android phone without doing any root. If you know any other trick then write us in comment.