Super Mario themed objects have arrived on our island, including a very special items that if we place in multiple places it will be possible to use to move quickly from one point of our island to another!
On the occasion of the 35th anniversary, Nintendo has released with version 1.8.0a a series of Super Mario themed items to decorate our islands as if we were in a level of the most famous plumber in the world! The Super Mario items are available in the "Promotions" section of the Nook Catalog, at the service center terminal or the Nook Phone app, you can buy with different amount of ACNH bells.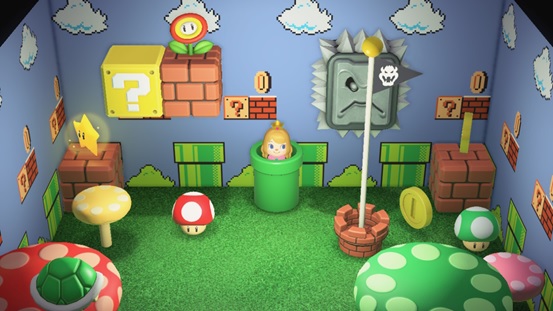 Among the thirty items introduced, we find a very special one: the Warp Pipe! If we place one, interacting with each other our character will jump into it, and then go up after a black screen.
However, if we position more than one, our character, will jump out of the other tube: through a tube system we can move in a few seconds from one point of our island to another!
They will also work while we are playing with other people: they could be used in some mini-games while playing with our friends, while if we host unknown people it would be better to be careful about the tube network.
How To Jump Inside The Warp Pipes?
To jump into a pipe you will need to interact with it by pressing the button : at this point the animation of our character will begin and jump on the tube and then go down there.
You can interact with the tube even if placed on a lower level! If the tube is positioned immediately under a relief, approaching the edge and pressing the button it will be possible to jump into it. It could be an excellent solution for those who may not like the aesthetics of the tube but do not want to do without its use!
How Teleportation Works in Animal Crossing New Horizons?
It is possible to place the tube both inside and outside the house, allowing us to transport us from inside to outside or vice versa without passing through the front door.
If we place a total of two tube units we will be able to teleport from one point to another.
If we place more than two, the choice of the tube to teleport to will be purely random: therefore, when we decide to interact with the tube we will not know which one we will get out of!
Fan builds Super Mario Mini-Game With Warp Pipes
On Twitter, user shar-uwu proudly shows off her latest work. With the help of the new Animal Crossing Items, she has created her own mini-game, in which four players can participate.
How does the mini-game work? Within two minutes, as a team of two, the flags of the target flag must be set so that more symbols can be seen that have been assigned to the team. With the help of the warp tubes, the players get to the flags, so it is a coincidence whether you can change a flag or not.
What do I need? For the mini-game, you need small island areas with only a warp tube and a target flag. A player must also stop the time during which the flags may be changed.
Keep in mind: You can only order 5 items per day via the shopping portal. So it takes a few days for you to put all the items together to create the level yourself. Since the items are not limited in time, you don't have to be afraid that you will not be able to order all items in time.
The losers cheated: In this match, two players disguised as Mario and Luigi competed against Wario and Bowser. Of course, the heroes had to make sure that Mario's red M could be seen, while the opposing team was careful to only have Bowser flags on the various mini-islands.
In the end, Mario and Luigi's team won with a flag score of 10 to 8. Although the time had already run out, the team around Wario and Bowser even cheated and changed one last flag. But that didn't help the team win either. If you want to know more details, check out AKRPG.COM