Now a days Facebook become one of most powerful social networking source where people connect with new & old buddies, share their thoughts, photos and videos.
Sometime you also find few profile in Facebook, even in your friend list which have nice profile pic (mostly girls) but unknown for you, Most of these are fake Facebook profiles (This is not only criteria to check fake profiles on Facebook)
And if you are having second profile for any personal reasons or with any nickname then as per Facebook you are one of the 83.09 million fake profile handler.
It means on an average out of each 10 person who like your photo or in your friend list are fake.
Facebook try to find such fake profile and closing them with immediate action so if you have any fake profile or you used to run such fake profile then you must have come across such situation or you will be soon…
As you know this social site also become part of your daily life so try to make it more secure and please please be aware from fake profiles and try to avoid them as much as possible.
So before accept friend request of any such person please follow below tips to identify if the Facebook account is real or Fake.
Tips to identify fake Facebook profiles
Let's start from my favorite, simplest and most popular way to identify fake profile.
1. Check reverse image search profile picture
One of the best way to identify whether Facebook id are fake or not. In order to accomplish this task, firstly open Facebook profile and then save in your computer.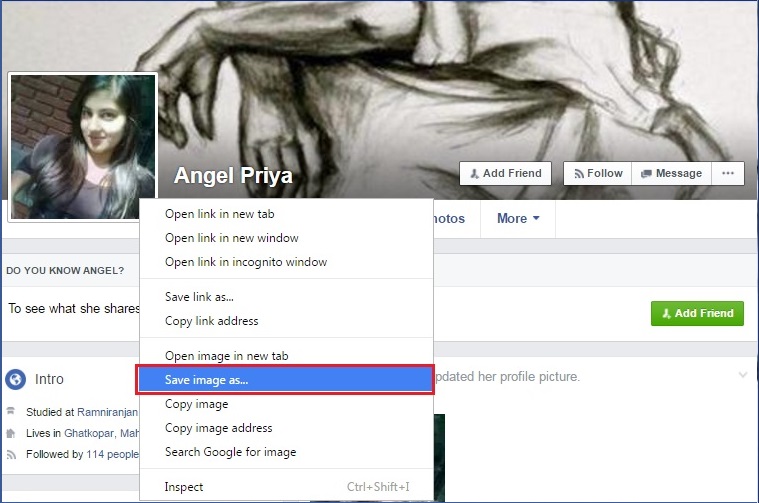 Now open Google and click on image link center top side which help us in search image. Then click on camera image as below.

Now click on upload an image tab as below, then choose fake profile image which you wanted to check.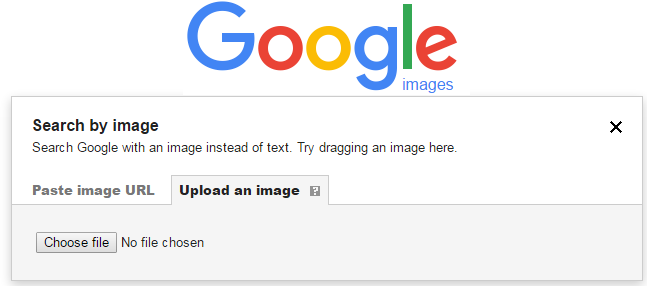 if you find same image in other websites or other Facebook profile that means same image used by many people or website…then this profile is fake.
Not 100% as some time profile pic may be belongs to any celebrity or famous personality. Below you can see image where profile pic already available in many sites.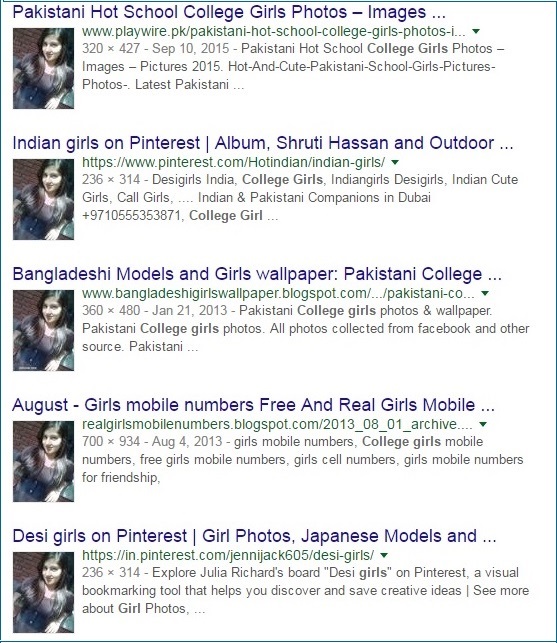 2. Most of Fake Facebook Profiles always have a Single Image
You can observe most Facebook fake profile have single image only and even if you find more images then that all would be in group where you can not identify which one this Facebook girl and sometimes image belongs with name of relatives or friends.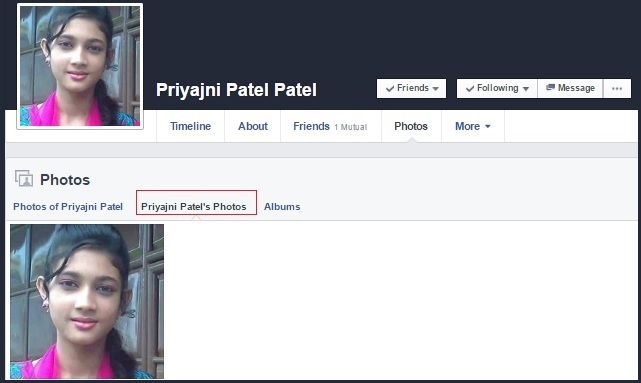 3. Friend list status
If the Facebook ID have so many friends and most of them are girl (Beautiful girls actually) then chance of having fake profile increase.
And more interesting if you find some mutual friend then one of your friend behind this fake Facebook ID, who is trying to have some fun. Please be prepare!!!!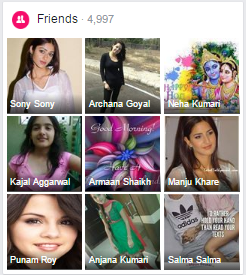 Below you can see image where one Facebook fake ID followed by 41000 + people. Those are people who try to find love in fake profile.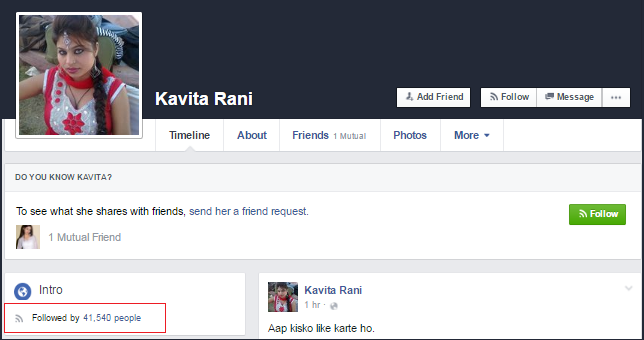 4. Name contain Special word
Most of profile name contain words, which a real profile can not use. So be aware of Facebook friend which have name with word like angel, pretty, cute, sweety, sexy, lovely, princess and many more.Most of time these are Fake profile only.
They may tag you in nude pics or may trap you in somewhere which result compromise with your Facebook account, like see below.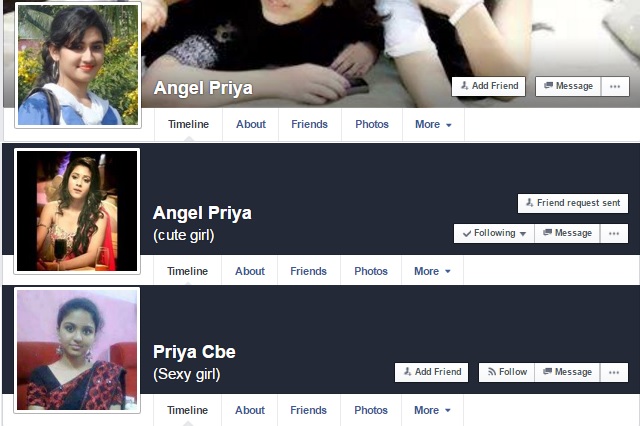 5. Check timeline status of fake ID
Many new people on social media write status like 'good morning', 'hi friend how are you', 'please like this', 'please follow this', 'please watch this video' and many more nude type video and photo but if they are getting many likes and comment means chance to run by fake person.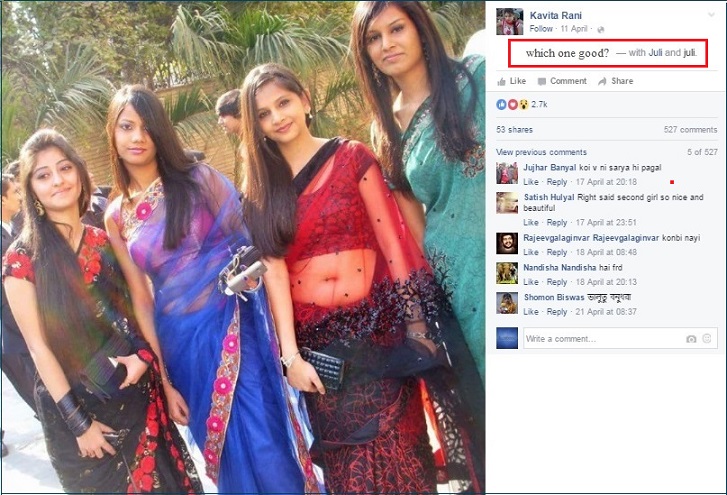 Please remember do not click on such link as this are the tricks they use to attract more people and you will be trap by such Facebook fake profiles.
6. Check groups name of fake ID
Open any Facebook profile and check groups or page which they have joined. Most of them not for any serious work and they mainly belongs to name like 'cute girl', 'Pakistani girl', 'Girls free number', 'free money' and many more similar type.
You can see post in groups from such profile…so please be aware.
7. Activities of facebook ID
Facebook Fake ID whenever update any status or upload photo then comments by people on all such updated not look like real friend, you can see comment like pretty, so cute, sexy looking, give me your number, it's my number or sometime even vulgar comment you can see…. so please avoid such person.
8. Check About tab
About tab can give you more information about any profile, If you find nothing in about tab of any profile or something like work at Facebook then it indicate about fake profile.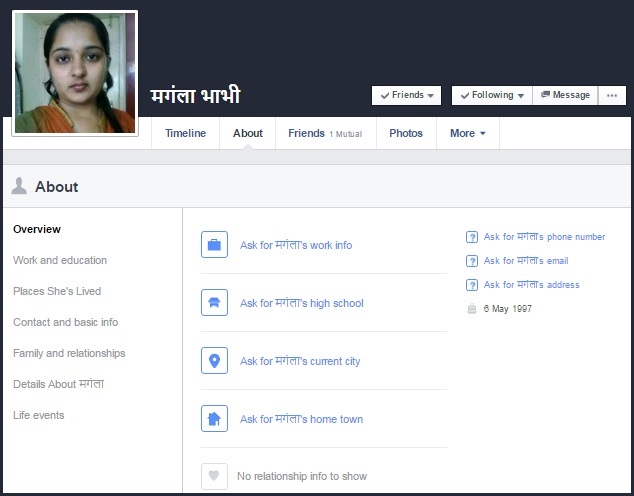 9. Check birthday date
When person create Facebook fake profile then they keep birthday as default so you can see most of fake profile birthday date as 1st January 19xx.
And if you forget to check this information then wait for 1st Jan, you will get all profile which have birthday on 1st jan.
Then check & decide which all fake profile in your friend list.
10. You are tagged in abuse photo
Most of fake account created with name of girls and use for some specific purpose..they tag any nude or abuse photo with many friend which not belongs to local area of user, even not from same school, college but just tag them…so once they click then redirect them to specific website.
Note:-Unfriend all fake profile friend if you are not running fake profile .
Hope you like this blog post.. And now easily spot a fake facebook profiles in your friend list…Please also don't create fake profile by doing this you are just wasting your time…noting else.
A big Thanks for reading