Whether you are a writer, student, or corporate employee, Google Docs is one of the best tools to manage your day-to-day documentation work. Whether you are writing a novel, or an essay paper for college, and managing most of the office-related documentation work, a Google Docs Table of Contents will help you to keep your work in a more systematic and organized way.
What is the Table of Content?
The Table of Contents is a list at the beginning of any book or document containing page titles and page numbers. As an author or document creator, you might wish to have a clickable Table of Contents if your manuscript contains a lot of pages, as it will be convenient, which speeds up the process of moving between sections, rather than making you scroll endlessly. The Table of Content is helpful for easy reading and editing. If you plan to convert the document into a PDF file, then a clickable Table of Content is also a must-have.
Specifically, a well-planned Table of Content offers the following benefits to the users of technical documentation.
Make a more professional impression:
If you use a document with a Table of Content, it gives a more professional appearance than a document without a Table of Content.
Arrangement of your Content:
While creating or editing a document, a Table of Content helps outline and organize your ideas so you don't leave out any important points.
Fulfil reader expectations:
The Table of Content gives readers a high-level view of the content.
Provide a road map:
As readers, we all need familiar points of reference for quickly locating important information. The Table of Contents page numbers help when users thumb through a hard copy. When users use a "soft" copy of the document, they can enjoy Web-style navigation by clicking on an item in the Table of Content.
It helps readers to go directly to a specific section of an online document.
In this article, we will cover steps to learn how to create a Table of Contents in Google Docs that helps you to organize your content.
How to Create a Table of Contents in Googles Docs:
Go to Google Docs and open the Document or you can also create a new document by clicking "Blank" Document Icon.
Open the Format menu > > Paragraph Styles to add headings to your document.
There are a total of 6 heading styles to choose from.
Use Heading 1 for main titles, Heading 2 for sub-sections, Heading 3 for sections under that, and so on.
To correctly label the headings in your Table of Contents, it is important to follow this rule. To know whether you have done it in the correct manner or not, check the document's outline on the left sidebar. If you can see headings have a slant in each section, then you are in the right place.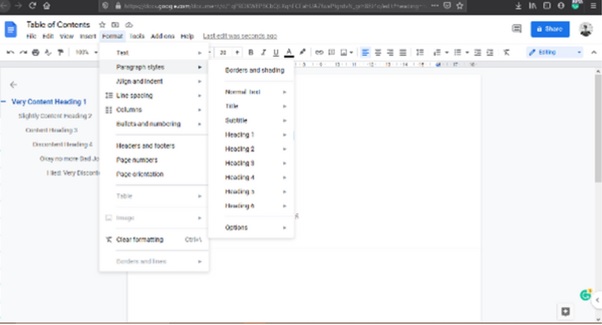 Place the cursor where you wish to add the Table of Contents and click Insert > > Table of Contents.
If you wish to adjust the Table of Contents, then select it and cut and paste it.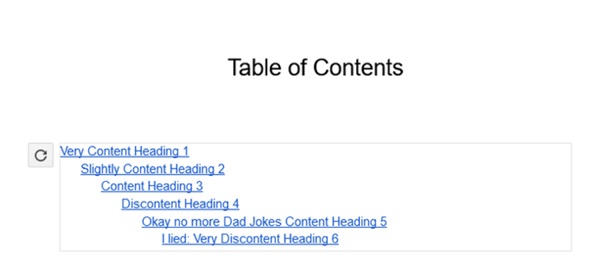 For editing heading directly edit it in the document body rather than in the Table of Content.
You can also add a Table of Content in Google Docs with Page Numbers.
Simply select "With Page number" when selecting the "Table of Content" Format.
If you wish to add a link to an existing Table of Contents, simply click on each heading and press Ctrl + K or Command + K to bring up the "add links" menu.
If you are not satisfied with the current format of your Table of Content or you wish to delete the Table of Contents from Google Docs, then Right-click on the Table of Content box and select "Delete Table of Contents from Google Docs"
If you have any questions or comments about the above article, please leave them in the comment section below. We will be happy to help you.