If you have made the exciting decision to learn to play the guitar you will want to start right away. Take a look to find the perfect guitar to learn on.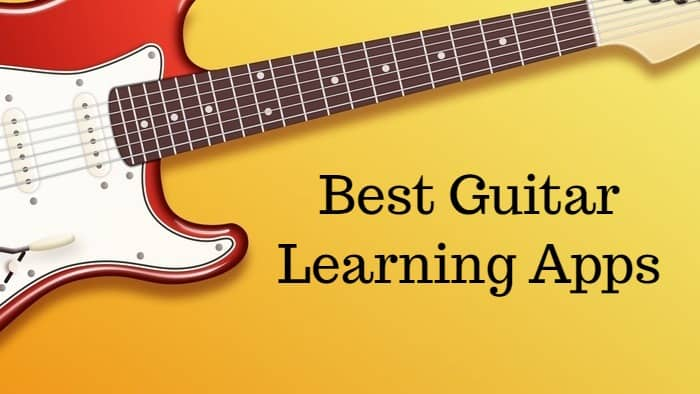 #1 AmpliTube
AmpliTube is enjoyed by both experienced and beginner guitar players. This is one of those apps that allows you to do just about anything. This includes experimenting with sounds, over-tuning, to actual songs, and recording demos.
This app can be compared to a studio since it offers a range of virtualized-sound models derived from world-famous guitar gear. It is also not just a guitar application only for guitarists, since bass players can also benefit from this versatile app.
This app is relatively easy to use and comes with many cool features. Most of your work will be done using a simple drag-n-drop method, although there is a bit of experience required with the effects and amps if you are interested in finding the correct sound models.
AmpliTube boasts a wide range of Stompbox Effects, which includes octave, delay, flanger, distortion, phase, overdrive, wah-wah, fuzz, and chorus. In addition to that, you will be wiring these effects through 5 cabinets, 2 microphones, and 5 amps. It makes sense that you will easily find the sounds that you need with it.
This is a guitar app that is basically free. You get the Custom Shop, the app, along with a variety of gear pieces to get you started. You can also move onto the "expansion gear" which costs a few dollars for each piece. AmpliTube may just be the most popular Guitar App for both iPad and iPhone users.
#2 PocketAmp
PocketAmp is a portable user-friendly amp device that doubles as a real amp when you have an instrument adapter. If you are interested in an app to teach you more about the guitar you are currently playing, this is the one that looks quite promising.
Basically, you will require a plug that would convert the cable jack on your guitar into a compatible-smartphone jack. This allows you to connect your phone to your guitar, which starts up the amp. From here you have access to 4 different amps, 4 cabinets, and 7 guitar-pedal effects.
You may be surprised when you find out how authentic and real the tone sounds on PocketAmp. However, if you go overboard with overdrives and distortions it may thump your speakers, so we suggest not going crazy with it.
This app also provides a way to simulate entire guitar rigs from a phone. Even though it is not free, it is still a very affordable app. It is very popular and among the top-rated apps, especially if you are a beginner guitarist.
#3 OnSong
OnSong is one of the guitar apps dedicated to performing guitarists. It is a Chord Chart app that replaces "physical" Chord Charts with interactive and digital ones.
Many musicians struggle when it comes to memorizing many songs, particularly when they are complex. This is when OnSong comes to the rescue. It features an impressive storage capacity that allows you to store massive collections of chord charts, and they are easy to access.
This app is also compatible with other online store applications, like Cloud and Dropbox. You can also use this app to import songs to the OnSong app. To use this app to its fullest potential, you can also use it with your foot pedal, allowing a way to scroll through your charts without having to use your hands. It is definitely one of the top-rated apps for iPad.
#4 Play Guitar Hits
This is a well-rounded guitar app that is available through the App Store. It is free and doesn't take up a lot of space. You can also enjoy a range of features as and when you need them.
One of the benefits of Play Guitar Hits is that you are able to customize or personalize your interface. Some of the options include a classic fretboard, slash, or standard tablatures view.
Play Guitar Hits is different when compared to other Guitar apps since it provides an interactive and user-friendly learning mode. This allows you to learn techniques and the songs that you love when you watch the play-through videos.
This guitar app also includes a Dual-Screen feature. On the one side, you can view an interactive tablature, and on the opposite side, you can view the play-through video for your song (if it is available).
You can also select from different levels. There are 4 selectable "experience" levels which mean that Play Guitar Hits provides an entertaining and unique mode-of-progression.
You can also stop the track when you need to practice specific parts. In addition, you can also morph songs into the backing tracks, allowing you to practice with "isolated" instruments, for a real-time and more authentic feeling.
Play Guitar Hits is also a highly versatile guitar app that is available for download on the App Store for free. It is among the top-rated guitar learning applications currently available.
#5 Anytune
Anytune is definitely not an average guitar application. This app is unique since it allows you to experiment with tempos in a song, without interfering with the actual pitch.
The true value related to this app will depend on the way you decide to use it. Fortunately, this app offers close to limitless potential. You can slow songs down when you need to nail a certain part, or you feel you need more practice, or you can even speed them up. You can also start slowly and gradually pick up the tempo along the way.