Many parts around the world are coming out of the lockdown. And as a result, many event professionals want to host events physically. But they don't want to miss the convenience of the virtual event. Therefore, they are opting for Hybrid events over any form of events.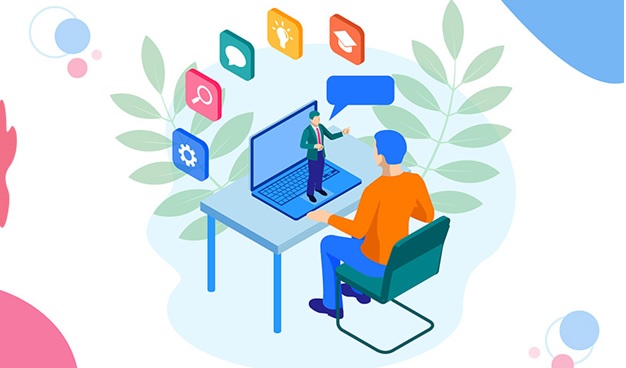 A hybrid event offers the flexibility of the virtual event while maintaining the engagement level that of a physical event. And that is why it is the future of the event industry in the post-pandemic world.
But many people are still confused as they are transitioning from virtual event to hybrid event. So we are going to address this issue here in this article.
37 Tips And Ideas To Make Your Hybrid Event Successful
Audience
One event, two audiences
While moving from virtual event to hybrid event, the most significant difference is the audience. Unlike the virtual event, where you had one type of audience (virtual), now you have two different audiences. You have to serve both virtual and hybrid audiences. It means you have to make arrangements for both of these audiences, not just one.
Interface and Navigation
The interface of the hybrid event platform has to be immersive. Also, the platform has to be fast. And easy to navigate. Otherwise, people will get confused, frustrated and will eventually leave your event.  
Networking tools
Networking is a critical aspect of the event for many people. And in some cases, it is the dominant reason for attending the event. So make sure that you have lots of networking tools.
Gamification
If you want to engage your audience, then nothing can be better than gamification. People love to play games, especially when they are waiting or want to relax.
Features And Tips
Leaderboard
It displays the score earned by all the participants. And it is quite helpful in keeping the excitement level high in the event. You can ask your audience to visit a different area in your event. 
Social Wall
A social wall displays the social media activities of the attendees at your event. It can be photos, videos and posts about the event on social media using the relevant hashtags.
AR Photobooth
This feature enables the user to put the event in the background of their photos. It is a great feature that lets attendees feel as if they are present physically in the event.
Live chats
Let the attendees at your event communicate among themselves. It is an effective and efficient way to keep your audience busy. And you can focus on more important things. 
Emoticons
Integrating emoticons is an excellent way of providing a touch of personalisation. It will make the user comfortable and help them in expressing themself.
Polling
Polling serves two purposes. First, it lets you understand your audience's preferences. And secondly, it engages the audience at your event.
Surveys 
Like the polls, surveys also work similarly. The only difference between the polls and survey is the number of questions. Surveys have more questions than polls. It means surveys give you a deeper insight into your audience than polls.  
AI Matchmaking
It is a unique feature that uses Artificial Intelligence. AI Matchmaking helps in connecting people who have similar interests. This feature facilitates networking at events. And connect users with more relevant people.
B2B meeting scheduler
As the name suggests, this feature lets the attendees schedule B2B meetings during the event. So that attendees can have a meeting with the people they want.
2-way communication
2-way communications mean attendees can chat with each other. It can be text, audio or video-based chats. And can be 1:1 or group meetings, depending upon the attendees.  
Digital Briefcase
A digital briefcase lets you store the documents, brochures and pamphlets collected during the event. In other words, all your files related to the event are present in one place. And you can even download them later to your device.
DIY booth
This feature let the exhibitor at the hybrid event customise their booth. They can select various colours, icons, functionality, photos, video, logos and so on.
Digital Business Card 
It is a digital version of the business card. You can provide support for the digital business card and let your attendees exchange them.
2-step log in
It is a security feature. And adds a layer of security to the user's account. Also, it prevents unauthorised login or log in by an anonymous person. For this, a user gets an OTP (One time password) during login.
End-to-end encryption
This feature provides security to the data of the platform users. Through this process, you can address the data privacy concern of the attendees.
Event Promotion Ideas
Use social media
It is the most effective and popular way to promote anything, including events. You can estimate the number of attendees at your event by looking at the social media engagements. So prepare a good strategy for each social media platform and start promoting your event.
21 . Effective content
Content is the force that drives marketing. If your content is boring, then your marketing will not work. So make sure the content has to be compelling and should attract people's attention.
22 . Market your speakers
Speakers are the most influential part of any event. And in many cases, the quality of sponsors affects the number of attendees. So make sure that you introduce the speakers at your event to the world. And use the speaker's reputation for marketing your event.
Promotion by speakers
Ask the speakers at your event to promote your event. It will help you to reach out to the friends and followers of the speakers. And will give more publicity to your event.
24 . Collaborating with other brands
You can also collaborate with other brands. It will let you target more people. And in widening your reach.
25 . Use social media influencers
These days social media is ruled by influencers. And by team up with one will help you a lot. And will give you access to their millions of followers.
26 . Giveaways
Another popular way of attracting the audience is to host giveaways. You can use this method to market your event as well as the sponsors of your event.
27 . Competitions
Like giveaways, competitions are also a great way to create hype around your event on social media.
These are some ideas and tips for making your hybrid event successful. But what about deciding the occasion for your hybrid event? Or what kind of event you can host on a hybrid event platform? We have suggestions for that also.
Ideas for Types of Hybrid Events
Product launches
You can reduce the cost of your product launch event. And at the same time you can host more people by live streaming the event.
Conferences
Host a broader set of audience in your conference. And this also means an international audience for your event.
Trade shows
Trade shows are great places for networking. So with hybrid events not only you can increase the capacity of networking but also with efficiency.
Award shows
With hybrid events you can take your award show to another level. You can nominate people from all over the world. And can international jury members or panel of judges. 
Exhibitions
Cross the geographical barriers and let the world witness your art. Or explore the art from different parts of the world.
Town halls
Meet with all the employees without worrying about their location. And share the crucial information about your organisation.
Summits
You can host a summit even in times like these. All you have to do is organise small scale meetings and live stream it to members all over the world.
Career/Job Fairs
With hybrid job fairs, you can help the jobseeker to get placed in global brands. Or let students meet universities representatives from different countries.
AGMs (Annual General Meetings)
Now you don't have to worry about conducting your AGM. With a hybrid event platform, connect all the members and host an AGM.
Office parties
Lift the mood of the employees of your organisation in this situation by hosting a hybrid office party. And let them feel as if they are present in the office itself.
We hope that this article will prove helpful to you. So tell us about your favourite idea for hybrid events.