The easily clickable and visible text appearing in a hyperlink is an Anchor Text. For better understanding, you may view these anchor texts as underlined and blue color text.
Anchor Text Meaning
Before getting into the detailed meaning of anchor text, it is essential to consider that the anchor text must be SEO-friendly and relevant to the target page. It is the visible words and characters that hyperlinks displays when linking to another location or document on the web. Search engines utilize this text to help analyze the essence of the document linked to the page.
For instance, in the description – 'Click here to know more about our services', 'click here' is the anchor text. Here goes another example.

In this example, 'Jon Wye's Custom Designed Belts' is the anchor text of this link.
Anchor Text – An Essential for Your Blog SEO Ranking
Anchor text has numerous benefits related to search engine optimization. Search engines crawls the colorful text in the anchor of a link to determine and verify the relevancy and core nature of the page that it being linked with it.
For instance, if your webpage has multiple backlinks with the anchor 'dog training', 'tips to train your dog', 'simple ways of dog training', then in such case search engines can recognize and comprehend the detailed or core content of the target page. It is because of the fact that such descriptions are unbiased and generated by real people.
Besides the anchor text, search engines also deeply monitor the content of the source page along with its title tag and keywords for analyzing the quality and relevancy. Such a process enables Google to return to more appropriate results to their browsers in the search queries.
With the newly introduced Penguin update, Google has started to look more deeply at keywords placed in anchor text. If multiple inbound links comprise the exact number of anchor text, then it can be considered suspicious activity by Google and it also symbolizes the unnatural nature of the links. For such reasons, it is wise to obtain anchor texts specific to keyword and topic. However, as far as SEO ranking is concerned, the experts can avail better results with use of different types of anchor text rather than using same sort keyword each time.
Relevancy of First Anchor Text
This is really important! If you are using two anchor links for targeting the same page, then Google will consider the relevancy of only first anchor text inserted in the first link.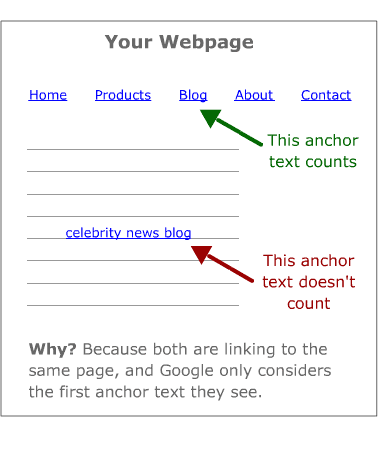 The reason: It is because both these links, in the image, are targeting same page and Google will offer priority only on first come first basis.
Solution: As per the experiments conducted by numerous webmasters there are some possible ways to let your multiple anchor texts get counted on the same page and indicating towards the same target. This can be done by generating anchors on the page that is to be targeted and linking those anchor texts with help of hashtags.
Best Practices to Use Anchor Text in SEO
With introduction of Google Penguin update in 2012, it has become simpler to manipulate the abuse of artificial backlinks and anchor text by guilty sites and eradicating their rankings in the search engine results. It is because the analysis of your site's backlinks and making optimized anchor text is considered an act of violation of Google's Webmaster Guidelines.
Some examples of link schemes that can create a negative impact on a website's ranking are:
Selling or buying links that clear PageRank. This comprises exchanging monetary amount for links, or creating posts that incorporate links; exchanging services and goods for links; or offering a 'free of cost' product in exchange for links.

Conducting article marketing on large-scale basis or performing guest posting campaigns with anchor text links rich in keywords.

Excessive exchange of links or partnering pages specifically for the benefit of cross-linking.

Utilizing automated services or programs to generate links to a website.
So, if you are confused and looking for an answer to the relevancy of anchor links in SEO, you must also remember that over optimization can make you guilty in Google and result in penalties. The simple answer to your question is that your anchor links need not be 100% optimized in order to avail better rankings in search results.
Anchor text and Keyword Relevancy
The keywords inserted in anchor text play a vital role in enhancing the relevancy of the page that is being targeted. Also, the relevancy of anchor text with keyword is also enhanced to great extent, but the real achiever in such situation is the target URL. You can therefore enhance the relevancy of your page by preparing page specific anchor texts with important keywords.
Optimizing Anchor Text in Your Website
You can deploy the relevancy of anchor text throughout your website in order to augment the relevancy of most of the pages of the website, developed on the basis of individual content. You can find out suitable examples of hyperlinking structures to utilize optimized anchor text. When you are linking to internal pages then it is wise to hyperlink appropriate keywords rather than just linking it to unrelated words.
Incorporating Keywords in Natural Text for Creating Anchor Text
You can increase the ranking of your webpage by inserting vital keyword phrases in the natural text of your page and then linking it to relevant target pages of the website.
Optimizing External Links Anchor Text
Keywords placed within the anchor text are highly useful from links introduced from indicating to your website. If you are considering or planning a link building campaign, then you must create some interesting and useful numerous options of the description and title of the link indicating to the website. It is essential to include an important keyword in the hyper-linked text. The best way is to search for ten different types of titles or plan for an extensive range of keyword coverage to avail better anchor text for every webpage.
Profile of Natural Anchor Text Backlink
For better understanding, have a glance at this profile: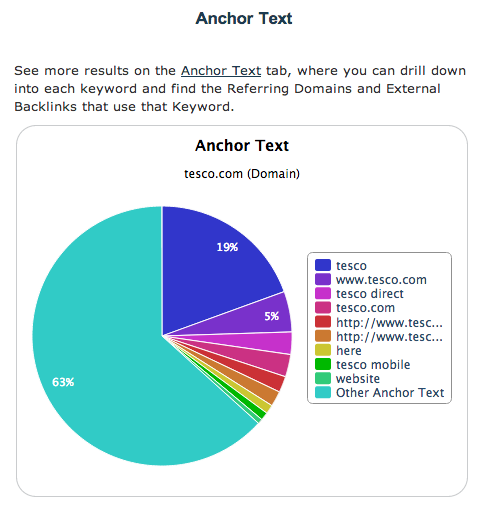 Hope you like this post and now know what is anchor text and how to use in SEO. 
Thank you so much for reading.