According to wordpress.com  59.3 million posts each month on WordPress only and as per Technorati study  in 2010 more than 2.75 million blog posts written per day in worldwide. 
So what do you think about rank of your blog post in this huge world of blogging.
Obviously not easy task!!
But not impossible if you are following right strategy at write time… As whoever at top rank must have followed some tips to get Google first page rank.
If you are new to blogging world then you can read how to start blog – practical guide and use correct approach to get viral.
Blogging world give you platform to share what you know and also help to get information from expert on same topic.
Your first step start with selecting correct niche for blogging and for that you can take help from our ultimate guide for choosing niche and  best blogging ideas .
Once you select niche then you have challenge to write a great blog post which people like to read and share  so here we are writing few tips which help you in moving correct direction.
Tips to write a great blog post
Basically, writing great blog content is not easy. Nowadays, most of people just write and not think whether it give better results on that blog or not.
Because they just write blog by thinking about Google instead of Reader. But by this way they can win Google ranking but not heart of people  and after couple of days they loose ranking too.
if you see people writing about you or your blog on social media or other places then you can realize value of your hardwork.
So here we are writing tips of how you can make your content great and that ultimately make your blog great.
1. Decide on your topic
First of all, you need to give more time to decide on what topic you are going to write then decide about way of writing.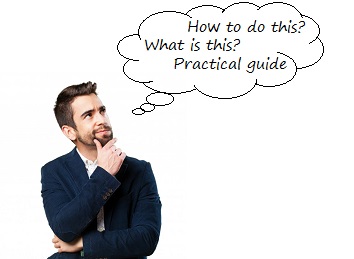 You just need to list out all topic which your blog can cover then start with basic one and move to more advance version of the same. So people get whole idea about topic from your blog.
2. Outline the blog post
There are different ways to work out an outline of your blog post but before writing just list out what all things you need to mention in blog and what thing you even need to research.
You can start with an interesting story then turn story toward your goal of post or you can use traditional way of writing like start with introduction and move toward advantage, use and how to use or result of topic.
Please make sure flow of your blog should not affect and it attract people to read full article. Try to give some real figure about your topic or idea like we have added in first paragraph.
Include conclusion of whole blog where you can mention your recommendation and what you prefer or want to suggest.
3. Edit
Once completed your post then verify again so it will help to find out several mistakes, wrong words and hindering the flow of your blog post.
You can check as user point of view and verify whether you are happy with what writer want to say or some more  example or explanation needed.
Even if you find something is extra then what actually needed then also you should remove so user can concentrate on what they need only.
4. Work on your title section
The title plays a vital role in the blog post. Most of people open your post by just reading your title so make sure your title have some words which force user to read your post.
Title should be self explanatory and say something about what you are going to write in blog post.
See below example how writer use creative title to attract internet user.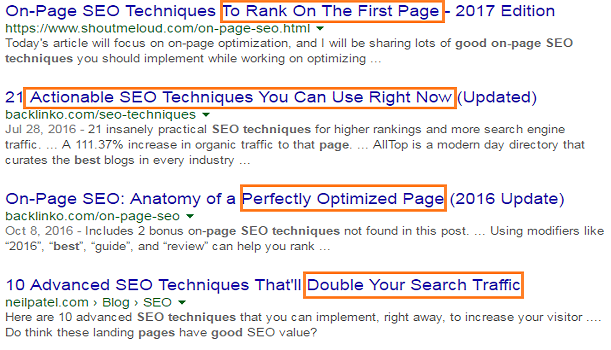 You can use below words to make your title more attractive-
Amazing

eye-opening

perfectly

right now

mind blowing

Top

Best

authenticate

Excited

magic

breathtaking

spectacular

jackpot

fortune

A complete guide

A ultimate guide

essential steps

unique ways
5. Add images
By adding images in your post, you are actually giving more life to your post. Many studies says people read those article more which contain images.It also hold people to read some more time to ultimately help you in decrease bounce rate.
But make sure to not take any  images from Google directly instead check royalty free images sites or Google advance image option to get free images for your blog.
Adding images doesn't mean add any image whether that match with your article or not.  it may even give negative effect on your post so make sure add images which give more support to what you are writing.
If you want your image also get rank then you can read image optimization technique and get traffic from image search.
6. Use Simple English word
Whats your main purpose behind writing post?
To attract people from your English vocab or to attract people toward your way of writing and topic explanation.
obviously second one!!!
So if you want every people read your article whether they belongs to native English speaking country or not then you need to use very simple English word so each and every people can understand ..In simple word, your blog should be understandable to 7-8th standard student.
7. Use More practical approach and point wise
People feel more interest while reading your post when they get something more practically and easy to read  means something which force them to do some action.
If you are writing about any  advantage, disadvantage and feature of any items then try to mention in points so reader can get idea very easily about each point.
Hope you like this blog post and follow all above tips to write great blog post. If you want to share something which make article more amazing then please write us in comment.
A big thanks for reading