Now a days you can hear from people and also in news about tweet of celebrities, politician and even many time big companies announce their business strategy by tweet.
Some time politician tweets become controversies  and income source for media 🙂
If you aware about twitter then well & Good, You can read this post to improve knowledge about this social media micro blogging site and if you are not aware then you may have few question about twitter like what exactly tweet is, How to follow your niche on twitter and how to use  twitter effectively. 
So here I am giving you very basic guide of twitter just follow hopefully your all doubt get clear..
What twitter is?
Twitter is a micro blogging platform where one can share their thoughts, news and any sort of information which they feel to share with public.
People can follow others to stay update about their activity on twitter. If you want to build your online follower and community then you need to genuinely spend time on twitter.
You can even easily make money using twitter but every thing depend on number of follower. If you have more follower then make more money. For reference you can check how Indian cricketer make $45000  in short period using twitter.
How to use twitter for beginner
Initially you need to create new account on website Twitter.com and click on sign up as illustrate below.

Please enter Your Full Name, Phone number/Email and Password. Then click on Sign Up button.
In next screen it ask you to provide your mobile number (not mandatory field so you can even skip by clicking skip link below next button).  
If you are providing then it help you to secure your twitter account  in recovering your password.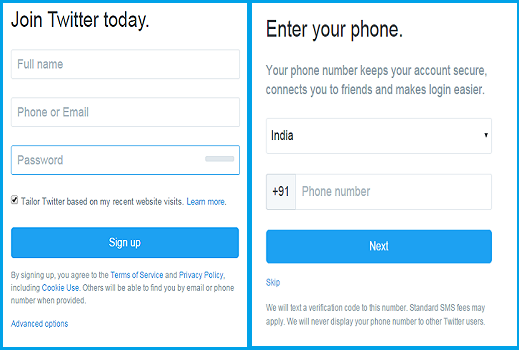 Once you provide mobile number then twitter send one code to verify your mobile number. Just provide code and click on verify button.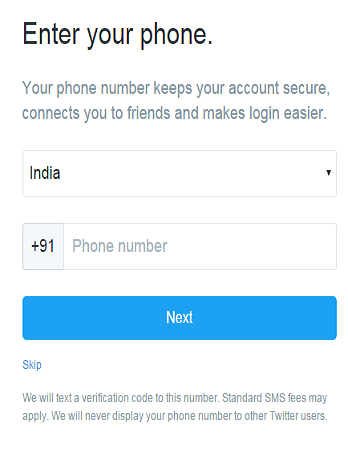 Now choose suitable Username for your twitter account, as per my suggestion if you are creating personal account then try to use your original name and if it is related to your company then choose something that represent your brand.
Once you provide username then click on next button.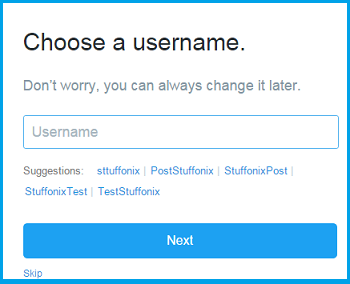 Note: You can change your user name any time in future. So if you provided any name not suitable for your brand or want to change brand name later then you can do it .
Twitter also provide you a mini guide to navigate easily.so you can go through guide Then it suggest you few topic which you can follow.
So once you select any topic then in next step you will get famous people belongs to selected topics in previous step so you can follow them.
you can select any number of topic out of given and click on continue button.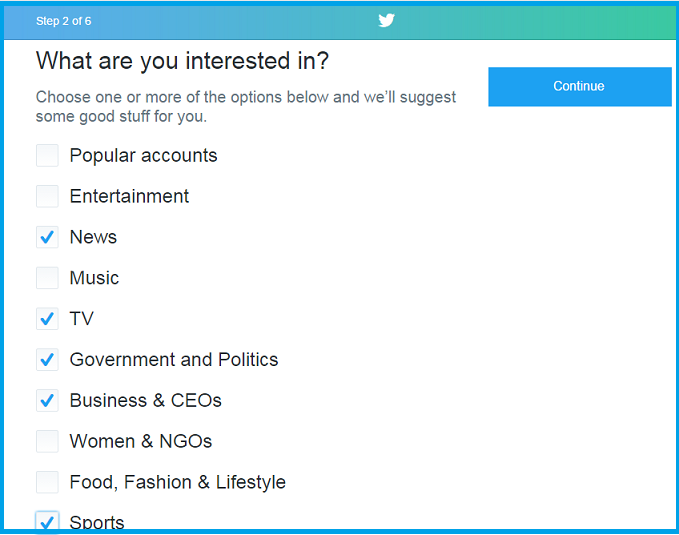 Now based on above choice twitter suggest you few people and company to follow, so you can see all their tweet. Once select checkbox then please click on Follow & continue button at top right side as below.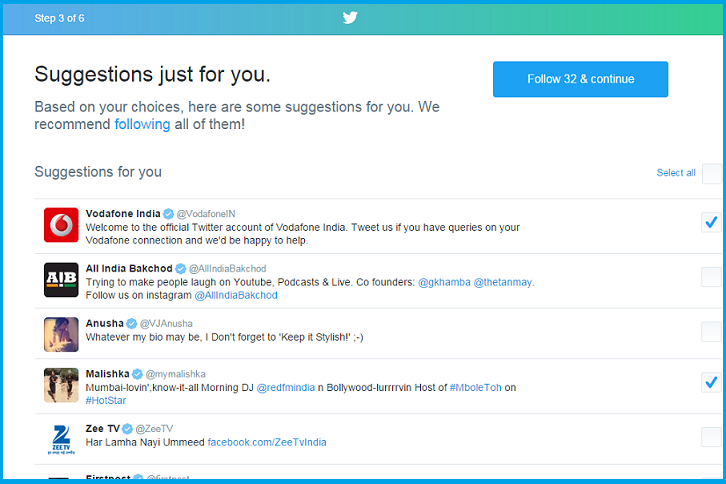 Now select your profile picture. As per my suggestion if it is your personal account then better to use your own photo and if you are using it on behalf of company or brand then you can use your brand logo.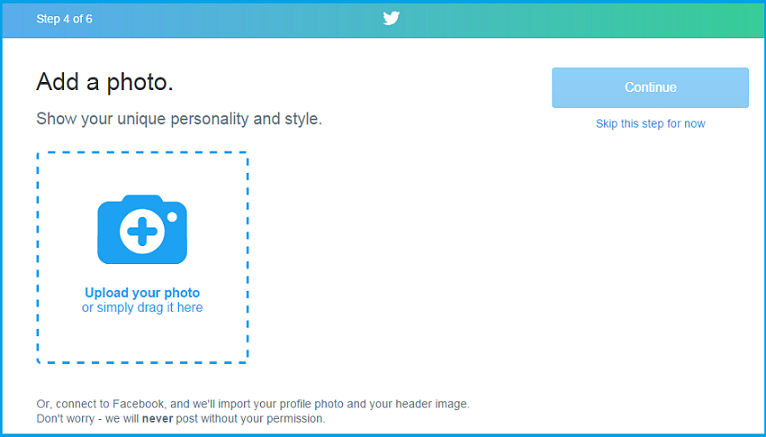 Now click on continue button.. In next step you have choice to follow people from your inbuilt list of gmail, AOL and outlook friends so you can import contact from their.

You can even skip this steps too..
Next screen you will again see list of people which you can follow related to field which you liked before and click on continue button.
Now you can see your twitter account set up correctly .you can see all tweets of people or company which you followed in previous steps.
At last please verify your twitter account by confirming your email address so please open your email and click on confirm now button.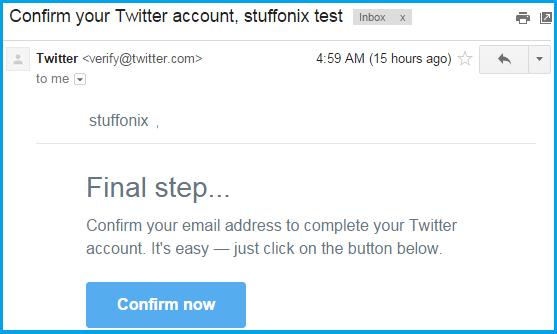 Once confirm then you can use twitter to share any information means now you can tweet any thing and follow any one..
In order to reach out more and same minded people then you need to use correct hashtag. If you are not aware about twitter hashtag then you can check top trending hashtag of twitter and if you are using other hashtag then also you can use twitter hashtag analytical tool to check popularity of hashtag.
If you want to use twitter regular then we recommend to know this little know feature of twitter so you can efficiently use twitter.
Hope you like this post related to How to use twitter for beginner… and understand how easy to use any social media.