When I started searching for ways of  making money online then I came across many ways like freelancing sites,  survey sites, online tutoring sites and many other ways of earning online.
But the best way which I consider best for making money online is YouTube video.
There are many ways of making money from YouTube video like Monetization, sponsor review, product promotion and many more.
Wherein YouTube video monetizing is simplest one and you just need to display advertisement on your video or channel and whatever YouTube share you fix percent of royalty from his earning.
I am assuming here that you have already created YouTube channel with some videos and if still you are new on YouTube then first please create youtube channel and once you done with creation channel and upload video. You can also read our guide on How to become famous youtuber.
Now here I am writing steps of how to enable adsense on  already uploaded videos and add money in your YouTube earning.
Monetize youtube videos
Steps 1 – Open Video manager in your YouTube channel then  you can see all videos of your channel.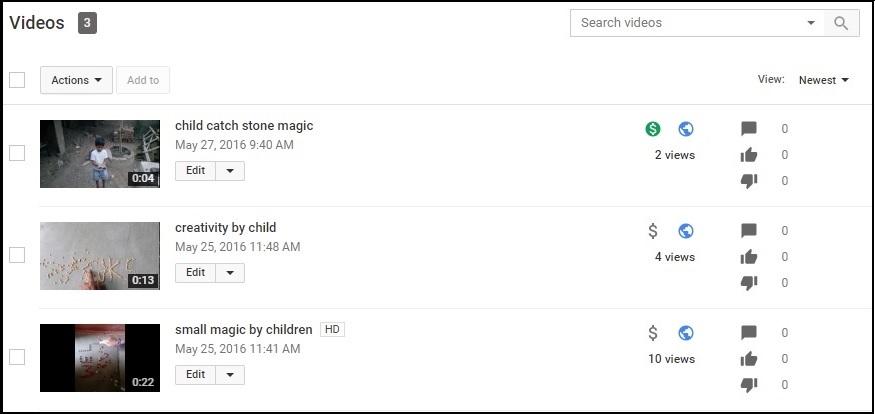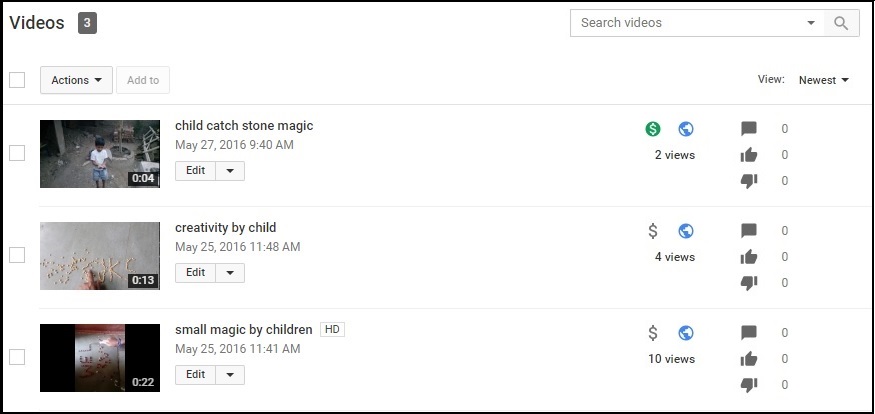 Now There are 2 ways of monetize video either monetize all videos by selecting checbox in one go or if you want to monetize few then choose one by one.
If you want to go by one go then see below screenshot. Just select those video which you want to monetize and click on monetize link under action drop down.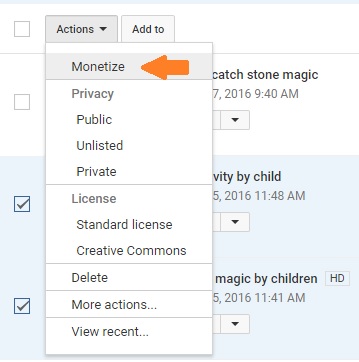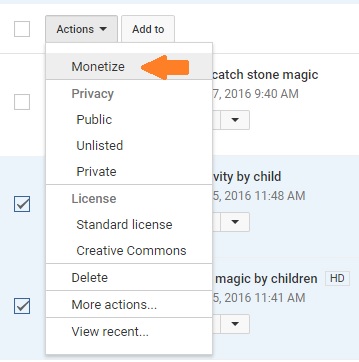 It may monetize instantly or take time depend on your YouTube adsense account and videos. You can also do the same by clicking on dollar sign of any video and go for monetizing single video.


Once you click on dollar sign then you will redirect to other page then you have to decide where all places you can show advertisement. Once you monetize then your dollar sign change to green means you have done correctly.


Now for each view of your YouTube video you will get few amount as per sharing revenue system of YouTube. 
Many people choose this work and profession and start making huge money. I am damn sure if you check top Indian famous youtuber and world famous youtuber then you will also willing to start video uploading.
Hope you like this post and start monetizing your old videos and making money with them.