Every WordPress user want to add either internal or external link in their page to redirect user to correct resources like any website location, software location or any registration page location.
If you are newbie of WordPress and want to know how one can do this task then you are at correct place to learn.
In order to create link in any page or post then first open content and select word on which you want to use link as below.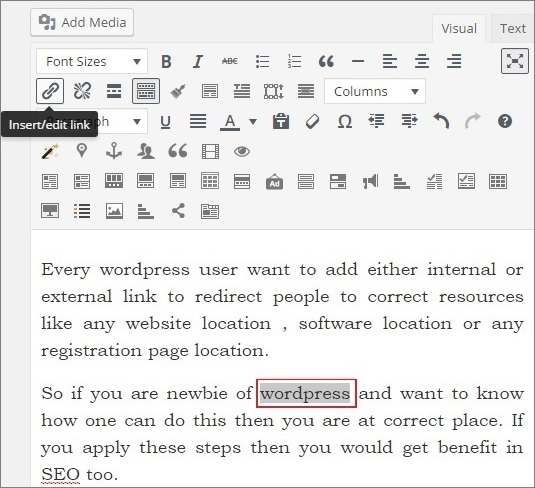 Now click on Link button in the visual editor. Once you click on link button, it ask you address in popup window where you want to redirect. So provide hyperlink as below.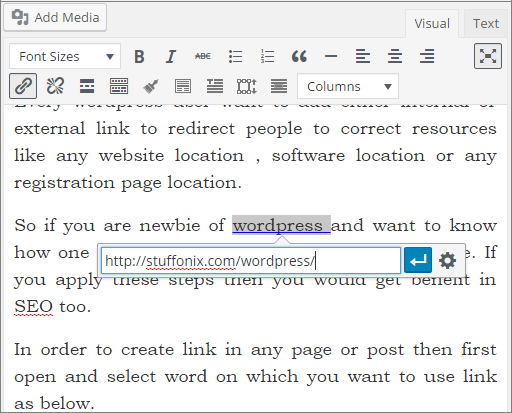 You can also link internal page or post by clicking on 'Or link to existing content' option below side in insert/edit link Then search your post or page to link as below then select any link and click on Add link button.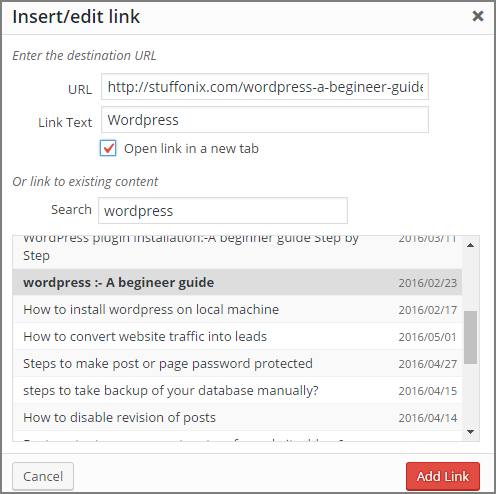 Recommendation:
 You also have option of ''Open link in a new tab' option. Please select checkbox so if someone click on link then page will be open in new window and does not affect users reading sequence.
If you want to remove link then select your text and click on remove link icon 

.
That's it sir & madam!!! Now you are able to link any internal or external source in your post.
Hope you like this blog post…If yes then please subscribe this blog, follows us on twitter, like our Facebook page and if you have any doubt or want to add something then please write us in comment or contact us.
A  big thanks for reading