Facebook page is an amazing and best way to promote your business, your creativity and your own brand. Join by those people who are interested what you are writing.
You can reach out to million of people by just posting information on company facebook page and this is the power of Facebook today. you can see power of Facebook page by below image and it is easy for sachin to reach out his millions fan by just one click.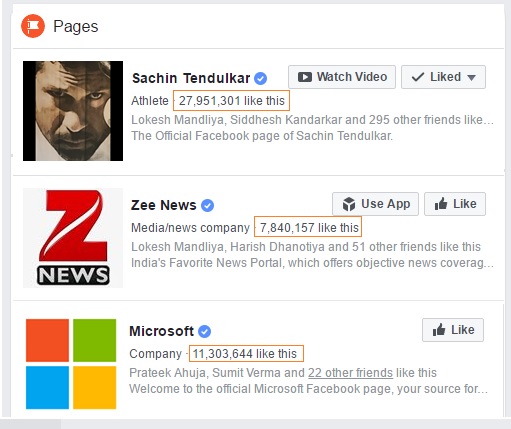 It came and it conquered every social animal's heart with its exclusive features. You want to search your school friend? Search in Facebook groups. You wish to know about some event and its timings? Search for the Event in Facebook events page.
And the most important and useful feature of all- An online store is incomplete without its own Facebook Fan page. You can make your business an instant hit by publishing posts, promotional articles, guest blogs, picture carousels etc in your Facebook business page and your friends would get notified immediately.
The more you add vibrant and entertaining content, the more popular your online store becomes. Your Facebook page also allows you to answer your fan's queries and stay close to interactively.
AND ALL THESE PUBLICITY YOU GET FOR FREE!- So, if you are a business proprietor and you wish to see profit, success and more money inflow, better get a Facebook Fan page created this very moment and enjoy your days to come. Here are the steps to create a fan page in no time:
Note:- I am assume you already having Facebook profile..One more thing please be away from Facebook fake IDs they may harm your brand.
How to create a Facebook page
Please open Facebook profile initially and then follow below process.
Step 1: Choose create page option
Click on downside arrow at top right corner of profile and tap on link Create page as below.
Step 2: Choose Your business Type
The first step is to choose what kind of Page should be created which will fit the requirement.
There are six variations of pages available in Facebook. They are Local, Business or Place, Company or Institution, brand, Artist or Celebrity, Entertainment, Community cause. Based on the category chosen, the page description and other fields are displayed for one to choose and fill in accordingly.
So, choose the right type carefully as per your requirement and complete the basic stepping stone of this process.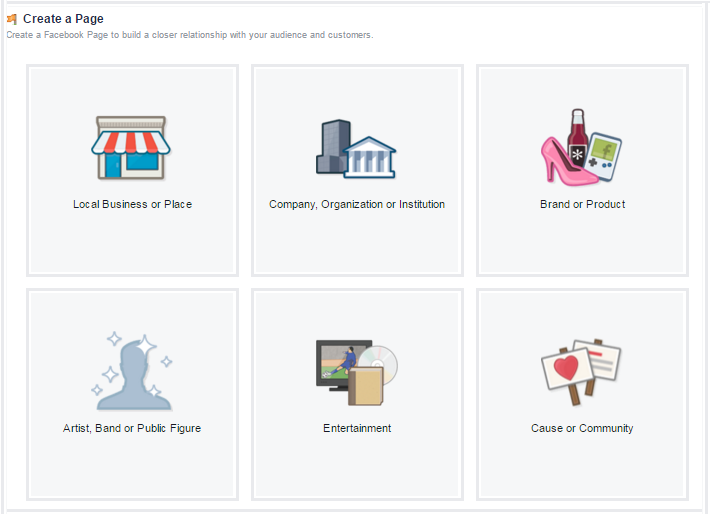 Step 3: Choose category and Name
Once you select type of page then it ask category and company name which will shows as page name so better to choose your company name or if you are using this for your personal branding then choose your own name then click on getting start button.
Note:– Take user name which must be similar or same with your website, company or brand. There may be chance of having similar name of many pages so please mention about your organisation effectively.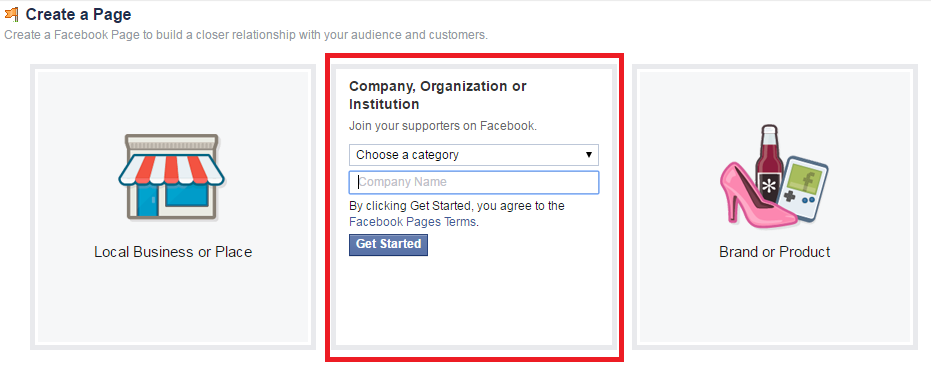 Step 4: Setup Page
Once the classification is made, the user has to fill in basic information requested in the form and get started.
The first segment is the about us details where in the entrepreneur has to enter the page description of their company. The writing has to be simple yet powerful. Their experience, their vision, mission and if possible the company link (URL) should also be mentioned in this field.
Following this one should upload their profile picture (a good resolution picture is must) and also mark it their favorite so it is easy to navigate this page. At this juncture, Facebook even lets the entrepreneur to publish advertisements to popularize their fan page.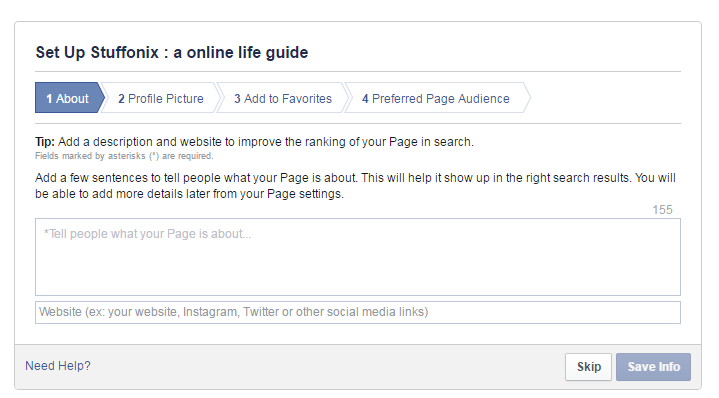 Upload profile picture of your Facebook page. if it's your company page then you can upload company logo and if personal fan page then best to upload your own photo.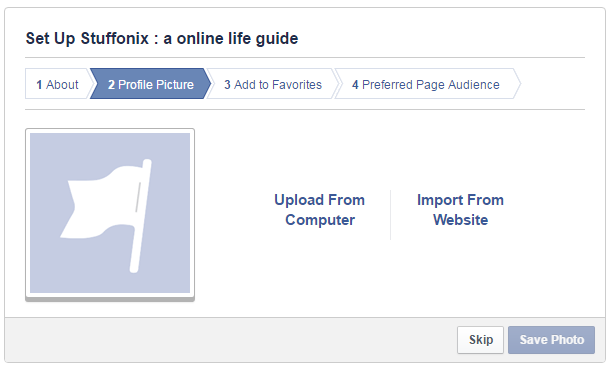 One of the best thing in page set-up is preferred page audience. Once you set your all preference then Facebook put this page mostly in front of those who matter it most..like example if you select location "New York" then this shown in front of people belongs to New York.
Step 5: Add cover picture
Now you can see your page has been created as below but to make it more attractive we are going to add cover page by click on add a cover button.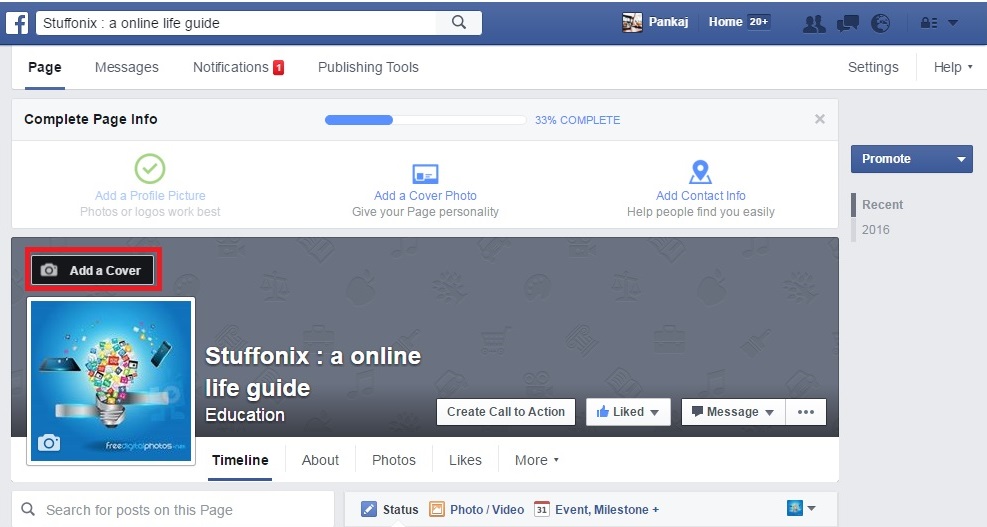 Step 6: Add contact Info
Click on add contact info button and provide contact information to increase more trust on your page . It ask your phone number,email, website and address information.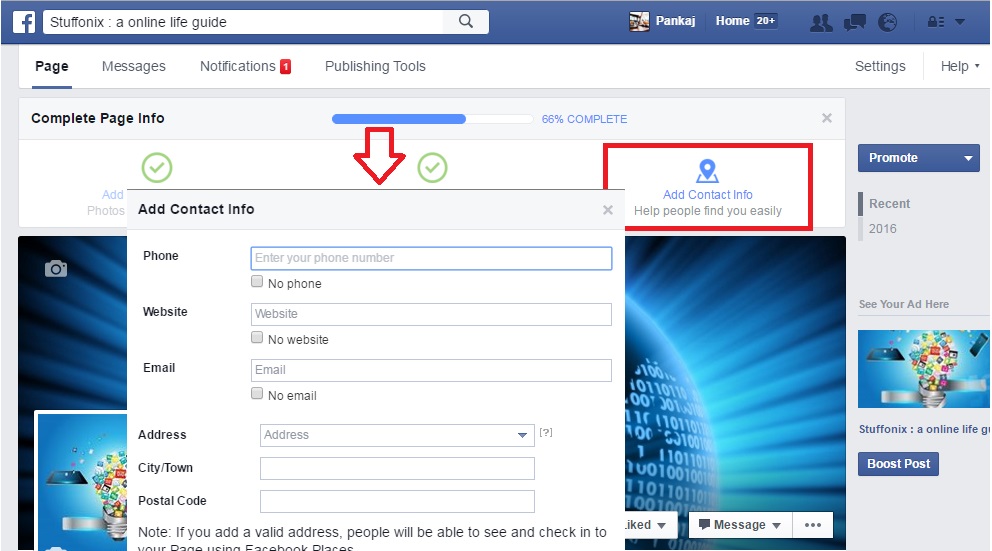 Step 7: Page Administration
The seventh important step in creating and managing a Facebook page is understanding the administrative requirements. In order to do this first you need to open Facebook profile as page by selecting your page as below .
Then From the navigation bar, one can select the settings button and there shall be various sections under which like page info, notification, page roles etc which have to be duly filled based on the organizational structure and work culture. In general there is more than one administrative manager associated with the Facebook page who will monitor the contents and assist in technical analysis of requirement.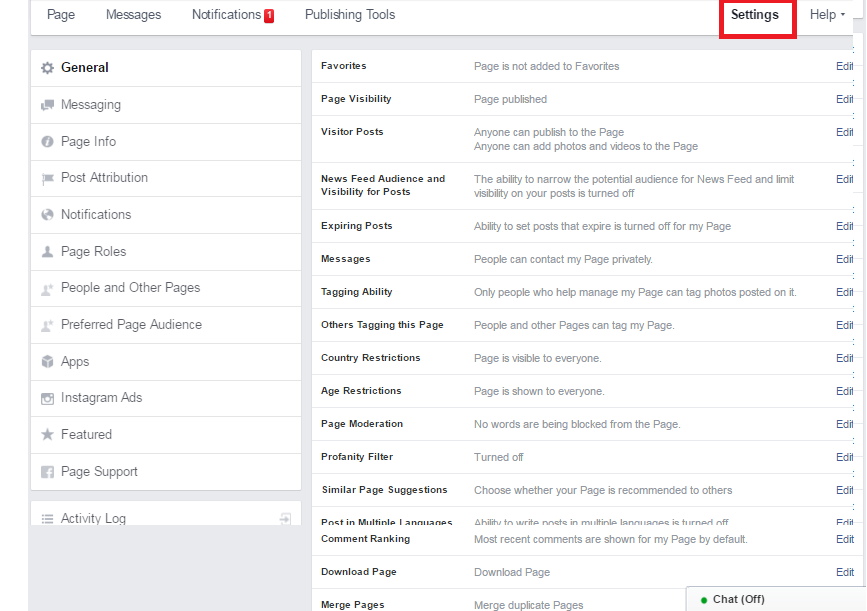 Step 8: Content Optimization
This is the most important and creative aspect of the Facebook page creation. Posting latest cover photos, adding new contents with a Calendar schedule and making numerous attractive posts, blogs etc. are some ways to garner public attention. Also in each of these post and pictures, it is advisable to add the URL link of the Facebook page for more reach. Posting at least two posts with lots of images and carousels will definitely bring more audience to the Page.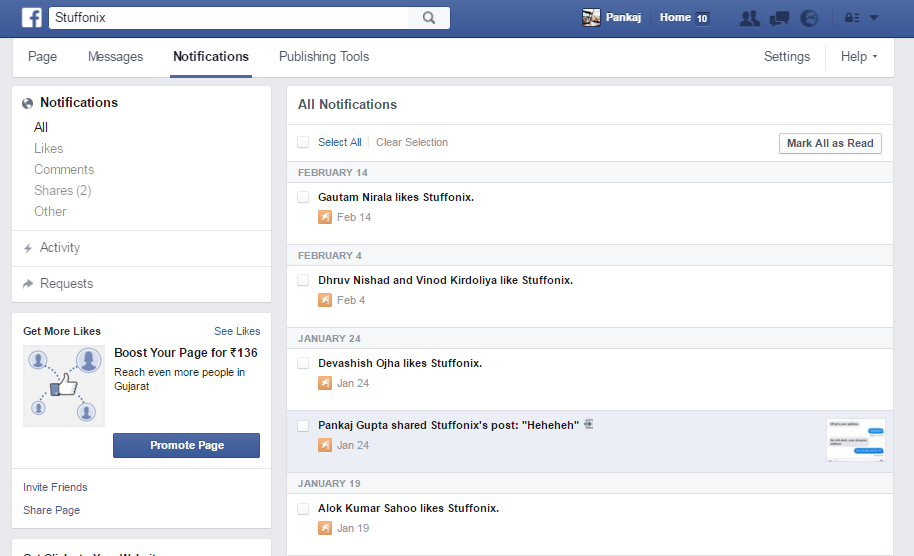 Step 9: Back end Monitoring
After all the hard work vested in creating the Facebook page, one has also the right to know how well are they faring amidst customers. There are plenty of analytically tools that Facebook offers to its customers to measure the hit rate, reach and spread of these Facebook pages. One can monitor the guest visits, number of likes, the geographical reach etc through these metrics and better their audience connectivity over time.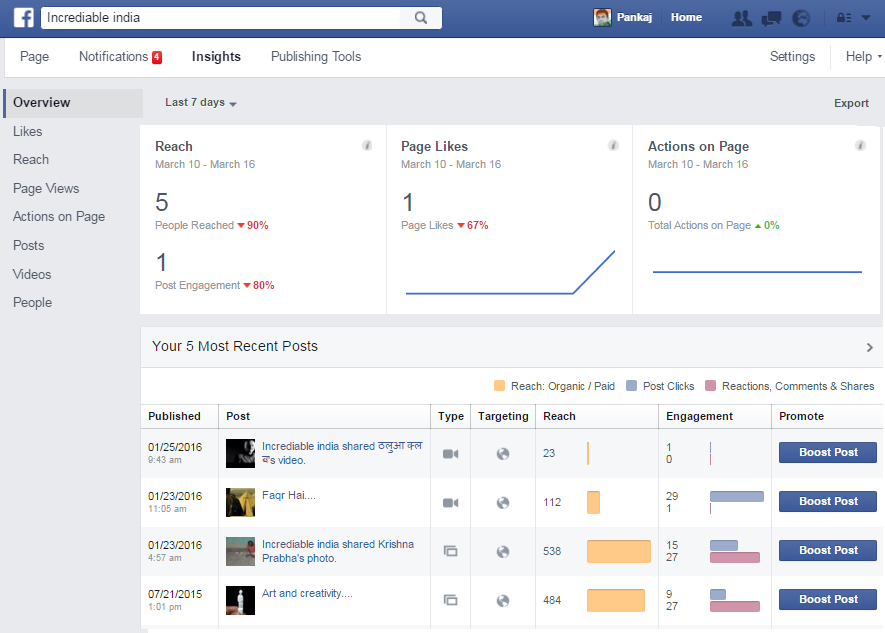 Note:- Insights link available only after at least 30 people like your Page. Please keep in mind that it can sometimes take several hours for insights to become available after 30 people have liked your Page.
Hope you get idea of how to create a Facebook page and Now a days a business page of Facebook requires to be managed around the clock. Any customer query should be answered within shortest latency and required details must be posted immediately to capture the interest of audiences.
Last but not the least… remember! Every Facebook page is created with an intention to reach maximum audience within no time. Hence, make the Facebook page surreal, captivating and most importantly informative.