Are you using your Facebook profile with the business name like your company name, coaching name or something thing similar?
If yes then please be alert your profile will soon remove by Facebook authority.
It's against the Facebook Terms to use your personal account to represent something other than yourself (for example: your business) and you could permanently lose your account issue means if you are not alert then all your hard work of making so many friends will be lost. 
So it is better to convert your profile into a page and you will also get the benefit of doing this.
Your business page will not get banned.

You'll have access to Page Insights.

There is no limit in getting likes.

You can create ads and boost your post.
Pages are specially designed for businesses and organizations with many features help you in complete your goal but you can only convert your profile to a Page once.
Steps to Convert Facebook Profile into page

Click on Get started Button and it will take few minutes to convert Facebook profile into page.

Once your page created then open page and check left side column. You will see one message related to remaining days to convert profile to the page.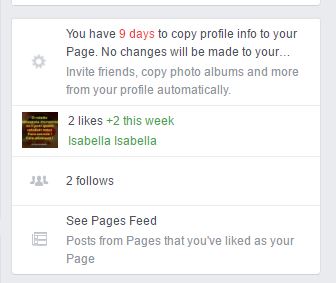 You can click on this link and write about your page,  choose your Facebook friends to like your page automatically and at last select photo for your page from profile.

That's it!! You can see your page now with likes and profile images.
What will you get once convert the personal account to a Page:
You will get personal account and a Page after conversion

Transfer your profile picture & cover photo to the new page.

Name of page is the  name of your personal account.

Your profile info will be move to page after 14 days.

Y

ou will not see any of your personal message in page.

You can choose your profile  friends to automatically like your new Page 
Note:- Any post on profile not carried over to new Page.
Hope you like this blog post and now convert your business profile into business page. If you have any doubt then please write us in comment.