You must have seen many advance websites and wondering how thy creating such a big site using WordPress.
Actually they use proper plugin to extend their website and make them more efficient like add stylist gallery, email services, forms ,creative designs, animations, tables and many more.
Adding any extra things in a WordPress site is actually very simple if you know correct plugin and use in correct way. So here we are providing you one of the best contact form plugin called contact form 7.
Design contact form using contact form 7 plugin 
Contact form 7 can use to manage multiple contact form and you can customize any form as per your requirement. Form that generate using form 7 support many advance feature like  Ajax-powered submitting, CAPTCHA, Akismet spam filtering and so on.
Now without further description I will show you how to create forms using contact form 7. 
1. Firstly download contact form 7 wordpress plugin and install. If you are not sure then read how to install wordpress plugin.
2.Once you install then you can see contact option in left side menu so click on contact form . You will find one dummy contact form already created.

3. You just need to take shortcode of form and add in your page where you want to display form. But if you want some changes in existing form or want to add new form then you can use other option.
4. If you want to add new form then click on Add new at top side of contact form. Now you can see default code to add Name, email, subject, message and one submit button which a general contact form contain.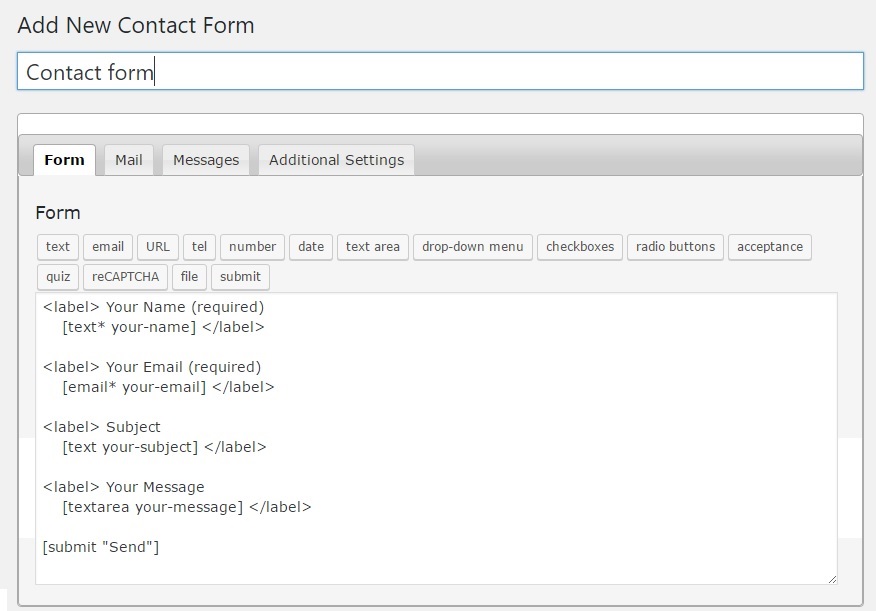 5. Now if you want to collect other information then you can mention as per your convenience.
Now before saving form  let's look other setting options.
Form tab – to add simple form.if you want to make any field required then you need to add * as shown in dummy form and you can also add new field.
Mail tab
To- Where form get submitted.

From-  Name of the  person who send and their email Address.

Subject- mention whatever subject provided

Addition header- Email address of user.

message body-including all above with message body
Message
what message you want to show user like while sent successfully or fail. Make sure user can understand your message properly.
6. Save code and copy shortcode shown above contact form. Create new page with name contact us  and paste your copied code in page information & at last publish page.
You can successfully create contact form like below.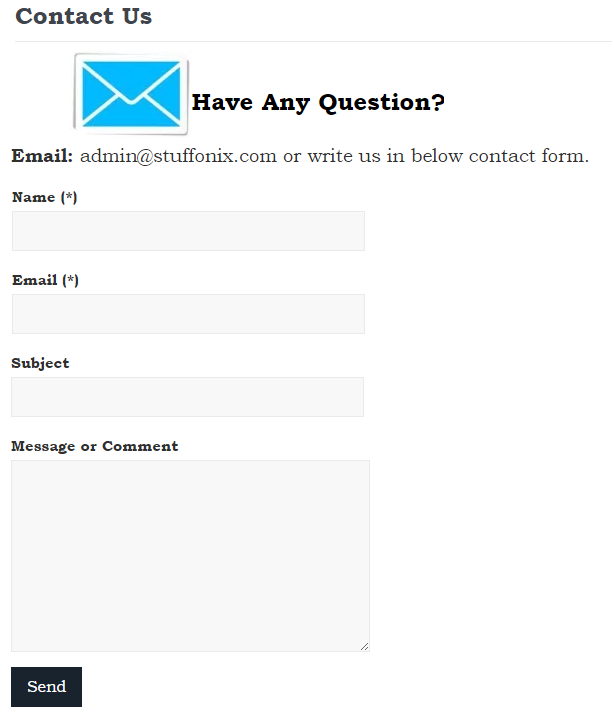 Hope you like this post and now able to create contact form using plugin contact form 7.