Now a days for every website or online business runner SEO become as much important task as marketing of website. SEO have many component where  URL is one of them and  play an important role in achieving good SEO score. So why not make URL more user & SEO  friendly .
Here I am writing about how change WordPress permalinks & Make it SEO friendly.
What actually permalinks is?
It is part of website address which comes after your domain name and indicate particular post or page of your website.
For example see below image where I have mentioned permalinks.
How permalinks help you ?
Allow user to understand what your post or page topic actually.

Help search engine to identify your post easily by URL means help in search engine optimization(SEO).

Give identification to your post and page.

It create a good mind set of user for your website.
 How to make perfect permalinks in WordPress?
WordPress by Default use database ID number of each post as a permalinks and that look very awkward to user. You can see below default permalink.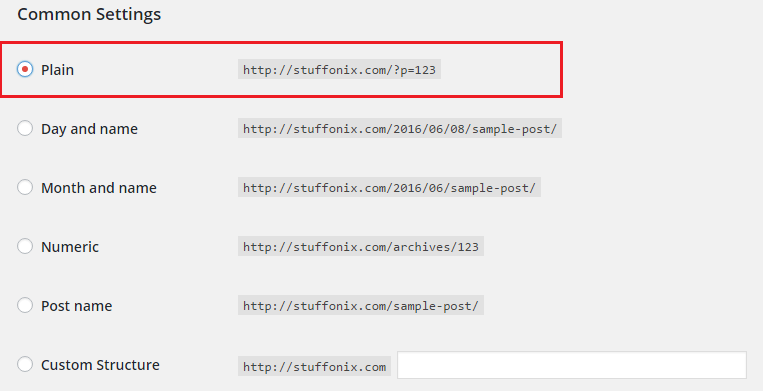 Most people change permalinks structure of their WordPress blog as initial step of WordPress but for those who are not sure which permalinks work best for them, here I am showing steps to do that.
Change WordPress permalinks
1. Open WordPress dashboard
Open your WordPress dashboard by providing admin credential…once you open then you can see below screen.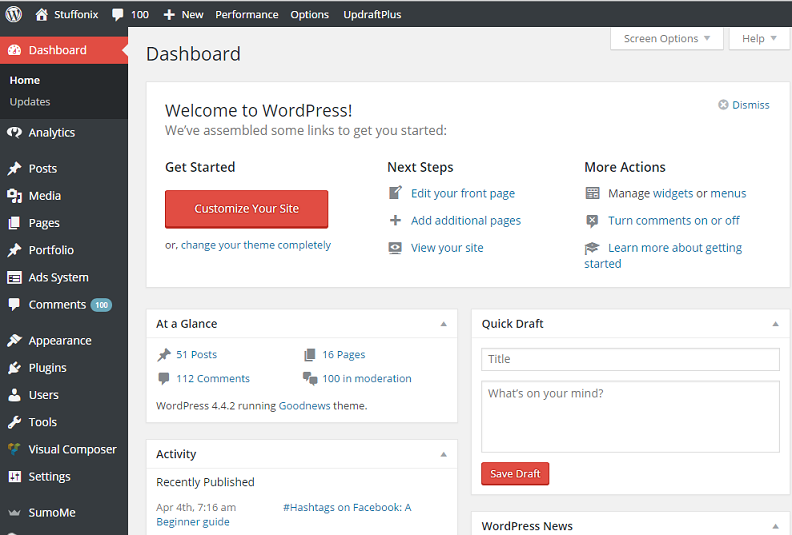 2. Open permalinks Setting
Open permalinks by clicking on setting from left side menu and select permalinks from sub-menu as below.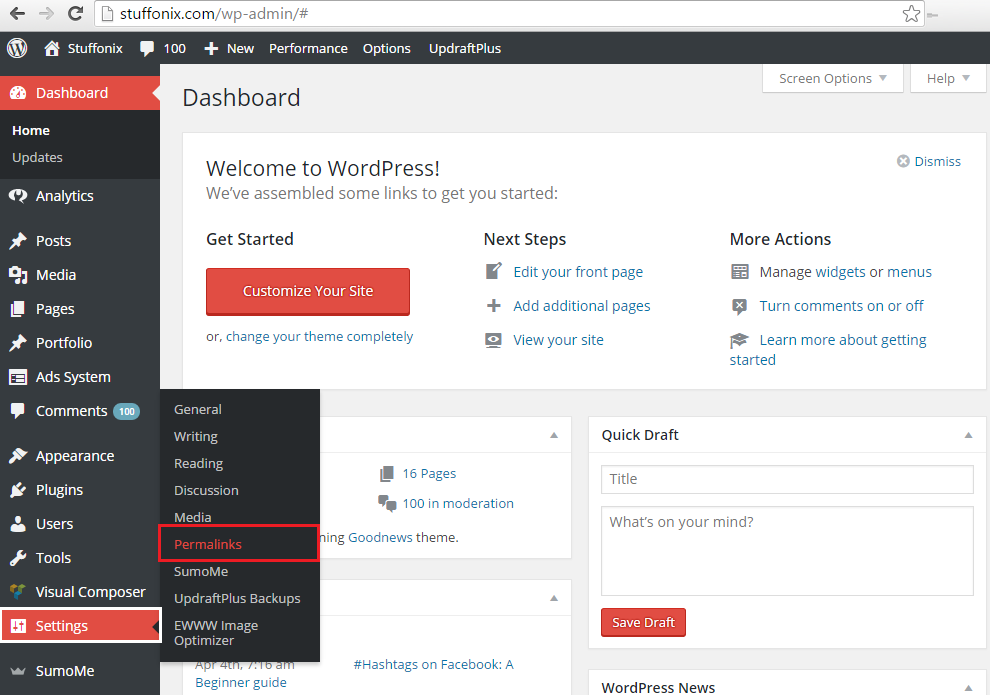 3. Choose Permalinks option
Once you open permalinks page then you can see many options available  for permalinks. So  choose by reading below about each option which one is suitable.
1. Plain(default) : It assign a number for each post or page of your WordPress and show with domain name when you open any post or page as below.

2. Day and name : It assign year/month/day means date and post name with domain name in WordPress post as below.

3. Month and name: It assign Month/day and post name with domain name in your WordPress post link as below.

4.Numeric:-It assign ID to each post which show with your domain when you open any post as below.

5. Post name:-It assign your post name only with your domain name as below

6. Custom Structure: It's depend, how you want to structure your post or page address.
You can also make post address as per categories or tag you have provided to your article.
Which one should we prefer?
You can see above permalinks where two of them are related to date so when we use date and user read your post and find old date then whatever enthusiasm user having before read your blog would become half..because of old blog  and some time people do not like to open old post, it might be fully applicable in current scenario but it struck in user mind…"this one is old one, better to check other one".
If you choose plain or numeric then you can see post address contain some random number which not look good and very hard to predict by user about post so they may not click on your post..like below
can you predict which post this link might contain…is it related to SEO?, social media? or earning money?
So As per my suggestion choose fifth one "Post Name" so when someone open your post or page or see in Google search result then understand what this post is all about and it also help Google search engine to get your post easily with web address or post address.

4. Save permalinks
Hope you made decision then click on save Changes button so your permalinks get change to selected one..
great…You done correctly but …
Caution
If you are using WordPress for last few months and have many social media follower then please do not switch to other permalinks otherwise you may be in trouble and if you even willing to change then please take help from expert.
Conclusion
Choose best option out of given make you and your blog perfect and here "post name" is best one so choose and get chance to be in good Google rank of your website.