When it comes to sharing photos, there is no better social network than Instagram. That's why it's one of the most popular social networks among youths.
This popular photo sharing site has lots of features, and while some of them like adding a photo filter are very famous, there are lots of others which get unnoticed.
So today we have brought you a list of top ten Instagram features you might have never used before. Knowing these features will not only increase your knowledge but will enhance your Instagram experience as well.
If you are using all Instagram feature well then chance of your follower would increase and once increase then you can use them for earning money on Instagram.
Top 10 Instagram features
1. Get notifications
After the announcement from Facebook that posts which show on your Instagram feed will be decided by an algorithm, many people are panicking because they believe they'll gonna miss out some important posts.
And seeing the mess current Facebook news feeds are, these fears are real. But don't worry if you don't want to miss any update from any special insta user, then you can do so by getting a notification for everything they post.
Go to their profile, tap the three dots indicating the more option and select 'Turn on post notification'. Now you can relax that you'll never miss a post from your favourite star or your crush. And what better? that person will not be notified of this change, High Five!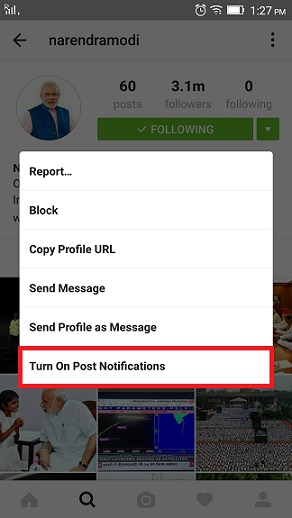 2. Clear your search history
The one thing for which the current generation (including me) is famous for is that we don't make a history. Or should I say that we delete it from the browser :-p
Both ways, if have ever gone naughty with the Instagram search feature, then you must have thought of deleting your Instagram search history, and now you can.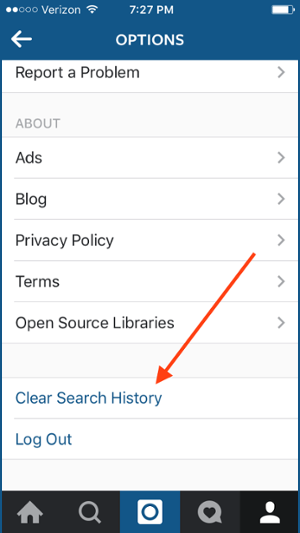 Just go to your profile and click on the more icon, then scroll down until you find the 'clear search history" option. Click on it and select yes from the pop-up.
3. Send photos or message privately
People were asking for it from a long time and now they have it. Now you can send Photos and Video from your uploaded photos or from your device to any of your friends.
For sending photos, click on Mailbox from the home page, click on the plus icon (+). Now choose whom you want to send the message and then choose the image which you want to send.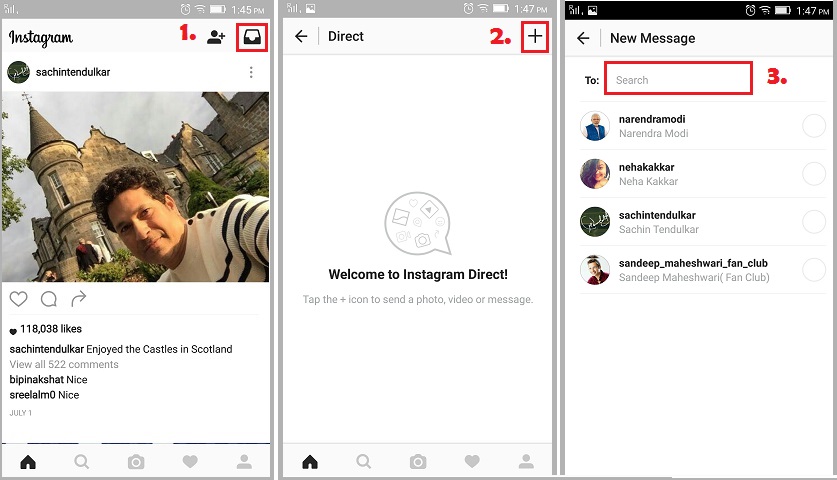 4. Select tagged photos to appear
So we already told you how you can you remove the photos from your profile which you have been tagged in, but doing the same every now and then would be a headache right?
Well, we have an idea. Go to your profile, click on the more icon and select 'select manually' from 'photos of you'. Now you'll be able to choose which tagged posts will be appearing on your profile before they make it there.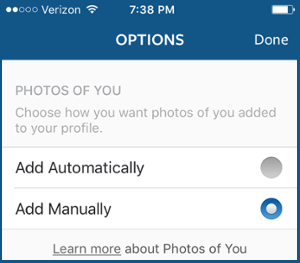 5. Multiple profiles
Facebook allows you to use your business page right from your Facebook account so you can browse your page as the admin and your personal profile side by side means you don't have to log out every time to switch between work and fun.
Now you can do the same on Instagram too. You can add up to 5 different profiles into the same Instagram account and use all those as different Instagram profiles without logging out.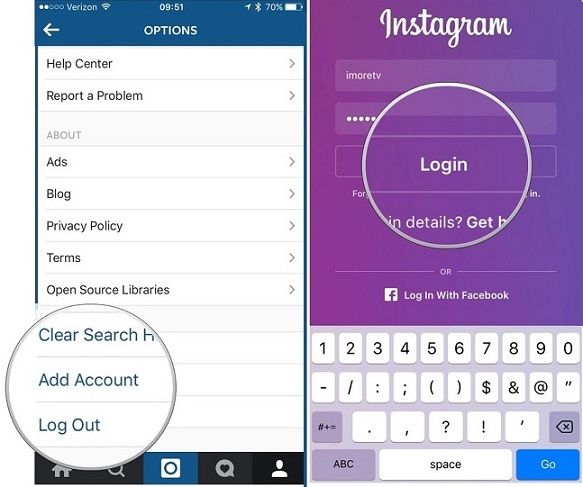 For adding a new profile to your account, go to your profile and tap the More icon. Then, scroll down and click on Add Account and put the id and password of the account you would like to add. You can switch between profiles by going into the profile and clicking on your username.
6. Edit filters
There are more than 20 filters available at the uploading screen of Instagram, but who really usages all of those? I mean a vast majority of the photos are heavily edited before they even make it to the upload screen so most of the people use only 2-3 popular filters on their photos.
However finding your favorite filter every time among all is a headache. But did you know that you can actually remove all filters which you don't use? Just drag the filter and drop it in the middle of the screen and Poof! It's gone. If you want it back just go to the Manage option at the end of the filter list.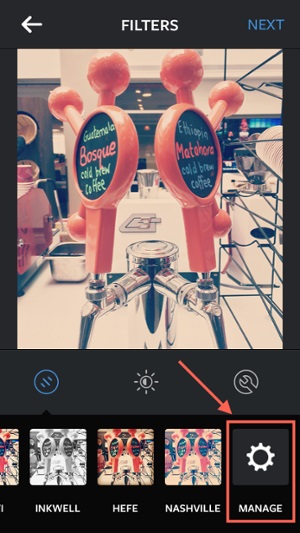 7. Get popular
Instagram users are often joked for using too many hashtags. And these accusations are somewhat true because I daily encounter with at least one post which is like – #Hashtag #instagram #photo #uploading #tooktoomuchload.
I mean WTF people? If you also use tags like that please stop. Instead, use some real trending tags which will not only get you some good exposure but likes and followers too.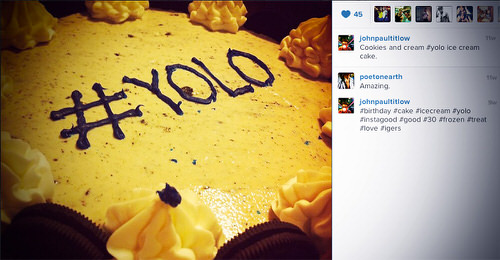 For finding the latest trending topics, click on the search box at the top and wait for the popular tags to appear. Once you find some good tags, use the most suitable one in your post. You can also use Google for finding latest trending Hashtags.
8. Hide tagged photos
It's really annoying when you spend hours on carefully selecting your best photos to make your Instagram profile look awesome. Then any of your friends tags you in a photo in which you are looking like a smiling monkey.
All these photos are shown in your account which is really irritating. But don't worry, you can stop these photos from appearing on your account.
Just go to your profile> tagged photos, find the image you want to hide. Once you find it click on it to reveal all tagged people and then click on your name>hide from my profile and you're done.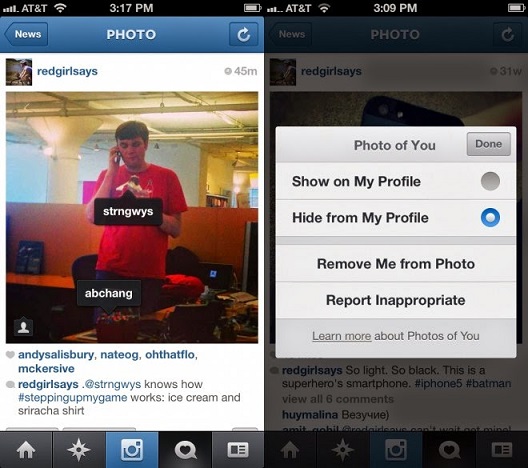 9. See liked posts
Worried that you accidentally double tapped and liked the post of that other popular girl whom your girlfriend hates? Well, you better check it out before being murdered.
Just go to Account Settings and click on 'Posts You've liked' to see all the posts you have liked in past. Now you can unlike any posts you didn't wanted to like (or don't want others to find out about :-p )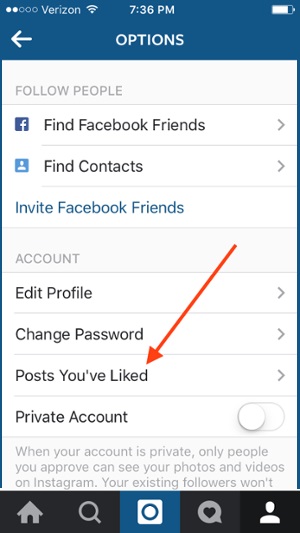 10. Add GIF
You can only upload a 15 seconds video on your Instagram profile, and that's short, very short. Apparently one way of adding a longer video is to use stop motion effect.
But hey who's got hours to choose the right screenshots and make a perfect stop motion video? That's why a much much better solution is using GIFs.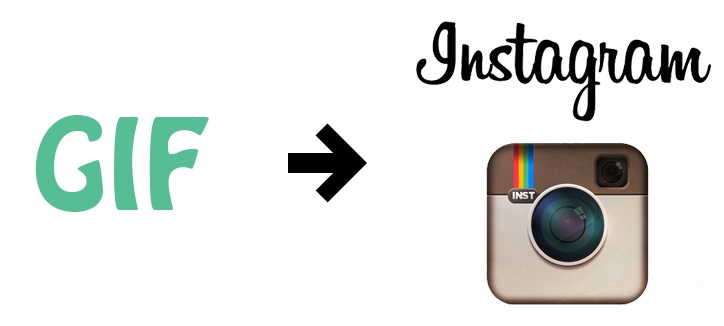 They are considered images but I believe they are more of a compressed video and they are perfect when you have a longer story to share. And here is an awesome app called Boomerang for creating GIFs instantly.
Wrap up
Which Instagram feature do you use the most? Do you know any Instagram features which others don't? Tell us in the comments.
Hope you like this blog post..and now know few good Instagram features…If you know other features then just write us in comment.